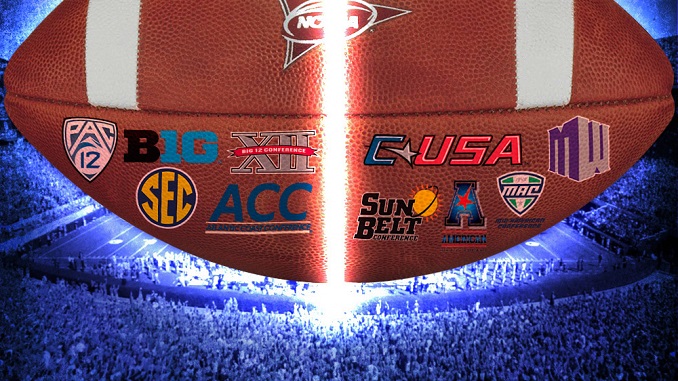 What would a Group of 5 Playoff look like if it had started this year?  How would the payouts even work?  I've got ideas…
The College Football Playoff took a large chunk of cash from ESPN a few years ago, and they've kept it, mainly, for the biggest teams in college football.
The Power 5 conferences will, likely, never allow a smaller Group of 5 team to cash in by being a part of the 4-team playoff. No G5 team will have an opportunity to play for a national championship, the way things are currently constructed.
That's not to say the Group of 5 is not profiting from this playoff.  It's actually quite the contrary, according to Forbes.
The College Football Playoff pays out $83.5M to the Group of 5 conferences, and the 3 Independent teams (Army, UMass, and BYU) not named Notre Dame, all split $930,462. The New Years 6 Bowl appearance for the highest rated Group of 5 team pays $4M to that team's conference, which is then split according to that conference's contract terms.  Last year, Western Michigan, who went 13-0, won the MAC, but only finished #15 in the CFP rankings, brought home $4M for the MAC.
The Power 5 and the Group of 5 are the haves and have-nots, and they always will be, but they are all stuck together in Division I football, or the FBS subdivision.  That does not mean, however, that all things are created equal.  And that's fine.  The Group of 5 attempting to bring more publicity to their schools would actually help out the Power 5 teams as well, by creating more interesting matchups with teams that people have actually seen.
These are the schools included in the Group of 5 conferences.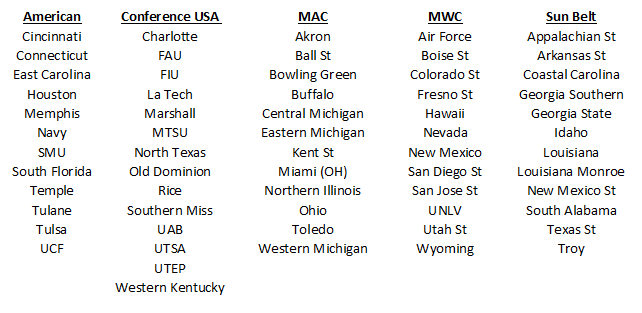 When we get to bowl season, I always wonder why we can't find a way to make more entertaining matchups between the good Group of 5 teams.  In 2004, the Liberty Bowl hosted the Conference USA Champions, #10 Louisville, and and Boise St, who went 11-0.  It was the highest rated non-BCS game in history, up to that point, and a whole lotta fun.
Last year, we had 3 G5 teams ranked in the CFP Rankings at the end of the season – #15 Western Michigan (13-0), #24 Temple (10-3), and #25 Navy (9-4).  Temple lost 34-26 to Wake Forest in the Military Bowl, located in Annapolis, MD (to be fair, Temple's coach, Matt Rhule, had already left to become new coach at Baylor).  Navy lost 48-45 to Louisiana Tech (8-5) in the Armed Forces Bowl in Fort Worth, TX.  The best G5 matchups last year were probably the Las Vegas Bowl (10-3 San Diego St vs 9-3 Houston) and the Camellia Bowl in Montgomery (App St 9-3 vs Toledo 9-3).
That's ridiculous.
Not to mention the fact that there are 5 bowl games on the Saturday 2 weeks after the conference championship games, and the majority of those are filled with G5 teams.
This year, I've begun to think of a way that the Group of 5 and the Power 5 could work together.
The Group of 5 should have their own playoff.
I know.  I know.  Last year, that idea was broached, and it was shot down fairly quickly.  But listen – just because there could be a G5 Playoff, that doesn't mean that the G5 wouldn't be involved in the College Football Playoff.
The College Football Playoff generates so much money for Power 5 programs that it is, actually, pretty absurd.  Just take a look at Forbes' breakdown of last year's CFP & NY6 payouts.
After the 2016 season, the ACC brought home $88.5M to split between schools.  The Big 12 got $95M, SEC and PAC 12 each brought in $101M, and the Big 10 led the pack with $132.5M to split between schools.  That's a total of $518M for the Power 5 conferences.
As I mentioned above, the Group of 5 conferences split $83.5M between them, adding in $4M to the MAC for Western Michigan making it to the Cotton Bowl.
To break that down in simple terms, just basing this on an even split from the final numbers, each Power 5 team brought home about $8.09M from the playoff.  Each Group of 5 team brought home $1.35M per year.
That's a huge discrepancy.
I understand the TV rights fees are blowing up ESPN, but last year, when talk of this was ongoing, ESPN, NBC, and other companies did show interest in a Group of 5 Playoff.  What would it be worth?  Let's just throw out a random figure – say $62M for an 8 team playoff?  That's worth, on average, another $1M to each team in the Group of 5.  We're not talking anything crazy, and as a sign of good faith, make it $70M, and throw $8M to the Power 5 leagues, so the money continues to be distributed between everyone, ensuring the highest ranked Group of 5 team can continue playing in the CFP's NY6 bowl, with an outside shot at a national championship.
So… I'm annointing myself as commissioner of the hypothetical Group of 5 playoff for 2017.
Here are the rules for the G5 Playoff:
The highest ranked Group of 5 team will drop out of this playoff and play in the CFP's NY6 bowl game against a Power 5 team
The G5 Conference Champions will automatically make the field, along with 3 wildcard teams.
If a conference champion is chosen for the NY6 bowl game, the runner up will automatically be placed in this playoff (this year UCF won the American and is in the Peach Bowl, so Memphis gets the automatic bid).
The CFP rankings will seed any other G5 teams not in the NY6 bowls (this year, Memphis finished #20, so they would be the #1 seed, Boise was #25, so they would be #2, etc)
Once there are no more G5 teams in the CFP Top 25, the other teams will be seeded based on an average of rankings by the ESPN FPI, Sagarin, Massey, and S&P+, which some movement available by the committee to prevent first round rematches of games already played this season.
First round matchups would be 2 weeks after Championship Saturday on the home campuses of the higher ranked teams (this year, that's Sat, Dec 16th).
The 2 semifinal games will be in bowl games, and they will be held on the night before the NY6 bowls begin (this year, that would be Thursday, Dec 28th).
The G5 championship game could be bid out to different sites, or have a standalone bowl, and would be held on the Saturday before the Monday night CFP National Championship game (this year, that would be Jan 6th).  I wouldn't be opposed to this actually being at the same site as the CFP – that way the bowl with the National Championship Game would get even more traffic and more promotion.  These could work together.
Based on that criteria, this year's G5 Playoff would look like this:
Memphis – 20 (CFP ranking)
Boise – 25 (CFP ranking)
USF – 36
Toledo – 38.25
FAU – 44.5
Fresno – 44.5
Ohio – 58.75
Troy – 61
The initial bracket would look like this:

As stated in the rules above, first round games would be on campus.  To get results, I used http://www.ncaagamesim.com to simulate the games 50 times each, and I'm using the results from those.
So let's jump into the games:
Sat, Dec 16th
8 Troy (10-2) @ 1 Memphis (10-2)
Liberty Bowl in Memphis, TN
Simulated 50 times: Average score – Memphis 42  /  Troy 17
In the simulations, Memphis won 48 times out of the 50.
Mike Norvell vs Neal Brown?  Yes, please.  Both teams beat Power 5 teams this year – Memphis 48-45 over UCLA at home, and Troy 24-21 at LSU.  Memphis, offensively, is on another level than Troy.  The Trojans did beat LSU early in the year, when LSU wasn't great, and Troy has won a lot of games, but rarely did they beat good times by much.  Troy's defense is good, but Memphis has much more talent, and I don't imagine this game would be close.  Especially at the Liberty Bowl.  But it would be a fun matchup to see.
5 FAU @ 4 Toledo
Glass Bowl in Toledo, OH
Simulated 50 times: Average score – Toledo 31  /  FAU 30
In the simulations, Toledo won 29 times, FAU won 21 times.
There's not many better coaching matchups than Lane Kiffin against Jason Candle.  This game would be an incredible chess match.  How much of a difference would it make having FAU travel up to Toledo, OH in December?  As I type this, on Dec 8th, it is 29 degrees with a chance of snow in Toledo.  At the same time, it's 84 and sunny in Boca Raton.  It would be interesting to see if FAU could put up the same kind of numbers in the cold as they have been at home lately.
7 Ohio @ 2 Boise St
Albertsons Stadium in Boise, ID
Simulated 50 times: Average score – Boise St 29  /  Ohio 14
In the simulations, Boise St won 44 times, Ohio won 6 times.
Boise is such a household name at this point, and Frank Solich, who went to Ohio in 2005 after being fired following 6 years at Nebraska and a 58-19 record, has been such a steady good head coach in the MAC for years, that this would be fun to at least see play out.  Ohio runs the ball as well as anyone in the country, and they're #14 in the country in points per game.  Boise, with the #20 defense against the run in the country, would probably be too much at home for Ohio, but the matchup would be intriguing.
6 Fresno St @ 3 South Florida
Raymond James Stadium in Tampa, FL
Simulated 50 times: Average score – South Florida 26  /  Fresno St 20
In the simulations, South Florida won 34 times, Fresno St won 16 times.
Jeff Tedford's first year back as a head coach.  Charlie Strong's first year away from Texas.  It's a long flight from Fresno to Tampa, but the weather is similar.  It's a little weird – Fresno has been more defensive minded this year with Tedford, a head coach that specializes in offense, and South Florida has relied on their offense with Charlie Strong, a head coach that specializes in defense.  I would expect Fresno to slow this game down, but they don't have the talent that USF does.

Thurs, Dec 28th
4 Toledo vs 1 Memphis
Simulated 50 times: Average score – Memphis 39  /  Toledo 26
In the simulations, Memphis won 37 times, Toledo won 13 times.
Memphis is #4 in the country in total offense, averaging 548.2 ypg, and Toledo is #8 in the country, averaging 509.9 ypg.  On the opposite side, Toledo is #55 in total defense, while Memphis is #121.  I don't believe it would matter – Memphis has more talent, and their offense is absolutely smoking people.  There's just more talent on the Memphis side.
3 South Florida vs 2 Boise St
Simulated 50 times: Average score – Boise  27  /  South Florida 13
In the simulations, Boise St won 46 times, USF won 4 times.
This would be a fun matchup to watch just because of the schools.  South Florida and Boise St in a bowl game – Charlie Strong vs Bryan Harsin for a chance to play for a championship?  I could absolutely get down with that.  Lots of great players all over the field.  Boise's defense would put the clamps on Quinten Flowers, in my opinion, so the score might get lopsided by a couple of touchdowns, but there's so much speed on USF that they could break the game open at any point.

Sat, Jan 6th
2 Boise St vs 1 Memphis
Simulated 50 times: Average score – Memphis 29  /  Boise St 21
In the simulations, Memphis won 36 times, Boise St won 14 times.
Mike Novell vs Bryan Harsin.  Not too shabby.  Boise has a good defense, and the offense is ok.  Memphis has a great offense, and the defense is blah.  There would be fireworks, for sure, and it would be a lot of fun to see 2 of the premiere non-Power 5 programs playing for something with some meaning.

So, this year, Memphis would be the winner of the G5 championship.
Now, imagine if we could have this every year.  Made for TV fun.