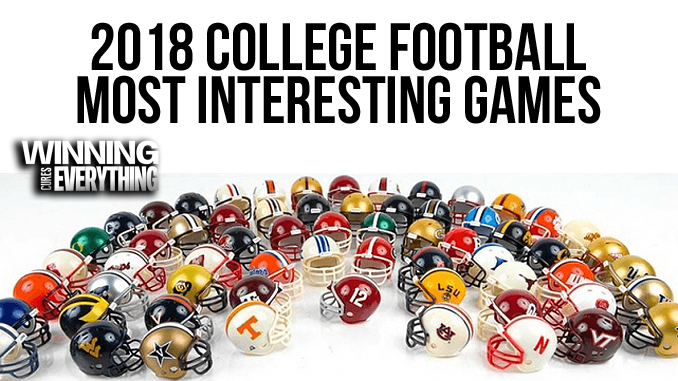 The 2017 College Football season is officially over, and Alabama, once again, is your national champion.
National Signing Day in February is just a shell of itself, thanks to the new early signing period on Dec 20th.
So what are we going to do in the meantime?
Look ahead to the biggest games next season!
We'll go ahead and look at some of the big games coming up in the 2018 season.
Sat, Sept 1st
Michigan @ Notre Dame
Jim Harbaugh vs Brian Kelly? Home game in South Bend? I love this. Could end up being Shea Patterson's first game as starting QB for the Wolverines as well.
Florida Atlantic @ Oklahoma
Lane Kiffin vs Lincoln Riley. Two incredibly great offensive minds… and Riley doesn't have Baker Mayfield for this game. However, he does still have running back Rodney Anderson, who went off for over 200 yards against Georgia in the Rose Bowl.
Auburn vs Washington (Atlanta, GA)
Auburn gets to head back to Mercedes-Benz Stadium for the 3rd straight game, after losses to Georgia in the SEC Championship Game and UCF in the Peach Bowl. This time Auburn has no Kam Pettway and no Kerryon Johnson, but a fascinating QB battle between Jared Stidham (if he doesn't declare for the NFL draft) and Washington's Jake Browning.
Tennessee vs West Virginia (Charlotte, NC)
Jeremy Pruitt's first game as head coach at Tennessee comes against one of best offensive minds in the country, Dana Holgorsen, and star QB Will Grier. Can Tennessee shore up their defense enough in one offseason, and find a way to score enough points to win this game?
Alabama vs Louisville (Orlando, FL)
This game would have been much more entertaining if Lamar Jackson had decided to stay for his senior season, but this will still be interesting to see Nick Saban's defense vs Bobby Petrino's offense again. Reminds you a bit of the old Alabama vs Arkansas matchups from 2009-2011.
Ole Miss vs Texas Tech (Houston, TX)
The level of entertainment here will be determined based on how many Ole Miss players transfer, honestly. If they've still got AJ Brown and Jacob Ta'amu, they'll be able to light up the scoreboard along with Kliff Kingsbury, who could be coaching for his job in 2018 (like many thought he was doing in 2017). Take the over.
Boise St @ Troy
Two conference champions meeting on opening weekend? Sadly, it's not Power 5 teams, but it is two 10-win teams that had wins over good Power 5 programs last season – Troy with a win at LSU, and Boise St over Oregon in the Las Vegas bowl. Both teams kept their head coaches as well – Troy's Neal Brown, and Boise's Bryan Harsin.
Texas @ Maryland
Texas and Tom Herman will have revenge on their minds after getting boat raced at home by the Terps last season on opening weekend by 3 touchdowns after being almost 3 touchdown favorites.
Sun, Sept 2nd
LSU vs Miami (Arlington, TX)
LSU has an incredibly difficult opening stretch of the season, with Miami in Week 1, and a week 3 contest at Auburn. With only about 8 returning starters in Baton Rouge, things could turn ugly for Ed Orgeron. Orgeron and Mark Richt have met twice before – a 2006 14-9 Georgia win at Ole Miss, and a 45-17 win over Ole Miss in Athens in 2007 – when Orgeron was at Ole Miss and Richt was at Georgia. This should be a top 25 matchup with two big brands.
Mon, Sept 3rd
Florida St @ Virginia Tech
Willie Taggart's first game at Florida St will be against Justin Fuente's Hokies. This should be an incredible matchup with two incredibly talented teams, especially as the only game on a Monday night.
Sat, Sept 8th
Michigan St @ Arizona St
Mark Dantonio in Tempe, against Herm Edwards. Talk about a fun matchup. Two defensive minded guys, and I cannot imagine anything more interesting than the sideline antics in this game.
UCLA @ Oklahoma
Ok… I lied. There could be something more interesting than Herm Edwards and Mark Dantonio. Chip Kelly's offense against Lincoln Riley's. This would be a way bigger deal if Josh Rosen and Baker Mayfield were still on their respective teams. Regardless, the offenses should be pretty explosive.
Clemson @ Texas A&M
Jimbo Fisher gets out of the ACC, and, on top of dealing with Nick Saban every year, he's got to deal with Dabo Swinney this year. There should be a lot of talent all over the field, and you know Kyle Field will be rocking.
Georgia @ South Carolina
Georgia is losing all kinds of senior starters, and South Carolina is returning a whole lot of experience. This game was a 24-10 win for Georgia in 2017, and if South Carolina finds a way to pull out a win here, it could possibly lead to an SEC Championship Game appearance for Will Muschamp's bunch.
Mississippi St @ Kansas St
Joe Moorhead's first big game as Mississippi St head coach is against Old Man Snyder and the Kansas St Wildcats. This could be a huge jumping point for either team. Miss St returns 18 starters from last season, and a big non-conference road win could point them towards a big season.
Colorado @ Nebraska
An old school Big 12 rivalry finally renewed, but with teams from the Big 10 and the PAC 12. The shine has dulled a bit for Mike McIntyre, as he followed up a 10 win season in Boulder with a 5 win campaign in 2017. Most people, however, will be watching to see what Scott Frost does with his first team in Lincoln.
SMU @ TCU
This will be an interesting matchup if only for the fact that Sonny Dykes is the new SMU head coach after being offensive coordinator at TCU last season.
Georgia Tech @ USF
Last season, Georgia Tech was supposed to play UCF, who ended up going 13-0, and the game left Georgia Tech at 5-6 on the season with no bowl game. This year, Georgia Tech travels to Tampa to take on Charlie Strong's rebuilding job with the Bulls, after losing 17 senior starters from 2017's 10 win team.
Sat, Sept 15th
USC @ Texas
Battle of blue bloods, only this time in Austin. Tom Herman and Clay Helton should be on a little more even playing field this year, now that the Longhorns have had a full season to figure out Herman's system, and Sam Darnold is gone. This is a rematch of an overtime classic from last season, and the first big game for whoever the next USC QB will be.
TCU vs Ohio St (Arlington, TX)
TCU traveled to Arkansas last year and walked away with a big non-conference win. This year's could be a little more difficult, even in a neutral site. Ohio St will have a new quarterback, but there's incredible talent all over the field. TCU will have a good number of returning starters. This should be a fantastic coaching matchup between Gary Patterson and Urban Meyer.
Boise St @ Oklahoma St
Boise has a great chance of being the undefeated Group of 5 team that comes out of the woodworks next year, and a win over Oklahoma St, who is a perennial Big 12 power, would really push them up in the eyes of the Playoff committee.
Oklahoma @ Iowa St
Iowa St pulled off one of the biggest upsets of last season, beating Oklahoma in Norman 38-31. This year, both teams are starting brand new QBs, and the game is in Aimes, so we should see more fireworks. Matt Campbell and Lincoln Riley will make this interesting, regardless of who is on the field.
Sat, Sept 22nd
FAU @ UCF
Lane Kiffin's Owls are returning a ton of starters, and UCF is returning a lot as well, although the new guy with the headset in Orlando will be former Missouri OC Josh Heupel. This will be a Group of 5 must-see game, and there's a chance we could even see College Gameday.
Nebraska @ Michigan
Scott Frost & Jim Harbaugh. This should be amazing television. Frost's first big time road game will definitely have a lot of eyes on it.
Sat, Sept 29th
Florida @ Mississippi St

Dan Mullen's return to Starkville, where he is the winningest coach in school history, and has left the cupboard absolutely stocked for new head coach Joe Moorhead.  The Miss St players will be fired up to win this game for their new coach, and to show their old coach what he was missing out on.  Mullen's bunch opens the season with Charleston Southern, Kentucky, and Colorado St at home before traveling to Tennessee, so the Gators should be 4-0 coming into this one, and if Mississippi State can get through games at Kansas St and at Kentucky, they will be 4-0 as well, setting up a monster game for SEC standings.
Sat, Oct 6th
Notre Dame @ Virginia Tech
Brian Kelly and Justin Fuente. Virginia Tech got a big win at Notre Dame 2 years ago, en route to an ACC Championship game performance. This go round, both teams bring back a ton of experience, and with the game being this early in October, there's a chance that both teams could be undefeated.
Sat, Oct 20th
Memphis @ Missouri
Memphis finished last season ranked in the Top 25. They got a big home win last year against UCLA, and have won 4 straight home games against ranked opponents… but this game is at Missouri. Drew Lock is returning for Missouri, but without offensive coordinator Josh Heupel. Missouri coach Barry Odom was defensive coordinator at Memphis under former coach Justin Fuente, and was the choice for the Memphis job before they hired Mike Norvell. This should be a fun game to watch, if for no other reason than to see all the ties to the Memphis program.
Sat, Nov 10th
Wisconsin @ Penn St
Just a rematch of the Big 10 Championship Game from the 2015 season. Wisconsin should be awesome, and this could be the last big game between them and an undefeated season. Penn St should be awesome with Trace McSorley back at QB, even with offensive coordinator Joe Moorhead gone to Miss St.
Notre Dame @ Florida St
Last year was the old Notre Dame vs Miami traditional rivalry, and this year Notre Dame makes another trek to Florida for a matchup with the Seminoles in Willie Taggart's first year. This is pretty late in the season, so if either team makes any noise and is in a playoff run, this could end up being a really awesome matchup.