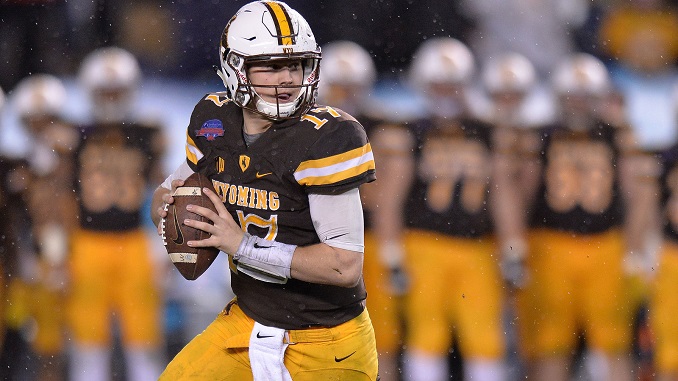 The 2018 NFL Draft has a list of quarterbacks that could make big time contributions to their prospective teams in the very near future. In my lifetime, we have not seen this much talent from one position entering the draft. Granted, this is a relatively short lifetime since I'm only 23 years old, but in the world of sports this might as well be a century. Every draftee has the chance to be impacted by the free agencies of Kirk Cousins, Teddy Bridgewater, Sam Bradford, Case Keenum, and Drew Brees. The list of NFL teams that either need a quarterback right now or will in the very near future is rapidly growing, but in free agency I believe we will see this list shrink.
Let's start off with our top five prospects this year that have strong possibilities of going in the first round to teams in need. To start off the list, we have Josh Rosen from UCLA. He is arguably one of the few quarterbacks in this draft that can start right out of the gate and perform at the pro level similarly as he did during his time at UCLA. With the Browns, Giants and Broncos all having top five draft picks this year and the Browns and Broncos throwing everything but the kitchen sink at Kirk Cousins, we can assume that whichever team does not end up with Cousins will end up with Rosen. The Giants on the other hand could see Rosen as an eventual replacement for Eli Manning and with the second pick could sweep him up before the Broncos have a chance. Any of the three ways though, I can't imagine Rosen not going in the top five.
Next in our list Sam Darnold, but only slightly and we'll touch on that in a moment. Darnold spent his collegiate time with USC and had his moments of showing true NFL legend potential. He, like Rosen, runs pro style offenses and it ordinarily transfers very well in the pros because of obvious reasons. I thoroughly believe that with his build, arm strength, and most importantly his intelligence that he would be a perfect fit with the Giants. He has all of the skills and playability that Eli Manning has used so elegantly during his tenure in New York. Manning most likely will retire in the next two years or so and using this time to groom Darnold only makes sense.
Coming in hot for our third spot on the list is Mason Rudolph out of Oklahoma State. He battled injuries during the course of his senior year as most quarterbacks with a lackluster offensive line do. Some analysists put Rudolph at the top of their list, however the only thing holding me back from doing so is that even when healthy, he seemed to have some reading issues on the field, but other than that he has all the tangibles you could want in a pro quarterback. That being said, he could very well sneak up and go before Rosen or Darnold, but we will see. The Browns, Giants, and Broncos could all have a chance at him, but I see him sliding down to the Jets and not much further than that. The Jets cannot put their future in Josh McCown, but he could buy them another year if Rudolph proves to need more time to develop.
Sliding into the four spot is Baker Mayfield of OU. He only has two downsides and to me are the reasons he has slid from being the top prospect. He is slightly shorter than the other top quarterback prospects and his attitude needs a slight tuning. As we saw several times over the course of his senior year, he has the confidence and ability to be one of the best quarterbacks the NFL has ever seen, but his attitude could keep him on the fringe of greatness. The team that picks up Mayfield could very well end up with the best quarterback in this draft after some development. The teams most likely to pick him up would be the Bengals, Dolphins, and Cardinals. The Bengals have been disappointed with the play of Andy Dalton and they could easily pickup a good quarterback to groom for his replacement, barring A.J. McCarron if he can show the skills to replace Dalton. Ryan Tannehill is set to return with full health after a series of years with either injury or surrounded by bad play so it can be argued that Mayfield could be a solution to both issues. As for the Cardinals, they are looking around on the free agent list and if they can't find what they're looking for, Mayfield has all the answers a team could want for a replacement to Carson Palmer.
Rounding out the top five is Lamar Jackson, the stud playmaker. Jackson is the former Heisman Trophy recipient from Louisville and what he lacks in football IQ, he absolutely makes up for in his explosiveness and big play capabilities. With the front offices of Jacksonville and Los Angeles (Chargers) both seeing the need for an upgrade or replacement in quarterback in the very near future, Jackson could very well be that. Jacksonville is bound up with a large cap hit in Blake Bortles so the likelihood of them signing a free agent are minimal but if they can pickup a rookie then they should be able to sign him for a minimal salary hit. The Chargers on the other hand have no major cap hits this year so signing a free agent could still be a viable option, but as is the case with most sport organizations, they'd rather bring in a younger player to coach up instead of reteach a veteran. Either way, I don't see Jackson sliding past either of these teams.
Making the Honorable Mention list and could all easily go in the first round are Josh Allen and Riley Ferguson. Both show the tenacity and athleticism any NFL team could want but their football intelligence is just shy of the previous quarterbacks and these two could all very well play better in the NFL than the aforementioned top five after some coaching. Josh Allen follows up Jackson and is coming out of Wyoming. The only thing keeping him from the top five list is that his junior year was slightly lower in statistics and performance than his sophomore year but that can be somewhat contributed to a lack of skilled players around him. Last but certainly not least on our list is Riley Ferguson out of Memphis. Ferguson led Memphis to arguably its most successful season in school history but came up short against UCF in the conference championship. He has all the skills that are required at the next level but the thing that costs him is his vision. If he can develop his decisions and ability to make full reads, he has easily more potential than the previous Memphis QB, Paxton Lynch.
Our Honorable Mention list can go to a number of teams in the first or second round including but not limited to the Jaguars, Chargers, Buccaneers, Saints, and Patriots. As far as the Jaguars go, most of the nation does not believe in Blake Bortles so at the very least I could see them either bringing in a free agent or picking up a draftee to compete with Bortles and see if he can keep up the play that he showed at the end of the season. Phillip Rivers is still a talented quarterback but his age is beginning to catch up with him and he could bring a young quarterback into the fold to eventually replace him and carry his beloved Chargers into the future. The Buccaneers have legitimate questions regarding Jameis Winston after a season filled with tumultuous decisions on and off the field so it wouldn't be surprising to see them pickup a younger quarterback in the first or second round. Drew Brees has made it abundantly clear that he is only going to remain in the league for two or three years maximum so the Saints truly need to begin to think about his replacement, whether that is in a draft or free agency, I suspect that they pickup a young quarterback this year. Finally, we have the team that everyone either hates or loves with very little middle ground to be had, the New England Patriots. Tom Brady is getting old and while he is still playing to his potential, it would be best to find a young blood quarterback he can teach if the Patriots plan to continue their reign after his retirement. Either way, the Patriots will need a new quarterback in the very near future.