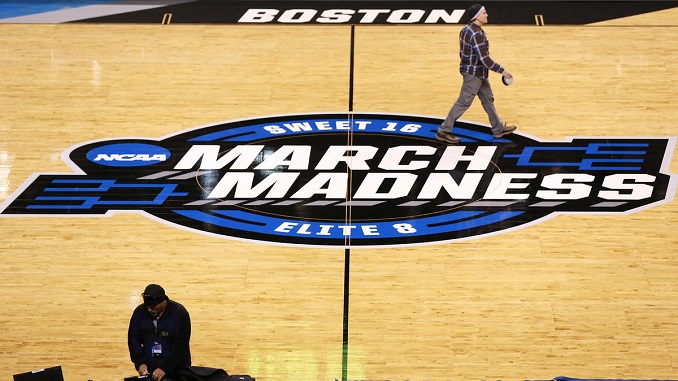 The 2018 NCAA Tournament fires back up tonight.
Sweet 16 matchups fire up Thursday night for the South and West regions.
Last year, Gary and Chris both went 5-3 against the spread in the Sweet 16
Gary then went 4-0 in the Elite 8, while Chris went 3-1.
Here are Gary's picks on the Sweet 16:
Watch Chris and Gary's picks on Facebook Live:
THURSDAY
Loyola Chicago (+1.5) vs Nevada
Loyola was the trendy upset pick over Miami last weekend, and they Rick Barnes and Tennessee could not figure out how to beat them.  Now, I feel like there are a ton of people betting on Loyola, but way too many national pundits are jumping on Nevada.  Remember, Nevada was down 14 to Texas and had to win in overtime, and then was down 22 to Cinci and found a way to win by 2.  Nevada lost their point guard earlier this season, but has recovered well – obviously, they're in the Sweet 16 – but I think this is a matchup that could catch them.  Nevada likes to play fast (104th in pace of play), while Loyola plays with the 319th tempo in the country.  Loyola will slow this down and find a way to win this game.
Texas A&M (+2.5) vs Michigan
Michigan has not looked good in the first 2 games of the tournament, with an unmotivated performance against Montana, and a game they should have lost against Houston, had it not been for a bunch of missed shots and free throws down the stretch by the Cougars.  John Beilein with 4 days to prep does scare me, but Texas A&M is the healthiest they have been since the beginning of the season, and they'll be able to out-athlete Michigan in this game.  I think A&M wins straight up.
Kentucky (-5) vs Kansas St
John Calipari is 6-0 in Sweet 16 games at Kentucky, winning by an average of 11 ppg.  Kansas St shot lights out against Creighton, going 9/19 from 3 while Creighton shot 33% from the field, and found a way to win, even though they were outrebounded by 10.  Then, the Wildcats were able to get to the Sweet 16 by playing the first ever 16 seed to make it to the 2nd round… and they still almost got beat.  Kentucky is rolling right now, and they'll be playing in CATLanta.  I think Kentucky rolls Kansas St tonight and covers the 5.
Florida St (+6) vs Gonzaga
At KenPom, this line seems about right.  Gonzaga is #7 at KenPom, and Florida St is #29.  However, if you look closer at the matchup, Gonzaga could be in trouble here.  Florida St doesn't play all that smart, especially against teams that like to play in the half-court… but Gonzaga likes to run.  Florida St has way more athletes than the Zags, routinely playing an 11 man rotation, while Gonzaga only plays 7 guys.  There will be a ton of transition points here, and I think Gonzaga can still win, but Florida St has the players to be able to keep this within the spread.
FRIDAY
West Virginia (+5) vs Villanova
West Virginia had to travel to San Diego for the first weekend, while Villanova stayed at home, but I think Villanova has already had their "shoot the lights out" half.  Teams normally don't have those 2 weekends in a row – they hit 14 3s in their win over Radford, and then hit 17 in their win over Alabama.  West Virginia should be able to cut that down with their defense, and this entire game will depend on how the refs call this one.  I think West Virginia's pressure gives this team fits, and I believe they'll definitely cover, and there's a strong chance they could win the game outright.
Purdue (-1.5) vs Texas Tech
The last time Texas Tech coach Chris Beard matched up against Purdue and Matt Painter, his Arkansas-Little Rock Trojans hit a buzzer-beater to win the game.  Now, Beard has better players, and their defense has been lights out.  Purdue is – supposedly – without star center Isaac Haas… but I don't think it matters.  I think Purdue finds a way to score… a lot… in this game, and they are able to figure out the Raiders' defense.  I like Purdue to cover 1.5.
Kansas (-5) vs Clemson
I thought about taking Clemson here, because they've been playing incredibly well, and they're #7 in the country in defensive efficiency.  However, as good as they looked against Auburn… I believe that was mostly Auburn just not playing well, as opposed to Clemson "beating" them.  Clemson shot well in the first 2 games they played, but I don't look for that to continue in Omaha.  Kansas, under Bill Self, is 7-2, straight up, in the Sweet 16.  Clemson will really miss Donta Grantham in this game, as Kansas will have everybody back healthy, and they'll be able to beat up on Clemson down low.  Kansas covers the 5 with ease.
Duke (-11.5) vs Syracuse
I don't like this game, but if I have to make a bet, I'm taking the Blue Devils to cover 11.5.  Coach K completely understands how to beat Jimmy B's zone, as he has started teaching it himself, moving away from his usual man-to-man.  Duke has WAY better players, and they've already beaten Syracuse 60-44 earlier this year.  Syracuse won't be able to score, and they won't be able to stop Duke… and I would imagine this one will get ugly early.