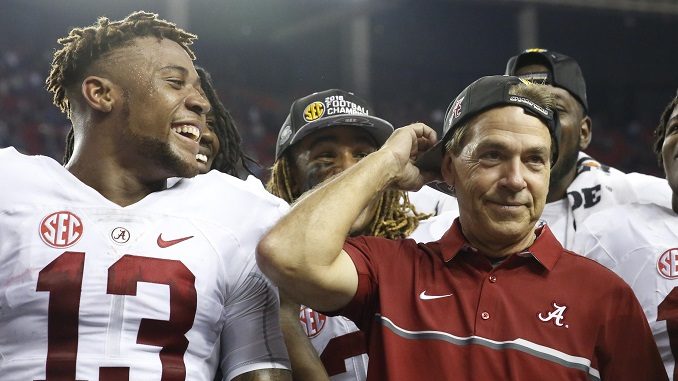 Karl Dunbar, Alabama's defensive line coach, is headed to the Pittsburgh Steelers.
His departure comes after 3 other losses from the 2017 coaching staff:
defensive backs coach Derrick Ansley left for the Oakland Raiders
offensive coordinator Brian Daboll left to be OC for the Buffalo Bills
defensive coordinator Jeremy Pruitt left to become head coach at the University of Tennessee
This year's Alabama recruiting class definitely felt the effects of coaching changes.  247Sports.com has Alabama ranked #7 in their final 2018 team recruiting rankings.
The Tide have not been lower than 3rd since 2008.
Nick Saban knew this was coming.  It's been the same thing for several years now.  This is why he made a major staff overhaul.
The NFL guys are out, and he's back to bringing in young, competitive recruiters.
After the 2015 season, Saban lost the following assistant coaches:
special teams / TEs coach Bobby Williams (moved to off-field position)
defensive coordinator Kirby Smart
devensive backs coach Mel Tucker

(came from NFL, was only there for 1 year & did not complete a recruiting class)
After the 2016 season, Saban lost these assistant coaches:
offensive coordinator Lane Kiffin

was a top recruiter at USC and Tennessee

DL coach Bo Davis
OTs / TEs coach Mario Cristobal
WRs coach Billy Napier
After this season, Saban lost these assistant coaches:
defensive coordinator Jeremy Pruitt
offensive coordinator Brian Daboll
defensive backs coach Derrick Ansley
defensive line coach Karl Dunbar
For 2018, Saban has brought in much younger talent to Tuscaloosa.  This is what the Alabama coaching staff looks like right now, minus a defensive line coach (which has not been filled yet).
Burton Burns: Associate Head Coach/Running Backs
Brent Key: Offensive Line
Mike Locksley: Co-Offensive Coordinator/Wide Receivers
Tosh Lupoi: Co-Defensive Coordinator and Outside Linebackers
Pete Golding: Assistant Coach/Defense (hired from UT-San Antonio / had #5 total defense in the country)
Josh Gattis: Assistant Coach/Wide Receivers (hired from Penn St)
Karl Scott: Assisstant Coach/Secondary (hired from Texas Tech)
Jeff Banks: Special Teams Coordinator (hired from Texas A&M)
Dan Enos: Quarterback Coach (hired from Michigan)
The fact of the matter is that the coaching staff in Tuscaloosa was not going after players as hard as younger, hungrier coaches.  And Saban made the changes required to make sure that things will change for next season.
Currently, Alabama is ranked #8 at 247sports.com for the 2019 recruiting class… with only 4 recruits.  One 5 star, and three 4 stars.  We'll see how much things change with a little continuity at the offensive and defensive coordinator positions, so long as those guys are not hired away from Tuscaloosa.