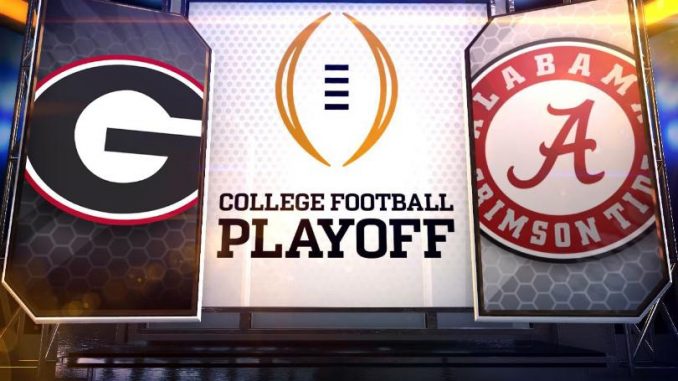 Monday night, we will have the first All-SEC National Championship Game in 6 seasons.
Normally, you would think that would say "ever," but Alabama and LSU played a rematch in the BCS title game after the 2011 season in the Mercedes Benz Superdome in New Orleans.
Alabama won that one 21-0.
All year, I've been following the metrics and score predictions from several sites.  No, they don't always hit right, but all of them combined (and averaged) are over 55% on the season.
So let's dig into what each site's metrics are telling them about Alabama and Georgia for the National Championship.
StatFox
http://statfox.com/cfb/gamematchup.asp

This is just the stats behind the matchup.
I use StatFox frequently to see who does what the best in certain matchups.  This is just the raw numbers and averages for the entire season.  It doesn't look at individual games – it just looks directly at raw data.
This doesn't give our injury data, or points per drive, or adjust for injuries, etc.  I was a little bit surprised to see how much better Alabama's run defense is than Georgia's, allowing a full yard less per carry.  If you look at the fact that Georgia had to play Georgia Tech, and that they gave up over 200 yards rushing to Oklahoma running back Rodney Anderson, those games kinda skewed the numbers a bit.  Overall, Passing & Rushing Yards Per Attempt, on offense and defense, is pretty much even.  These teams look like mirror images of each other.
The one stat that really leans Alabama here is the turnover margin.
If you take a look at CFBStats.com (http://www.cfbstats.com/2017/leader/national/team/offense/split01/category12/sort01.html), you'll see that Georgia is tied for 34th in the country in turnover margin at +5.  Alabama is tied for 5th in the country at +13.
Alabama lost 7 fumbles and 2 interceptions for a total of 9 turnovers.  Georgia lost 7 fumbles and 7 interceptions for a total of 14 turnovers.
Alabama recovered 5 fumbles and intercepted 17 passes this season for a total of 22 turnovers converted.  Georgia recovered 8 fumbles and intercepted 11 passes for a total of 19 turnovers converted.
This could be key on Monday night.
---
BCF Toys
http://www.bcftoys.com/2017-ppd/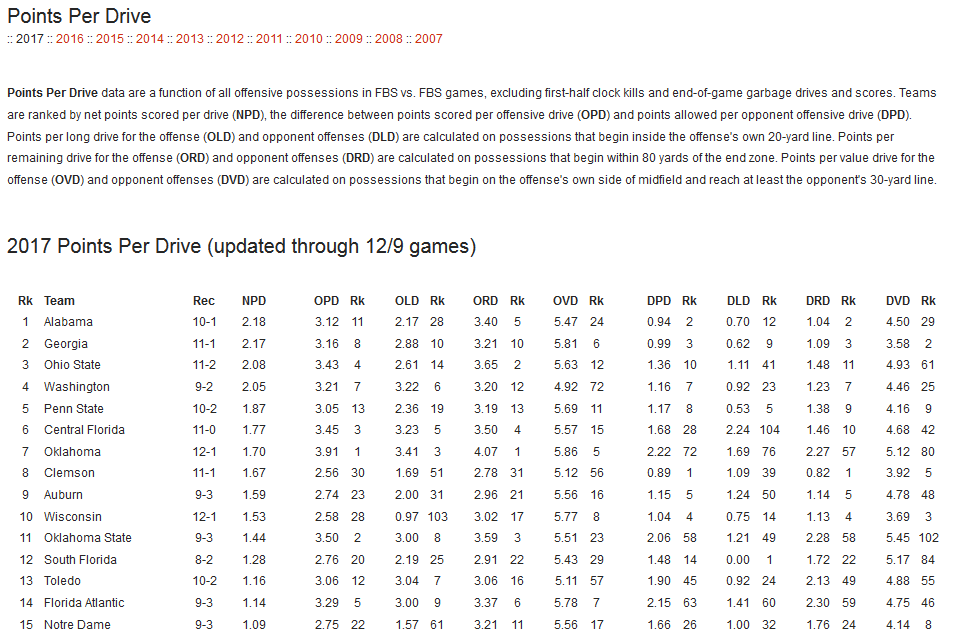 This stat surprised me.
This helps show offensive efficiency in moments that truly matter in games against Power 5 opponents.  Obviously, as shown above, these stats are only for the regular season, but if you look at the fact that the NPD (Net Points Scored Per Drive) has Alabama at #1 with 2.18 and Georgia at #2 with 2.17, you can clearly see that both teams are incredibly efficient on offense, which obviously leads to wins more often than not.
No real advantage for either side here.
---
Oddsshark
http://www.oddsshark.com/ncaaf/computer-picks

Oddsshark has Alabama winning 38-31 over Georgia.
That's WAY over the point total of 44 or 45 (depending on where you get it).  I don't know how much I'm buying this one.
---
Sagarin Ratings
https://www.usatoday.com/sports/ncaaf/sagarin/2017/team/

Sagarin has Alabama winning 21-19.
That has the under 44 hitting, and Georgia covering the +3.5 point spread.  This seems to make more sense in a game like this.
---
Massey Ratings
https://www.masseyratings.com/cf/fbs/games

Massey has Alabama winning 24-22.
That's over the point total of 44, and has Georgia covering the +3.5, but losing the game outright.
---
DCI Rating
http://dcindex-cgrid.blogspot.com/

DCI has Georgia winning 21-20.
Under the 44, and Georgia with an outright win – albeit by one single point.
---
NCAA Game Simulations
http://www.ncaagamesim.com/college-football-predictions.asp

NCAA Game Simulations is an awesome tool.  They take stats and allow you to simulate games as many times as you'd like.
This site predicted Georgia to beat Oklahoma by 6.9 points (won 54-48) and Alabama to beat Clemson by 17.3 points (won 24-6), so they have been fairly accurate in regards to these teams.
In this matchup, they believe Georgia has the upper hand, predicting a 26-21 win for Georgia.
---
ESPN FPI
http://www.espn.com/espn/feature/story/_/id/21853028/ultimate-college-football-playoff-championship-preview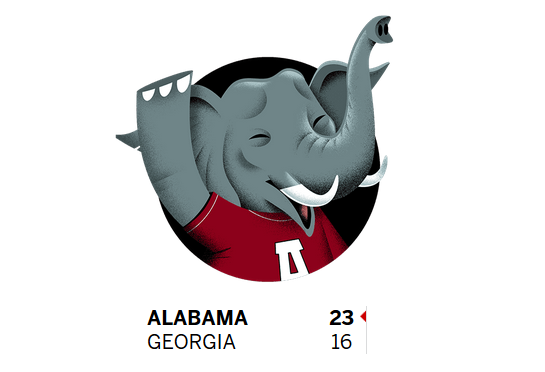 ESPN's FPI preview is really well done, breaking down which team has the most talent, the efficiency ratings in all aspects of the game, along with breaking down what each team does best, and how to stop it.  The FPI predicts that Alabama has a 57.5% chance to win the game, and they're predicting a 23-16 Alabama victory.
---
CBS Sports Writers
https://www.cbssports.com/college-football/news/national-championship-georgia-vs-alabama-early-predictions-picks-line-odds/
I'll ruin the surprise for you… 5 of 9 staff writers believe Alabama will win and cover the (-4) point spread.  7 of the 9 think Alabama wins the game.
That means only 2 of the 9 writers believe Georgia will win the game outright.
---
Newsday College Football Injury Report
http://newsday.sportsdirectinc.com/football/ncaaf-injuries.aspx?page=/data/ncaaf/injury/injuries.html
The injury bug seems to favor Georgia, as they have only have one player that is out indefinitely, 3 that have personal or disciplinary issues going on, and only 2 that are questionable to not play on Monday night.
Alabama has 4 players that are definitely out for the game, one that sat out the last game due to "an unspecified issue," and 5 others that have injuries that could keep them out for Monday's game.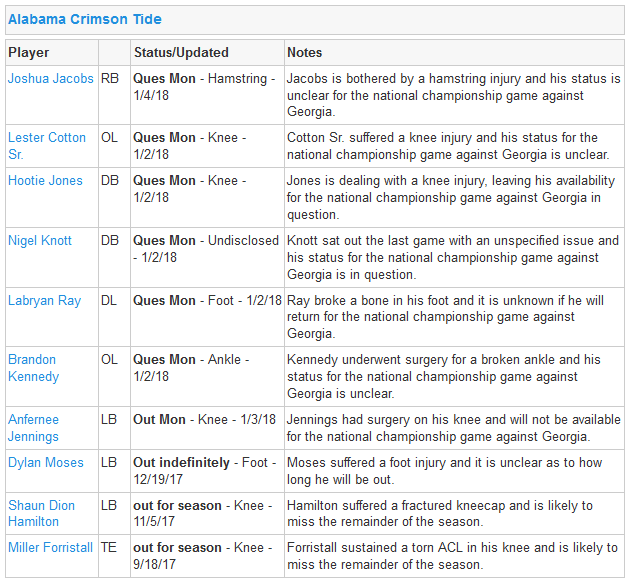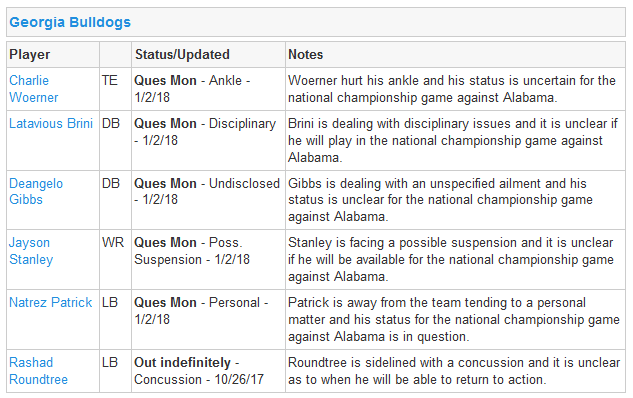 ---
So, here's the rundown again:
Oddsshark: Alabama 38-31
Sagarin: Alabama 21-19
Massey: Alabama 24-22
DCI: Georgia 21-20
NCAAGameSim: Georgia: 26-21
ESPN FPI: Alabama 23-16
The average score between all of these is this: Alabama 24.5 – Georgia 22.5.
So according to all of this, Georgia covers the 4 point spread, and the over 44 total points hits.
Chris and I will provide our picks for the game on Monday.