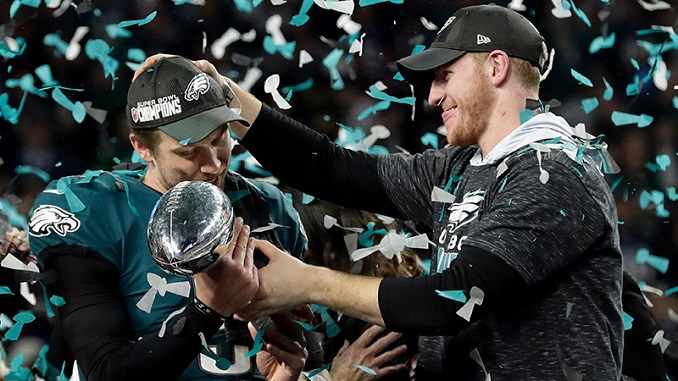 When Carson Wentz went down with an ACL injury towards the end of the season and the Eagles retained the number one seed, all hope was considered lost for Super Bowl dreams by anyone who had seen Nick Foles play football anytime in the previous three years. However, here we are having the discussion of what Philly should do with two perceivably all-star quarterbacks. During Foles' reign leading the Eagles in the latter portion of the season and eventually to the Super Bowl has changed doubters into believers, but is he the truth?
The Eagles put their heart and soul into Nick Foles during his original tenure at Philadelphia in which he led the Eagles to three turbulent seasons, some winning and some losing. He then spent two years with the St. Louis Rams and Kansas City Chiefs before returning to Philly. During his travels he had even contemplated retirement if his football career would continue its decline. The 29-year-old quarterback has now done a complete 180 degree turn after winning a Super Bowl and serving Tom Brady one of only three Super Bowl losses. There has been quite the public discussion on what the Eagles will do now since they believed Carson Wentz to be their future at the quarterback position. Well, this writer thoroughly believes that he is still the answer and not only deserves the starting position with the Eagles, but will beat out Foles in the fall for the starting position.
When we look at the numbers alone, there is a similar difference in performance. Since Wentz has only played two years in the NFL, we will take Foles' two best years thus far in which they each played at least ten games since Foles only has a few years of playing ten or more games. In his two years, Wentz's QBR has been 88.8 as a starter. Foles' two best years have given him a 94.1. Now keep in mind that Wentz has eclipsed the 3,000 yard mark both years he has played and Foles has only come close in one year of his play. It is also worth noting that Wentz has 49 touchdowns to his name in two years while Foles has 61 total, but only 34 for his two best years. Another statistic to keep in mind is their interceptions, of Wentz has 21 and Foles 12. With each quarterback winning a few categories and winning a few categories, its mostly a toss-up.
This is when experience, game play, leadership, and longevity come into play and really make the ultimate decisions because both quarterbacks have exhibited all the tangibles you could want in a professional quarterback. In the experience category, Foles is the obvious victor with his 6 seasons in the NFL and Super Bowl win. In game play I believe it is a tie because Foles may not have won as many games, but he can still be lethal under the right coaching. Wentz however has better professional records and has dramatically turned around the Eagles organization along with a few other tweaks. In leadership I believe that Wentz is the overwhelming winning contender because of what he has brought the Eagles offense in on and off the field leadership as a quarterback should at any level of football. Finally we get to longevity. With Wentz being 25 with one major injury and Foles 29 with no major injuries its hard to say who would win the category. I'm going to give it to Wentz however because of the type of injury he received and the fact that today an ACL injury will knock someone out for a couple months but after that they are completely fine. If this were the 1990s I would give this category to Foles without any question, but times have changed with medical practice.
In closing, I cannot say what Philly will ultimately do with their current predicament. I do thoroughly believe that Carson Wentz is and will be the future of the Eagles organization, but Foles offers an extremely viable option to replace him should the time come. If I were a betting man like the two outstanding gentlemen who own and operate Winning Cures Everything, I would say that the Eagles keep Foles until next year when his contract ends. He offers the epitome of what a second-string quarterback should be. Someone you can win with but isn't the best to offer. Not only that, I think teams are weary of two things should they attempt to trade for him. One, he is a Super Bowl Champion and he will likely cost more than they're willing to pay. Two, they don't want to be like the Baltimore Ravens who have Joe Flacco after he won the Super Bowl and has yet to do anything amazing since then. We saw the same thing with the Kansas City Chiefs when they acquired Matt Cassel. He played extremely well for the Patriots but played like a high school quarterback for the Chiefs. That shows how different schemes and coaching can affect playing. All of these things are something to keep in mind when considering the Eagles future, but I still contest that Carson Wentz is and will be the future of the Philadelphia Eagles organization.