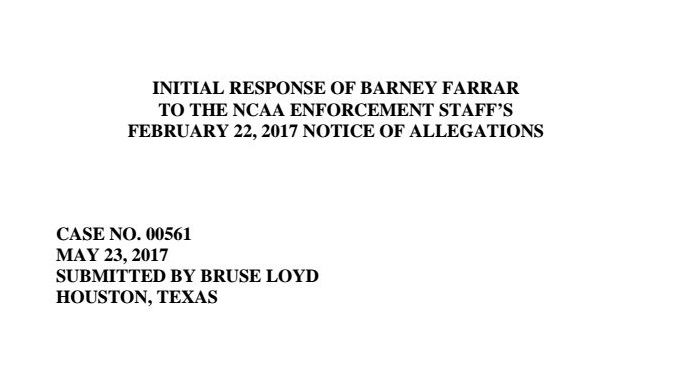 Bruse Loyd, the attorney for Barney Farrar, has released Farrar's response to the Feb 22nd NCAA Notice of Allegations sent to Ole Miss.
I have not had a lot of time to break this down, but I wanted to make sure this gets out there.  I'm going to go ahead and give you the beginnings of the document.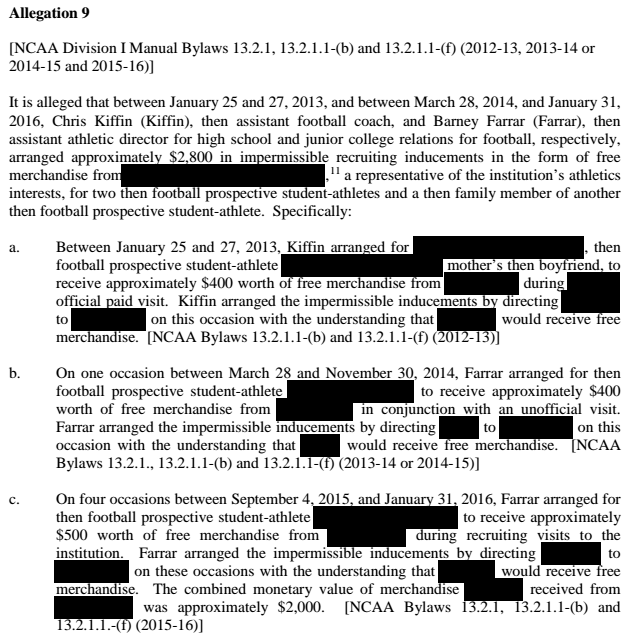 This is the allegation where Ole Miss is in trouble for providing excessive free merch from Rebel Rags (it's been rumored – not confirmed) to prospective student athletes.
Farrar denies the entire thing.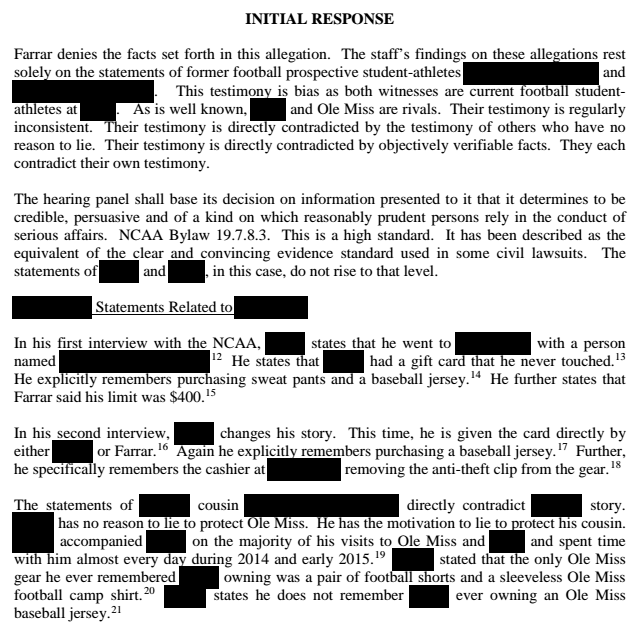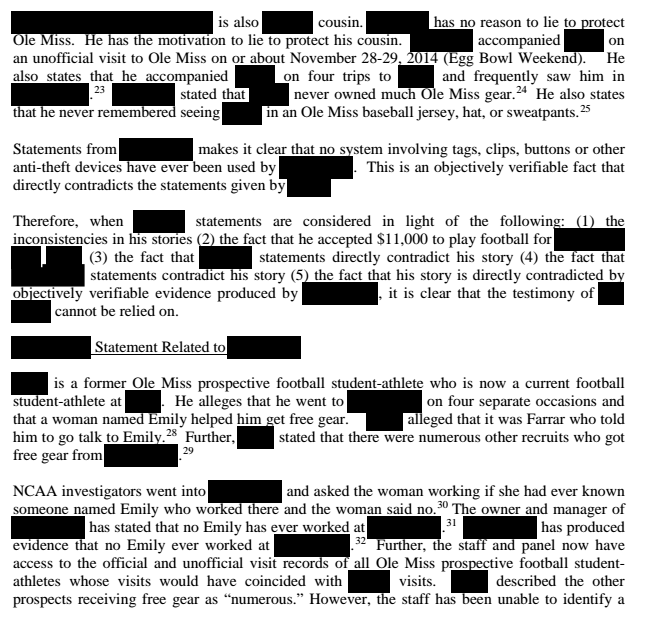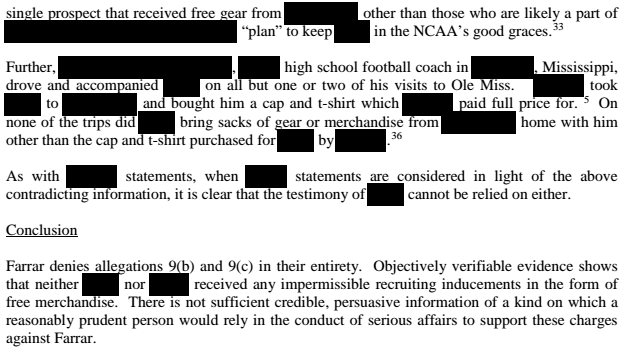 The rest of the document gets pretty interesting.  Barney seriously denies everything, and attacks the credibility of a former recruit to try and clear his name.
And, in the same instance, is STILL doing everything he can to save Coach Hugh Freeze.
It sounds like Freeze personally paid this guy off to clear his own name… but that doesn't make much sense when his attorney is coming out saying that the school is trying to set him up.
The conclusion is about as straight forward as you can get.  He and his attorney absolutely TEAR APART Leo Lewis in this, and literally accuse Dan Mullen and Mississippi State of setting the whole thing up.  That's a bold move right there.  If the NCAA was worried about Mississippi State, they probably would have gone after State.
Call it a witch hunt if you want to, because that is what it appears to be, but when the NCAA finds stuff to come after a school on, they don't miss very often.
Dan Wolken pointed out on Twitter yesterday:
The point I've tried to impart regarding Ole Miss is the Committee On Infractions has "found" or agreed with enforcement on 95% of allegations they've brought in the last year.

That isn't a talking point.

That's a statistic the enforcement staff uses as a measurement of how well they're doing their job. Moreover, the COI has agreed with the enforcement staff on the violation level 85% of the time. Those numbers came from a January interview with the NCAA enforcement director. And I think they're relevant.
It's gonna take some hard evidence by Ole Miss and these coaches to try and convince the NCAA that they're wrong.  They don't send NOAs without basically having a case locked up.
Take a look at the conclusion below.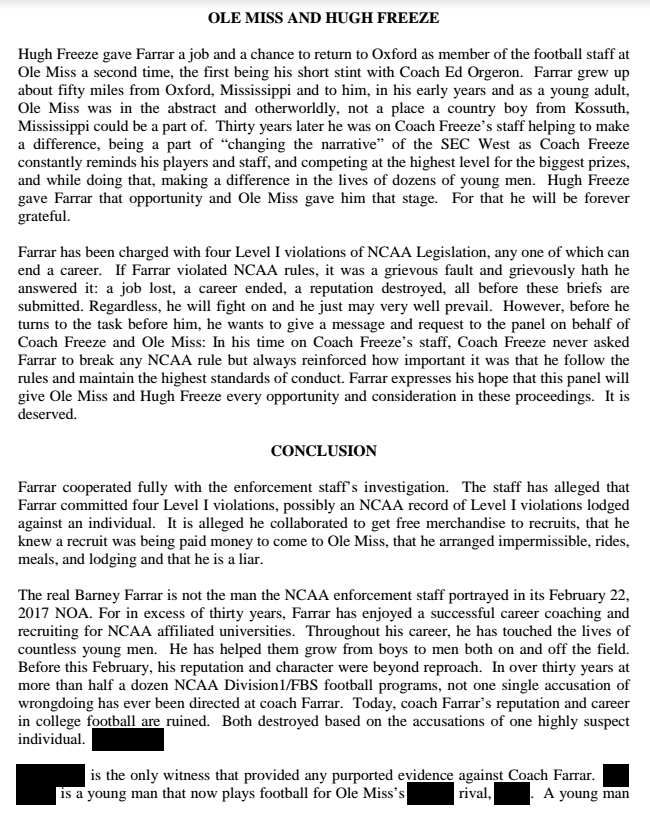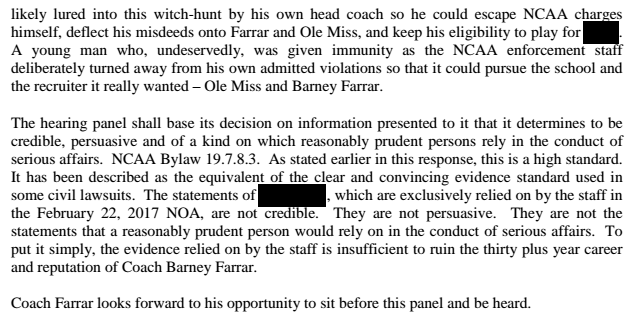 If you thought Ole Miss vs Miss St was a nasty, ugly, volatile rivalry before… just wait for Nov 23rd.
Make sure and click to read the full PDF: Barney's NOA Response Redacted.  I'm sure I'll be updating more as I read through it.
---
Get caught up with our other stories on the Ole Miss vs NCAA mess:
Ole Miss vs NCAA: All Your Questions Answered
Hugh Freeze: Why is the NCAA going after him?
Hugh Freeze: Why is Ole Miss standing with him against the NCAA?
Ole Miss vs NCAA: The Story Behind Barney Farrar
Ole Miss: Football Enthusiasm is in serious trouble
Barney Farrar's Attorney Responds to Ole Miss
Barney Farrar Response to the NCAA's NOA
Rebel Rags vs Miss St: Does this help Ole Miss?
---