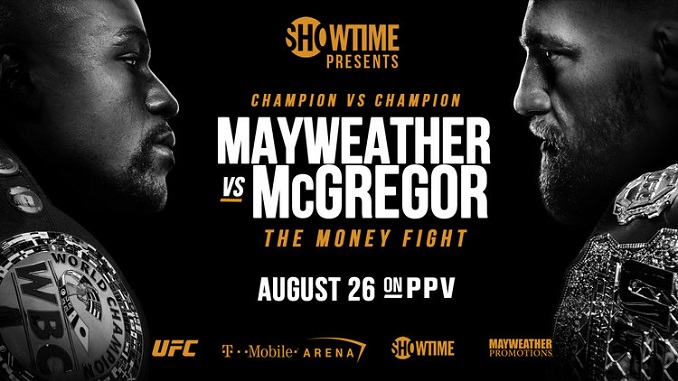 This is the best McGregor / Mayweather promo video on the internet.
Conor McGregor and Floyd Mayweather.
It's finally happening.
Sat, August 26th.  Las Vegas.  I didn't think I could be more excited about this fight.
But, I was wrong.  Holy crap was I wrong.
This promo video, made by Mike Fight Promo, is a masterpiece.  It shows every reason why you should be hyped up to watch this matchup.  These guys are the kings of trash talk in all of combat sports.  Nobody even comes close to them.
In fact, just the idea of this fight, back in February, was enough to get us writing about it here on the site: Top 19 Biggest PPV Events of All Time and another story, when it was leaked by the Sun in the UK that the deal was finalized back in February, where I broke down reasons to not count out McGregor – McGregor & Mayweather agree to terms?
The fact that McGregor feels confident enough to go into Mayweather's own sport and talk trash is awesome, in and of itself.  People think there's no way Conor can win this fight.  That it's all about the money.
I don't buy it.
I have made the mistake of counting out Conor McGregor before.  This is a guy that has fought an won at 3 different weight classes in UFC, and taken punches, from guys that are WAY bigger than Floyd, and it didn't even phase him.  He's confident, and he's a video junkie.  He studies people to the point that they know his every move.  Floyd's never seen McGregor box.
Oh, and the sparring partner for McGregor, who said he won't have a chance against Mayweather… you don't think that was plant?  It's something to keep Money's guard down.  Make him more comfortable.  Give the Notorious an edge.
We'll get into predictions later, but this is going to be an absolute spectacle.
The countdown timer below shows how long we've got to wait until we see these 2 in the ring.
If you weren't hyped before, watch this video.  Afterwards, try and tell me you're not amped for this one.