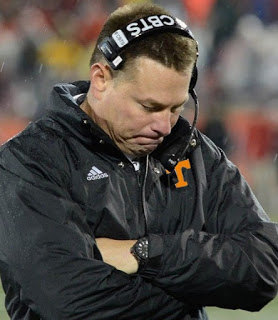 Yesterday's press conference from Knoxville just confirmed what we already knew about the Butch Jones tenure at Tennessee: they won't reach expectations under this coach.
To be fair, Butch helped turn this thing around after the disastrous era under Derek Dooley. They are setup to be able to compete (in most games), which is something they simply could not do during Dooley's tenure. Dooley's teams looked completely lost on the field. They lost to Kentucky for the first time in almost 3 decades.
The Jones tenure has felt different. They were steadily building. And this was supposed to be the year that put them over the top in their division. But this team had expectations put on it for the first time in forever, and the coaching staff and players have not lived up to expectations in any single game this season, sans an explosive 2nd half against a Florida team without their starting quarterback.
So what exactly has gone wrong? Did this group of experienced players simply slack off, thinking the preseason hype would win them games against inferior competition? Have they just had too many injuries and the backups were not ready for the spotlight?

Vols fans are tired of hearing the quirks at press conferences. The "brick by brick" stuff worked for a while. Preaching patience to the fans for having such a young team the first few years grew boring. His explanation on why they didn't go for 2 last year against Florida, stating that their "chart" told them to go for one there, was ridiculous.
Yesterday's press conference explaining the Jalen Hurd situation and then refusing to answer questions about it was just ridiculous. His spin on Jonathan Kongbo's cryptic tweet "All things must come to an end" with a picture of his cleats hanging up – stating that Kongbo had just lost a game of FIFA and was quitting video games, that the pic was soccer cleats – was laughable.
Injuries have been a major issue with this team, but the majority of the problems begin on offense and with the quarterback position. Josh Dobbs is a senior, and is the only quarterback in the country to throw an interception in every single game he's played this year. The offense doesn't look like it fits any single player on the team, and, yet, they continue to do the same things every week. Which is, supposedly, part of why Jalen Hurd is leaving the team.
Last week's loss to South Carolina was incredibly telling. Yes, I know South Carolina has looked significantly better on offense after putting in new freshman QB Jake Bentley, but the Gamecocks are still a team that has no business beating a junior and senior laden Tennessee team that was expected to win the SEC East this year.
And the Alabama game. I understand the Vols went through a tough stretch with games against Florida, at Georgia, and at Texas A&M before hosting the #1 ranked Tide, but that game was abysmal. For all the trash talk Vols players spewed before the season about how they were coming for Bama, they absolutely laid down and looked like they quit in the middle of the game. Alabama dominated that bunch like they were UT-Chattanooga… and this only one season after taking Bama to the very last possession in Bryant-Denny Stadium last year.
This team is quitting on their coaching staff. Jalen Hurd is just the beginning. The players seem like they don't even want to be there.
But don't expect Jones to be gone so soon. Dave Hart is out as AD, and there's no replacement yet, which means there's no one to hire a new head coach. Not to mention the fact that his buyout is ridiculous. According to USAToday.com's recent coaches salary database, UT would owe Butch Jones $10.625M before what they would owe his staff. That's not going to happen right now.
Don't get it twisted though. Butch may not be out after this season, but the end is coming. And soon.