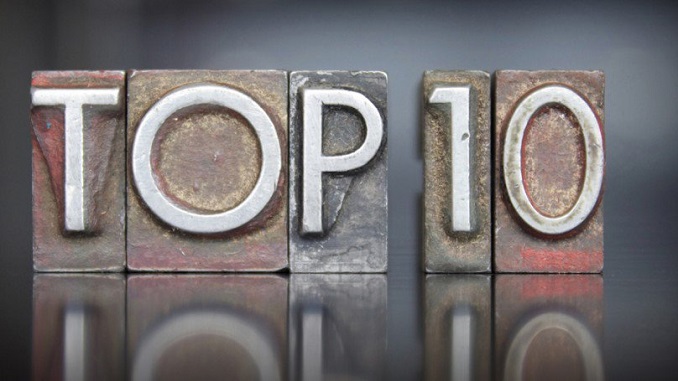 The questions I ask every week after an amazing weekend of college football is, where are we now and how did we get here?
I have taken issue with the Top 10 rankings from most every national analyst or news outlet that covers the game.
My biggest problem is very simple: winning has to matter more.
The national media have discounted teams like Wisconsin and Miami because their strength of schedule has been weak, and the margin of victory, for many of their games, has been narrow.
But they haven't fallen yet.
And I think if we look at "strength of schedule" closely, their schedules are not much different than everyone else's.
No conference is standing out as great this year. No division is out shining another. They are all filled with "haves" and "have nots," and the gap between those is huge.
So how did I get my Top 10 in the order I did?
Miami
Alabama
Wisconsin
Oklahoma
Clemson
Auburn
Georgia
Notre Dame
TCU
Central Florida
Miami: They are #1 in my rankings simply because they have the best 2 wins out of every undefeated team in the country at this time.
The last 2 weeks they have dominated a very good team in Virginia Tech and a great team in Notre Dame. They are playing the best football in the country right now and have not lost to this point in the season.
Alabama: Bama is still undefeated, and they have 2 good wins against 2 good teams the last two weeks, but, in both of those games, they were outgained and outplayed at every level.
While neither game was impressive, the Tide still found a way to get the win.
Other than these 2 wins, Alabama doesn't have another signature win on the season (which is why "strength of schedule" doesn't help or hurt ANYONE this year).
Unlike Miami, Bama is not playing their best football of the season. This, along with no signature win, is why they are behind the Hurricanes.
Wisconsin: Everyone has discredited the Badgers schedule, but a big win over Iowa (who had a 30+ point win over Ohio St the week before) is impressive, and should be recognized.
Most importantly, they are still undefeated.
THIS HAS TO MATTER.
As OU fell at home to Iowa St, and Clemson fell on the road to Syracuse (2 teams playing better than their history), Wisconsin never slipped up. That has to be rewarded in the rankings.
Oklahoma: The single loss at home, to Iowa St, is not great (it would have looked better if it happened on the road), but they have one of the more impressive wins this season with a road win over Ohio St.
After this past weekend's dismantling of TCU at home, and last week's great road win over Oklahoma St, it is impossible to keep them out of the top 4.
This is the most tested team with the best record so far.
The Sooners, Auburn, and Notre Dame are the only 3 teams, in the top 10, who have the right to pound their chest about strength of schedule. Everyone else has no argument for it at this point.
Clemson: Clemson comes in just outside of the top 4 with only 1 loss on the record.
They have a great win over Auburn in the first week of the season and another good win against Va Tech, but have what I would consider the worst loss out of the top 5 teams.
The separation between Clemson and OU is close, and I have them just behind the Sooners at this point in the season.
The next 3 is pretty much a round-robin of how these teams finished against one another head-to- head.
Auburn: Yes, Auburn has 1 more loss than UGA (even though I've made it clear winning means more than just about anything else), but head-to-head is the only thing that should trump wins, if wins are close.
One of Auburn's losses came on the road to a top 5 team and the defending champ. That's totally forgivable.
After the game against UGA this weekend, where the Tigers completely controlled every aspect of the game, from start to finish, I don't see an option to have UGA remain over them.
Like Miami, Auburn is playing their best football right now.
Georgia: While the Dawgs have been impressive all season, Saturday came at them fast.
Maybe they ran into a buzz-saw in Auburn, or maybe they just weren't prepared for such a big game on such a big stage, but with a bad loss to a long-time rival, I currently have them at 7th.
This was the first time all season they played in a hostile environment. In their previous road games, against ND, UT, and Vandy, along with the neutral site game against Florida, the Bulldog fans overwhelmed the stadiums with more than half the other teams' fans.  Auburn was not the safe venue the Dawgs had become accustomed to.
Notre Dame: The Irish fell Saturday and they fell hard.
After making an incredible turn-around from last year's brutal 4 win season, and playing one of the toughest schedules in the country, Notre Dame has surprised everyone.
I'm not certain if they ran out of gas, or luck, but either way, a loss that bad on national TV will be hard to forget. They remain behind UGA for having an extra loss, and for losing the head-to-head matchup.
Texas Christian: TCU is still in my top 10 even though they suffered their 2nd loss in 3 weeks. Both losses came on the road, and in-conference.
They remain on the list, due to the amount of good wins on their resume, and a combination of how and where their losses came.
Their wins over Oklahoma St and West Virginia have them over teams like Ohio St.
Central Florida: The only reason UCF is not higher is because they play outside of the Power 5 (and I'm not certain that's a good enough reason).
They have several wins that are better than some of the teams ranked higher than them, but they haven't played an overall schedule better.
The fact that they are still undefeated isn't the only reason they make the list. The Knights have only played 2 games that were within 10 points of their opponents. Game control has been one of the best in the country. They are an overwhelming favorite currently to make the New Years 6 bowl for the Group of 5 teams, and it would not shock me if they are favored in their bowl game.
All of these rankings are based on current situations after games played to this point.
I never look ahead when making rankings, and I try to be consistent with arguments that have one team higher than another. It is that lack of consistency that I have disagreed with on most rankings out there. Next week, most of the top 10 teams shouldn't be tested with the way the schedule falls, but nothing should be taken for granted.