With McElwain out at Florida, and other coaches teetering on the edge of unemployment, which up and coming coaches fit best at the schools that will probably be doing coaching searches at the end of the season?  I've got a list of who I believe is the best fit for each school.  If you're looking for the best online sportsbook, go to MyBookie.ag and sign up using promo code WCE100 for a big deposit bonus!  
Florida started the coaching carousel on Sunday afternoon when they announced that they and Jim McElwain "mutually agreed" to separate.
Basically, Jimmy Mac was fired.
Only 7 games into his 3rd season, after winning the SEC East in his first 2 seasons.  On top of that, nobody saw this coming… at least not this soon.
Florida fired their coach before Tennessee has fired Butch Jones.  Before Arkansas fires Bret Bielema.  Before Texas A&M fires Kevin Sumlin.  I don't know that ANYBODY could have predicted that.
With McElwain out, and those other coaches teetering on the edge of unemployment, which up and coming coaches fit best at the schools that will probably be doing coaching searches at the end of the season?  Well, I've got a list of who I believe is the best fit for each school.  Let's dig in.
FLORIDA
Previous coach: Jim McElwain
Best fit for new coach: Scott Frost, UCF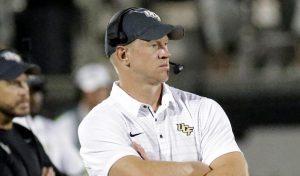 Scott Frost is the hot name right now, and he's already instate.
Now, I'm hesitant on Frost.  Yes, he inherited a team that went 0-12, immediately took them to 6-7 last year, and is currently sitting at 7-0.  But I don't look at him as inheriting an 0-12 team.  He inherited a team that went 12-1 in 2013, 9-4 in 2014… and then went 0-12 in 2015 before O'Leary retired.  So he didn't inherit an awful program… just a team that had an absolutely awful year when their coach was already ready to quit.
Frost was the WR coach under Chip Kelly during Oregon's most successful years, and was the OC under Helfrich for his first 3 seasons.  Once he left, Oregon fell apart.  So that definitely makes him look good.
In his time in Florida, he's led the AAC in recruiting ranking for both of his classes, and his incoming class is shaping up well right now.
His offense leads the country in scoring.  His defense is pretty good.  And just imagine what he could do with the speed that he could bring in at Florida.
Frost is young, he can recruit, he runs a wide-open, high scoring offense, and he's great with the media.  He would be a fantastic fit in Gainesville… but how willing is Florida to get into a bidding war for his services?  Because there will be several high-profile gigs that go after him.
OLE MISS
Previous coach: Hugh Freeze / Matt Luke (interim)
Best fit for new coach: Charlie Strong, USF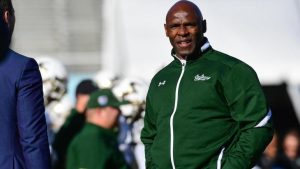 Ole Miss may have issues finding a big name, and I don't believe they would have a problem bringing in a relatively unknown, but I think the best fit for them would be Charlie Strong.
Strong didn't have a great career at Texas, but he was awesome at Louisville, and he's 7-1 at South Florida so far.
Why would Ole Miss want Strong?  He's a good recruiter.  He can establish relationships with kids, and Ole Miss will need that going forward.  Ole Miss has never had an African American head football coach, and that can go a long way in getting Ole Miss away from the old-school reputation that they've had for so long.  He's an older coach that can get through something as difficult as NCAA sanctions.
Now, why would Charlie Strong want to go to Ole Miss?
He inherited a stacked roster at South Florida, but he's losing 17 senior starters after this season.  He's only making $1M a year in Tampa, and while he's still pulling checks from Texas, he'd be fine with pulling a $3-4M/yr check from Ole Miss, and trying to build from the ground up.
Charlie's got a great reputation for being clean (at least in regards to his football teams), and he'd bring a different vibe to Ole Miss.
TENNESSEE
Current coach: Butch Jones
Best fit for new coach: Dan Mullen, Mississippi St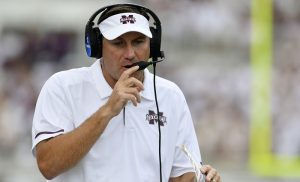 Mullen is the hot name for the Florida coaching gig, but that looks like too easy of a fit, with his former AD now in Gainesville, his past there under Urban Meyer, etc.
From everything that I'm hearing, there are still some in the administration down there that didn't like the way Mullen handled himself while he was there, and when he interviewed for the job in the past.
So let's get away from the Florida job.  Let's talk Tennessee.
Tennessee hasn't hired a proven winner in Knoxville in years, but that's exactly what they need.
Mullen provides SEC experience, he's a proven winner, he can develop quarterbacks, runs a fun offense, and has made some great assistant coaching hires in his time in Starkville.  We tossed around the stat that Mullen has more wins at State than Florida has had since the 2010 season.  But let's look at this stat:  Mullen is 67-44 at Mississippi State since he was hired in 2009.  Tennessee has gone 62-53 in that time-span.  That's with State being in the SEC West and Tennessee being in the SEC East.
Under no circumstances should Mississippi State have a better record over a 9 year span than Tennessee.  Not with the money and support they have up on The Hill in Knoxville.
So Tennessee could bring in some young name, or they can wish for Jon Gruden, or whatever, but Mullen's combination of charisma and coaching would be welcomed at Tennessee.  He's not the splashy hire, but he's a winner, and that's something they've been missing there for a long time.
ARKANSAS
Current coach: Bret Bielema
Best fit for new coach: Mike Norvell, Memphis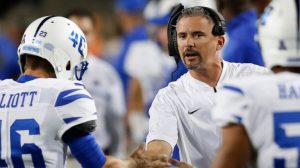 I don't believe that Jeff Long wants to fire Bret Bielema this season.
But man… Bret sure is making it a more difficult decision.
Beilema is 28-31 so far, and is 3-5 in the middle of his 5th season in Fayetteville.  If he hasn't found a way to get things turned around by now, how much longer can you give him?
Especially when it looks like the state's prodigal son, Mike Norvell, is going to be getting calls from some big programs after this season.
Norvell played college football at Central Arkansas, his wife is from Fort Smith, and he has recruiting ties to Oklahoma, Arkansas, Texas, Louisiana, and obviously Mississippi and Tennessee (especially the Memphis area).
He's 16-6 in his first 2 years at Memphis, which is not common.  He took what Justin Fuente left and, somehow, actually made it better.  The Tigers are sitting at 7-1, and will be favored to win their final 3 games, which could put Memphis into the AAC Championship game, and put them one win away from a New Years 6 Bowl.  At Memphis.
His offenses are flashy, fun, and fast, and Arkansas's most successful few years in the last 2 decades were under Bobby Petrino, who ran a similar high-flying offense.  Arkansas won't be able to out-talent other teams in the SEC West… but under Petrino, they found a way to out-scheme them.
Novell could do the same thing.
TEXAS A&M
Current coach: Kevin Sumlin
Best fit for new coach: Gary Patterson, TCU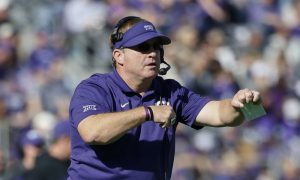 I initially wanted to put Chip Kelly or Chad Morris here.
But the truth is this: Texas A&M wants to win.  And they want to win now.
Chip Kelly could do that… but his past NCAA issues make hiring him an issue.  Chad Morris is winning this year, and he looked good at Clemson, but he hasn't done it on the biggest level, and I don't believe Texas A&M wants to go with an unproven commodity from a smaller school again.  Sumlin was a winner at Houston, and we see how that's turned out.  Why go to the same well again?
According to Chris Landry, Gary Patterson was interested in the LSU job last year, and he couldn't get them to call him back.
He absolutely would be interested in Texas A&M, though.
Patterson has coached in Texas since 1998, he's built that TCU program into a national powerhouse, winning enough to take them from Conference USA to the Mountain West to the Big 12, and they're sitting on top of the Big 12 so far this season.
Patterson can recruit the state, he's known as a defensive guy, but he's also shown that he can absolutely light up a scoreboard.  He's a proven winner, and Texas A&M would absolutely be better with him at the helm.
AUBURN
Current coach: Gus Malzahn
Best fit for new coach: Bobby Petrino, Louisville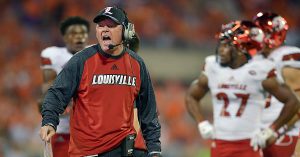 I'm sure, if you haven't followed this site, you're curious why I've got Auburn listed here.  They're ranked #16 in the AP poll, #15 in the Coaches poll, and they're 6-2 with their only losses being at Clemson and at LSU.
But Malzahn's bunch goes to Texas A&M this weekend, and if they lose to A&M, that leaves them with 3 losses before finishing up with games against Georgia and Alabama, the #2 and #1 teams in the country.  If he loses both of those, Auburn will be 7-5 again, and they'll be 0-8 against Alabama and Georgia over the last 4 seasons.
It's tough to survive as a coach at Auburn with 4 straight seasons of 5 losses or more, and not beating either of your biggest rivals in that span.
So if he's out, who fits the best in this spot, if all the other gigs are taken?
Bobby Petrino.
Auburn has flirted with Petrino before, he's not scared to go head-to-head with Nick Saban (even if he's never beaten him), and he proved that he could win with slightly less talent at Arkansas and Louisville.  It's been a while since Auburn has hired a proven winner to their head coaching position, and while Petrino has always had issues with the media, I think Auburn would be willing to look past that to get somebody in that has shown they can get victories.
Petrino's offense would be a welcome addition in Auburn, where Malzahn has had issues on that side of the ball, even though he was hired as an offensive guru.
Petrino also seems to find quarterbacks much easier than Malzahn, who has not been able to recruit and develop any quarterbacks in his tenure so far.  His most successful seasons were with Nick Marshall – a former Georgia DB, and a juco QB – and now with juco transfer Jarett Stidham this season.
MISSISSIPPI STATE
Current coach: Dan Mullen (if he leaves for Tennessee)
Best fit for new coach: Lane Kiffin, FAU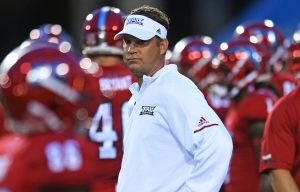 Finally, if Dan Mullen ends up leaving town, it could be tough to find somebody willing to take on what is perceived, by most, as the toughest job in the SEC.  Mississippi St has to play Alabama, Auburn, LSU, Texas A&M, Arkansas, and Ole Miss every season, not to mention whoever they pull from the SEC East.  That alone can make this job incredibly difficult.
Mullen has been able to have some pretty decent success in Starkville.  Who would have the guts and the ego to take this job?
Lane Kiffin.
It's a small school, in a small town, out of the media spotlight, and Kiffin would help Mississippi State as much as State could help him.  He'd get a big pay raise from the $1M per year he makes in Boca Raton.  The quality of life would be considerably different, as you can't run over to the beach after practice every day in Starkville, but he'd be able to prove himself against some of the biggest programs in the country, and he'd never go without anything his program needed from a recruiting standpoint – facilities, planes, and whatever else he would need from boosters.
Kiffin may rub some people the wrong way… but so does Dan Mullen.  Kiffin can outscheme teams and put up huge offensive numbers.  His Alabama ties would help him recruit the area, along with getting into the states of Florida and Louisiana.  No, he won't win a national championship at State, but he can keep them respectable, and his name alone will get Mississippi State more national attention than any other coach they could bring in.