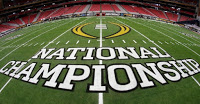 Last night's College Football playoff rankings came out early – which gives us plenty of time to check out these resumes again. The list seems to be expanding for teams that could still find their way into the college football playoffs, even though we're getting closer to the end of the season. The college football crew for ESPN spent a LONG time discussing the possibilities of a 3-loss USC making the playoffs, which is not going to happen, regardless of whether they win the Pac-12 or not. Not a lot changed this week, and my prediction is still the same…
My prediction for the playoff is still the same as last week: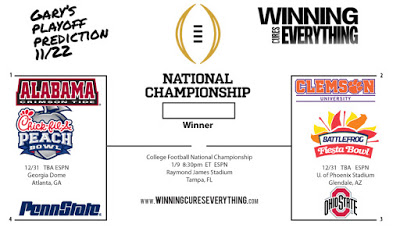 Here's how I've gotten here… I believe Alabama will beat Auburn and Florida and grab the #1 overall seed. Clemson will win out and be the ACC conference champion. Ohio St will get in by beating Michigan, and having Washington lose one of their last 2 games. Penn St will get in by Ohio St beating Michigan to give them a spot in the Big 10 Championship game, then the Nittany Lions will beat Wisconsin for the conference championship. Penn St will beat out other 2-loss teams by having a better resume, mainly because their win over Ohio St will trump everyone else's best win, and they'll have good wins over Wisconsin, Iowa, and, if Temple (if they win the American).
Not to mention, the committee would love to get the eyeballs that would come with a Penn St / Alabama matchup. Penn St is a much bigger name and will draw more people than Washington, Colorado,
ACC Championship
Clemson vs Virginia Tech / North Carolina
Clemson beat Wake Forest to clinch their division, which was good, because Louisville lost at Houston, ending their chances at the college football playoff, regardless of whether they won the conference or not. Their resume is that bad. Virginia Tech gets in if they beat Virginia, and North Carolina gets in if they win out and Virginia beats Tech.
SEC Championship
Alabama vs Florida
Alabama has already clinched the SEC West. Florida got the win at LSU this past weekend, thanks to a goal-line stand in the final minute of the game. Florida made their way back into the playoff talks by moving from #23 up to #15 this week. They play Florida St and Alabama… and if they can win those 2 games, there's no telling what could happen.
BIG 10 Championship
Michigan / Ohio St / Penn St vs Wisconsin / Nebraska
Michigan gets in if they beat Ohio St, which looks to be more difficult if their starting QB is out for this game… after he "supposedly" broke his collarbone against Iowa. Ohio St gets there if they beat Michigan and Penn St loses at home against Michigan St. Penn St gets there by winning and having Michigan lose at Ohio St. Wisconsin won the head-to-head matchup over Nebraska, and they both have a loss to Ohio St. Wisconsin gets in if they beat Minnesota in Madison, but if they lose, Nebraska can get in with a win at Iowa this weekend.
PAC 12 Championship
Washington / Washington St vs Colorado / USC
The winner of the Washington / Washington St game will go to the Pac 12 Championship game. Washington St lost at Colorado last week, but it was their first loss in conference play, so it really doesn't matter in the grand scheme of things. Colorado can get there by beating Utah this weekend. Utah is out of the running, thanks to their loss to Oregon this past weekend. USC can make it to the championship game if Utah beats Colorado.

Here are the only schools with any chance at the college football playoff with their CFP rankings from ESPN, along with their actual resumes.
1. Alabama
Current FPI: 1
Strength of Schedule (Sagarin): 15
Schedule remaining (FPI): 20
7 Top 50 Wins (FPI rank)
7 at LSU
11 USC (neutral site)
14 Texas A&M
18 at Tennessee
23 at Ole Miss
42 Western Kentucky46 at Arkansas
Losses
N/A
Alabama is the only Power 5 school without a loss on the season, and they have 4 wins over Top 18 teams, and 7 over the top 50. They'll add 2 more top 20 wins this season if they can beat Auburn and Florida in the next 2 weeks, which should put them firmly in the #1 position. Alabama doesn't want to lose to Florida in the SEC Championship game, because Ohio State's resume could end up better than Bama's, if they beat Michigan and Oklahoma and Wisconsin end up winning their respective conferences. That would give Ohio St 3 top 10 wins at the end of the year, including 2 over conference champions.
2. Ohio St
Current FPI: 2
Strength of Schedule (Sagarin): 23
Schedule remaining (FPI): 6
5 Top 50 Wins (FPI rank)
8 at Oklahoma
13 at Wisconsin
37 Nebraska
45 Northwestern
48 Tulsa
Losses
17 at Penn St
Ohio St will have, by far, the best resume of any 1-loss team in the field, even without a conference title, if Oklahoma and Wisconsin win their conferences. That would be 3 top 10 FPI wins this season. To get to the Big 10 championship game, the Buckeyes need Michigan St, who almost pulled the upset on them in East Lansing last week, to show up and grab a win in Happy Valley this weekend over Penn St. Otherwise, Penn St goes to the championship game, and has a chance to have 2 trump cards over Ohio St. Then we get to see exactly what the committee's criteria will be – conference championships, or the better season? And whether or not head-to-head is the end all be all, because Penn St would be conference champs AND have a win over Ohio St, even with having 2 losses (albeit to 2 top 25 FPI teams, which is where Pitt currently sits).
3. Michigan
Current FPI: 3
Strength of Schedule (Sagarin): 51
Schedule remaining (FPI): 5
3 Top 50 Wins (FPI rank)
12 Colorado
13 Wisconsin
17 Penn St
Losses
31 at Iowa
This game looked so much better before Michigan's QB went out with a "supposed" broken collarbone at the end of the Iowa game. Their offense only put up 59 passing yards last week at home against a scrappy Indiana team, and they just looked out of sync – played as vanilla as possible, while being down 10-6 early in the 2nd half before running away with a 20-10 win. If they can pull the upset in Colombus, they'll be in the Big 10 title game for a rematch with Wisconsin, and if they win that one, they should be the #2 seed in the playoff. My guess… they lose to the Buckeyes and make their first Rose Bowl trip since 2007.
4. Clemson
Current FPI: 4
Strength of Schedule (Sagarin): 34
Schedule remaining (FPI): 58
4 Top 50 Wins (FPI rank)
5 Louisville
9 at Florida St
10 at Auburn
50 at Georgia Tech
Losses
25 Pitt
Clemson currently has 3 top 10 wins… but does anyone actually think that Louisville is still a top 5 team after that beatdown at Houston? Florida St is a 3 loss team that could end up losing to Florida this weekend, and Auburn plays in Tuscaloosa Saturday, so these 3 Top 10 FPI wins could look drastically different by the time the ACC Championship rolls around. Even still, their schedule does look stronger than other 1-loss teams, and if they can get past South Carolina in Death Valley this weekend, and Virginia Tech or North Carolina in the ACC Championship, they'll be in the playoff.
5. Washington
Current FPI: 6
Strength of Schedule (Sagarin): 65
Schedule remaining (FPI): 13
2 Top 50 Wins (FPI rank)
21 Stanford
33 at Utah
Losses
11 USC
Washington's resume is atrocious, and the only reason the playoff committee has Stanford ranked in the top 25 is to justify having Washington ranked this high. They've played 3 top 50 FPI teams all season, got destroyed at home by the highest ranked one, flattened Stanford when they were at their lowest (seriously, that Stanford offense may have been the worst I've ever seen – they went several games without even scoring a touchdown), and had to struggle at Utah (who has lost 3 games this year), and at Arizona in overtime (and Arizona has been absolutely awful this season – currently #93 in the Sagarin ratings). I don't think the resume will matter though, because I think they lose at Washington St this weekend, or in the Pac 12 title game next weekend, so there won't be any argument about their wins and losses in the playoff.
6. Wisconsin
Current FPI: 13
Strength of Schedule (Sagarin): 18
Schedule remaining (FPI): 37
4 Top 50 Wins (FPI rank)
9 LSU (neutral site)
31 at Iowa
37 Nebraska
45 at Northwestern
Losses
3 at Michigan
2 Ohio St
Wisconsin's resume is being propped up by a win in the first game of the season over #9 FPI LSU, who is now 6-4 on the season and fired their head coach 4 games in because of how poorly they were playing. Their win at Iowa looks impressive now, but the win over Nebraska doesn't look nearly as good, since the Huskers took them to overtime in Madison and then got blasted at Ohio St 62-3 the week after. The best thing about their resume is their close losses to Ohio St and at Michigan. They need Michigan to beat Ohio St, and then they need to beat Michigan, and they'll get into the playoff over Penn St. I don't think this is gonna happen though. Honestly, they're still in a position where, if they lose to Minnesota at home this weekend, Nebraska represents their division in the B1G Championship Game.
7. Penn St
Current FPI: 17
Strength of Schedule (Sagarin): 35
Schedule remaining (FPI): 52
4 Top 50 Wins (FPI rank)
2 Ohio St
31 Iowa
44 Temple
49 Minnesota
Losses
3 at Michigan
25 at Pitt
Penn State's loss to Pitt doesn't look nearly as bad, now that the Panthers went to Death Valley and beat Clemson 2 weeks ago, and then blasted Duke last week. If Pitt can beat Syracuse this weekend, they'll finish the season 8-4 and will be a Top 25 FPI team, which was difficult to consider when they got blasted 51-28 at Miami to go to 5-4, before beating Clemson and Duke in consecutive weeks. Pitt's out of conference schedule included Penn St and a game at Oklahoma St. Pretty impressive.
But anyway, back to the Nittany Lions. They own the trump card with a head-to-head win over Ohio St, and if they win the Big 10 title, that'll be 2 things in their favor over Ohio St, which should push them into the playoff, even if Ohio St is in, dependent on what happens in the Pac 12. You can't keep Ohio St in the playoff if the team that beat them wins the conference championship, so I believe Penn St will get the bid over Ohio St if Washington wins out and gets the Pac 12 title. The committee has made too much of a fuss over conference championships to allow something like this to happen, and they have to protect against allowing the name-brand schools to have preferential treatment.
8. Oklahoma
Current FPI: 8
Strength of Schedule (Sagarin): 17
Schedule remaining (FPI): 24
5 Top 50 Wins (FPI rank)
26 West Virginia
34 at TCU
35 Kansas St
40 Texas (neutral site)
41 Baylor
Losses
2 Ohio St
29 Houston (neutral site)
Oklahoma has made a strong case for their return to the playoff talk. Winners of 8 straight games, if they beat Oklahoma St in 2 weeks, they'll have, it appears, 5 Top 50 FPI wins, with one Top 20 win on the resume. That still means that they got blasted in their games against the 2 best teams they faced – Houston and Ohio St at home – and neither game was even in doubt in the 4th quarter. Now, I do believe that schools can get better as the season goes along, but those games have to mean something at the beginning of the year, and if all you have to show is a conference title in the 6th best conference in the country (yes, RealTimeRPI.com has the AAC ranked 5th over the Big 12), and only 2 top 25 wins, then there's basically no shot at a playoff berth here.
9. Colorado
Current FPI: 12
Strength of Schedule (Sagarin): 19
Schedule remaining (FPI): 32
3 Top 50 Wins (FPI rank)
15 Washington St
21 at Stanford
32 UCLA
Losses
3 at Michigan
11 at USC
Colorado needed the Washington St win badly this past weekend. Their best win was 10-5 over a bad Stanford team, and their 2nd best win was over UCLA without Josh Rosen at QB. The best part about their resume was actually the 2 losses to Michigan and USC (kinda sounds like Wisconsin here). If Colorado can beat Utah this weekend, and then beat Washington in the Pac 12 Championship game, it should really help them out with the committee, but getting beaten by 17 at Michigan, and losing at USC won't help them out, other than showing they avoided bad losses. Colorado will likely miss out on the playoff, and, in turn, it looks like they may lose their coach to one of the big jobs that's coming open after this season as well. Enjoy it while you can, Buffs.
10. Oklahoma St
Current FPI: 16
Strength of Schedule (Sagarin): 54
Schedule remaining (FPI): 8
5 Top 50 Wins (FPI rank)
25 Pitt
26 West Virginia
34 TCU
35 at Kansas St
40 Texas
Losses
41 at Baylor
81 Central Michigan
The Cowboys win over Pitt is looking better and better every week, and that's really helping them out, because the loss (that shouldn't have been a loss) to Central Michigan is really hurting their rankings. If they only had one loss, and could go into Norman and pull an upset over the Sooners, they'd absolutely be fighting for a playoff spot… but as it stands, you can't ignore the 2 losses to Baylor and Central Mich. They may win the Big 12 and move into the top 10, but they won't sniff the top 4.
15. Florida
Current FPI: 22
Strength of Schedule (Sagarin): 60
Schedule remaining (FPI): 4
2 Top 50 Wins (FPI rank)
7 at LSU
43 Georgia
Losses
18 at Tennessee
46 at Arkansas
Florida is an interesting case because they have no good wins (4 loss LSU and 4 loss Georgia are not good wins), and they got blown out in their 2 biggest road games to mediocre teams (at Arkansas and at Tennessee), but they still have Florida St on the schedule and they play Alabama in the SEC Championship game. Now, they're underdogs in both games, but if they pull both of them out and end up with a win over Alabama and they're SEC Champions with only 2 losses…. what would the committee do with them? See the dilemma here? I'll go ahead and save you the trouble – they're going to lose in Tallahassee this Saturday night, and that'll cure that problem really quickly. Still interesting to think about the possibilities though.
So there you have it. Another week, and more real resumes to discuss. Rivalry week is going to provide some clarity… but not nearly as much as I bet you're hoping for.
Share this post!