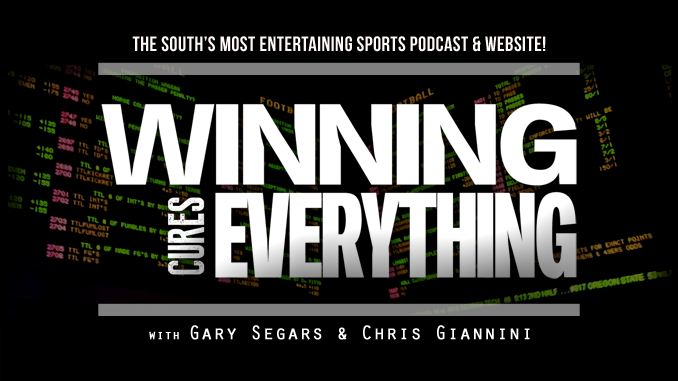 Keep up with our podcasts!
Enter your e-mail, and we'll let you know what's going on at WCE a couple of times a month!
Gary and Chris jump into some college football over/under total season wins for Hot Seat Coaches on Wednesday's podcast. We go through the following teams:
[1:08] Notre Dame (total 7.5)
[5:05] Texas A&M (total 7)
[7:30] UCLA (total 7.5)
[10:45] Arkansas (total 6.5)
[13:18] Tennessee (total 7.5)
[15:55] Auburn (total 8.5) – Chris absolutely lays into Gary ([18:00]) for saying Ole Miss could possibly beat Auburn. You don't want to miss this…
[25:19] Texas Tech (total 5.5)
[29:42] Florida Atlantic (total 4.5) (no, Lane Kiffin is not on the hot seat, but it's an interesting total anyway)
Follow us on Twitter: @GaryWCE / @ChrisBGiannini / @WinningCures
Leave us a voicemail: (551) 226-9899
E-mail the show: winningcureseverything@gmail.com
Check out the Website: WinningCuresEverything.com
If you're enjoying the show, please take a second to subscribe to the podcast and leave a review! Those two things can really help us build up the audience. Thanks for your support!