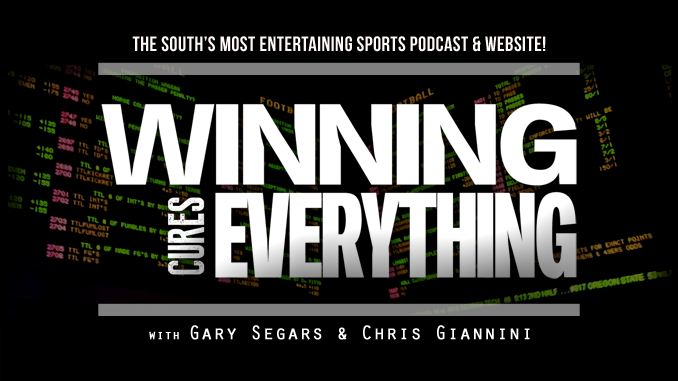 Sign up for our E-mail List!
Get our latest news once a week, including pick'em reminders!
On the Wednesday, Sept 6th edition of the show, Gary brings in Steve Robertson, co-publisher of the Mississippi State Scout site GenesPage.com, and author of the book "Flim Flam: The Truth Behind the Blind-Faith Culture that Led to the Explosive NCAA Investigation of Ole Miss Football."
[00:53] Steve Robertson introduction
[01:50] The response to his new book "Flim Flam"
[3:45] Leo Lewis's schedule for next week's COI hearing & what effect it could have on his prep for LSU
[5:57] How was Kobe Jones brought into the Ole Miss NCAA investigation, and what to make of so much information being leaked regarding the NCAA case
[8:54] Mississippi State's defense looked great early on. What effect has new DC Todd Grantham had on the team?
[10:29] One player at MSU that's not on the radar nationally, but will be by the end of the season…
Follow us on Twitter: @GaryWCE / @ChrisBGiannini / @WinningCures
Leave us a voicemail: (551) 226-9899
E-mail the show: winningcureseverything@gmail.com
Check out the Website: WinningCuresEverything.com
If you're enjoying the show, please take a second to subscribe to the podcast and leave a review on iTunes! Those two things can really help us build up the audience. Thanks for your support!