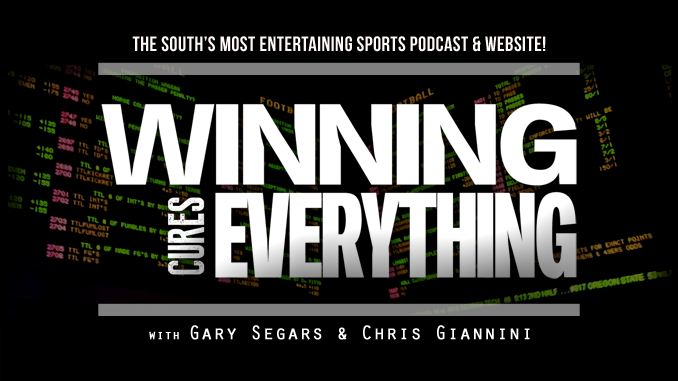 Keep up with our podcasts!
Enter your e-mail, and we'll let you know what's going on at WCE a couple of times a month!
It's Thursday, Sept 21st… and Thursday means GET THAT MONEY day! That's right – Chris and Gary each give you 5 college football picks against the spread, and 3 NFL games against the spread.
That means 16 winners, baby. Here's what the duo discuss today.
Michigan @ Purdue
Duke @ North Carolina
TCU @ Oklahoma St
Penn St @ Iowa
Washington @ Colorado
Miss St @ Georgia
Notre Dame @ Michigan St
Wake Forest @ Appalachian St
West Virginia @ Kansas
Oregon @ Arizona St
Seahawks @ Titans
Browns @ Colts
Raiders @ Redskins
Ravens vs Jaguars
Broncos @ Bills
Saints @ Panthers
There are a lot of online sportsbooks out there. MyBookie.ag is the only one that gets our stamp of approval. And you know we don't give that out lightly. To get our endorsement, we've got to personally use them, and that means they have to be the best. And MyBookie.ag is by far the best sportsbook we've used. So go to MyBookie.ag and enter in promo code WCE100 for a 100% deposit bonus. That basically means they're gonna double your first deposit, so knock that thing out. Go to MyBookie.ag, click 'sign up' and enter promo code WCE100.
Follow us on Twitter: @GaryWCE / @ChrisBGiannini / @WinningCures
Leave us a voicemail: (551) 226-9899
E-mail the show: winningcureseverything@gmail.com
Check out the Website: WinningCuresEverything.com
If you're enjoying the show, please take a second to subscribe to the podcast and leave a review on iTunes! Those two things can really help us build up the audience. Thanks for your support!