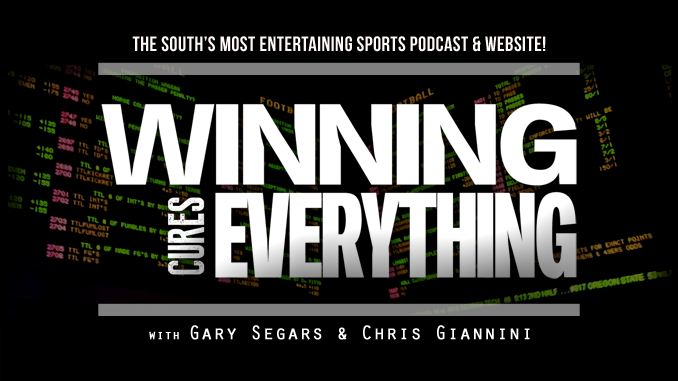 Keep up with our podcasts!
Enter your e-mail, and we'll let you know what's going on at WCE a couple of times a month!
The College Football National Championship game is on Monday, January 8th, and Gary and Chris are ready to break down the game to figure out who is going to win the game.
The guys go over year long stats, discuss motivation for each team (aside from the fact that the game is for a national title – including a story about Kirby Smart taking pictures of classified recruiting information before leaving Alabama), and they discuss projections from other sources, the number of 5, 4, and 3 star recruits on each team, efficiency ratings, before finally getting to their own predictions for the game.
There are a lot of online sportsbooks out there. MyBookie.ag is the only one that gets our stamp of approval. And you know we don't give that out lightly. To get our endorsement, we've got to personally use them, and that means they have to be the best. And MyBookie.ag is by far the best sportsbook we've used. So go to MyBookie.ag and enter in promo code WCE50 for a 50% deposit bonus. That basically means they're gonna give you free money ($100 deposit gets you $50 in free bets), so knock that thing out. Go to MyBookie.ag, click 'sign up' and enter promo code WCE50.
Follow us on Twitter: @GaryWCE / @ChrisBGiannini / @WinningCures
Leave us a voicemail: (551) 226-9899
E-mail the show: winningcureseverything@gmail.com
Check out the Website: WinningCuresEverything.com
If you're enjoying the show, please take a second to subscribe to the podcast and leave a review on iTunes! Those two things can really help us build up the audience. Thanks for your support!