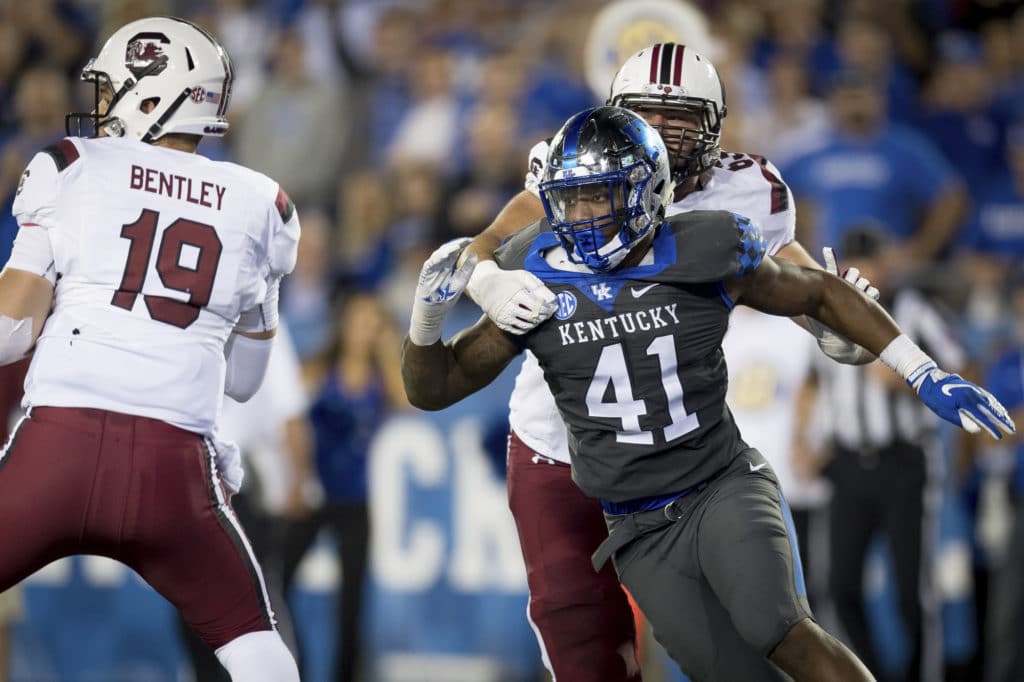 Gary's picks
College Football
Week 10!
  To keep up with our record for the year, along with results from each game we pick, please visit our
Gambling Picks
page!
Air Force @ Army (-6.5)
(Saturday / 11am / CBS Sports Network)
my metrics have Army by 13
Army won at Air Force 21-0 last year after being dominated by AF for nearly a decade
Army coach Jeff Monken has made it a point that they are going to beat the other service academies… and there's no love loss between Army's coaching staff and Air Force coach Troy Calhoun
Army is 5-1-1 ATS in their last 7 games, and Air Force is 2-3-1 ATS in their last 6
Georgia @ Kentucky (+10)
(Saturday / 2:30pm / CBS)
my numbers have Georgia -9, so no real factor here
Georgia is 2-3 ATS in their last 5 games as a road favorite
Kentucky is 6-4 ATS, winning 5 straight up, in their last 10 games as an underdog
Kentucky only gives up 3.3 yds per run (#15 in the country), and only 4.59 yds per play (#13 total defense), which will stifle the Georgia offense
Kentucky has done a good job of protecting the football (+4 turnover margin in the last 4 games)
I think Kentucky matches up better with Georgia than they did with Missouri… and they beat Missouri on the road
Iowa (+3) @ Purdue
(Saturday / 2:30pm / ESPN2)
my numbers have Iowa as a 3 point favorite… WRONG TEAM FAVORED.
Iowa is 7-2 ATS in their last 9 games as an underdog
Purdue has not beaten a team with a top 50 defense (#50 Northwestern, #41 Michigan St), and Iowa is #4 in total defense
Look for Iowa to run the football, dominate time of possession, and limit Purdue's opportunities.  I'm expecting some interceptions by David Blough, and Iowa wins straight up.
Notre Dame @ Northwestern (+9.5)
  (Saturday / 6:15pm / ESPN)
My numbers have Notre Dame by 6 – the line opened at 7, and has now been bet all the way up to 10
Northwestern is 15-5 ATS in their last 20 games as an underdog (including 12 outright wins)
Notre Dame is 3-8 ATS in their last 11 as a favorite
Notre Dame is 1-8 straight up on the road vs Power 5 teams in November since 2013 (only win was at Pittsburgh in 2015)
Fresno St (-25) @ UNLV
(Saturday / 9:30pm / CBS Sports Network)
my numbers have Fresno St by 27
Fresno St is 22-4-1 ATS in their last 27 regular season games
UNLV is 2-7 ATS in their last 9 games as a home underdog
Fresno is #15 in total defense and #4 in scoring defense – UNLV will have trouble putting up points all night
Cal @ Washington St (-10.5)
(Saturday / 9:45pm / ESPN)
my metrics have Washington St by 15
Washington St is #12 in scoring offense (40+ppg) and Cal is #100 (24.9ppg)
Cal has the better defense (#17 nationally), but Washington St's defense is pretty good too (#26)
Cal has been absolutely blasted by other teams (gave up 42 to Oregon and 37 to UCLA)
Cal needs turnovers in order to hang around in games, and Wash St QB Gardner Minshew has only thrown 6 interceptions on the year
Utah St (-18) @ Hawaii
(Saturday / 11pm / Stadium)
my metrics have Utah St -17, so I'm going against my own numbers here
Utah St is 7-1 ATS the season, while Hawaii is 1-6-1 ATS in their last 8 games
Hawaii will be playing their 11th straight game this season with no bye – they got smashed 50-20 at Fresno St last week, and Utah St's offense is much better than Fresno's