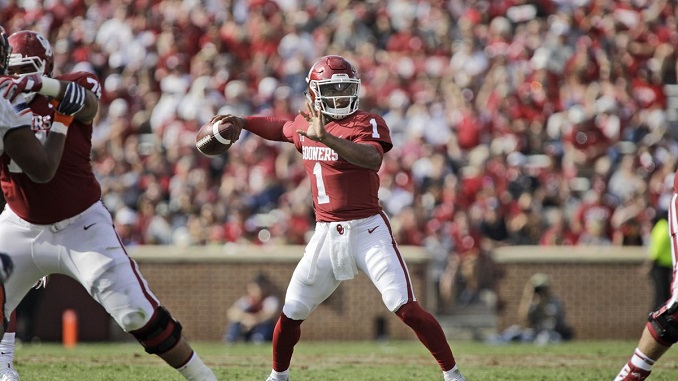 Gary's picks
College Football
Week 13!
  To keep up with our record for the year, along with results from each game we pick, please visit our
Gambling Picks
page!
Michigan @ Ohio St (+4.5)  (Saturday / 11am / FOX)
my metrics have Michigan -2.3
Ohio St is 4-0 straight up (and against the spread) as an underdog under Urban Meyer
Michigan RB Higdon guaranteed a win, giving Ohio St "bulletin board material"
Ohio St is 13-1 straight up against Michigan in the last 14 years – only loss was when Luke Fickel was the interim coach – Urban Meyer is 6-0 vs Michigan
too many people are counting Ohio St out of this game.  They're at home, with the Big 10 East division on the line… I believe Meyer and his coaches will have some tricks up their sleeve.
Oklahoma (PK) @ West Virginia   (Friday / 7pm / ESPN)
my numbers have Oklahoma -1
Oklahoma has won, and covered the spread, in 4 straight games vs West Virginia
since 2015, Oklahoma is 33-3 vs the Big 12 – only losses were twice to Texas, and once to Iowa St… 2 teams that are not built the same way most Big 12 teams are.
the public is heavy on West Virginia, probably because they're undefeated at home… but this is the first good team they've played in Morgantown.  This game gets hyped up every time OU goes to WVU, and the result is always the same.
Washington (+3.5) @ Washington St   (Friday / 7:30pm / FOX)
the numbers have Washington St favored by 1 here
Washington is 5-0 (and 4 straight ATS wins) vs Washington St under Chris Peterson, with an average score of 41-14
the average defense Washington St has played is #68 – they lost at #56 defense USC, and had close calls with #14 Utah (28-24) and #18 Cal (19-13)… Washington is the #16 defense in the country
Washington is a physical football team that, year after year, has been able to dominate the Cougars, no matter if it's at home or on the road.  Until Leach proves otherwise, I'm rolling with the Huskies.
Pitt (+5.5) @ Miami  (Saturday / 2:30pm / ESPN)
metrics have Miami -3.5
Pitt is 6-0 ATS in their last 6 games
Miami had failed to cover the spread in 4 straight games until they played at Virginia Tech last week, who is 0-5 ATS in their last 5
Miami can stop the run vs bad teams, but in this past 5 game stretch they're averaging giving up 4.1 yds per run and 172 rushing yds per game… Pitt is #6 in the country with 6.15 yds per run.
I think Pitt will be looking to go into the ACC Championship game with some momentum, and Miami hasn't shown anything to make me think they can actually beat a decent team, even at home.  Even if they do, I'm getting more than a field goal here.
Nebraska @ Iowa (-7.5)   (Friday / 11am / FOX)
my numbers have Iowa -15
Iowa is #6 in total defense, #7 in yards per play, and #7 in yds per rush
Nebraska has covered 6 straight games vs FBS competition (won 4 of 5)… but this line is begging you to take Nebraska.
Iowa has covered 5 of the last 6 vs Nebraska, and they circle this game every year.
Nebraska is #96 in total defense, and #79 in yds per play… I look for Iowa's offense to have a lot of success at home, and their defense will put the clamps down on Frost's offense
Kentucky (-18) @ Louisville   (Saturday / 6pm / ESPN2)
my metrics have Kentucky -20
no, Kentucky's offense is not great, but their defense is phenomenal, and they find ways to score on defense and special teams, along with running the football
the road team has covered in the last 4 games in this series
Louisville is 1-10 ATS this season (failed to cover in 6 straight games)
Kentucky's bread and butter is running the football (#48 in the country at 188 ypg), and they will pound the football against bad teams.  Louisville is #125 in the country in rushing defense, giving up 271+ yds per game rushing, and 5.89 yds per rush.  Benny Snell will run wild on this team, and the Wildcats will put an exclamation point on their most successful season in decades.
NC State (-6.5) @ North Carolina  (Saturday / 11:20am / ESPN Xtra ACC Regional)
my metrics have NC State -12 here
NC State is 4-2-1 ATS as a road favorite since 2016, and has covered 7 of the last 10 vs North Carolina
road team has covered the last 4 straight in this series
NC State is #6 in the country in passing offense, averaging over 330 yds per game, while UNC is #67 in the country against the pass.  NC State's scoring offense is #33 in the country, averaging 33+ ppg, while North Carolina is #108 in scoring defense, giving up 34+ ppg.  NC State should score at will here, and UNC won't be able to keep up.