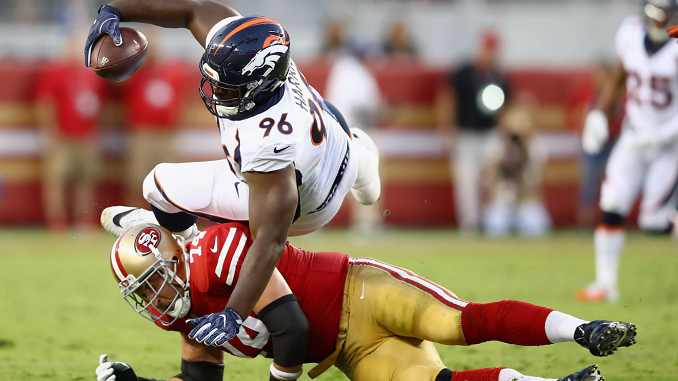 Gary's picks
NFL Football
Week 15!  To keep up with our record for the year, along with results from each game we pick, please visit our Gambling Picks page!
I started out with a loss last night, as I had the Chiefs -3.5 at home against the Chargers, but here are the other 4 games I've got for this week.
Browns @ Broncos   (Saturday / 7:20pm CT / NFL Network)  
Saturday night NFL games!
The Broncos got absolutely embarrassed last week at San Francisco (20-14… but it's a loss to the 49ers), but coming home to Mile High will be good for a team that had won 3 straight prior to that.
the Browns have now won 3 of 4, including a big win at home over the Carolina Panthers last week, who couldn't punch in a touchdown with less than 3 minutes left and the ball on Cleveland's 3 yard line.
both teams still have a small shot at the playoffs, but Baker Mayfield, against teams with a good pass rush, throws interceptions, and his completion percentage is significantly lower.  The Broncos will be able to take advantage of that with Von Miller and Bradley Chubb.
The Browns have won 3 of 4, but those 3 wins were over the Panthers (lost 6 straight), Falcons (lost 5 straight), and Cinci (lost 5 straight).  The metrics have the Broncos -5.67, so I'm rolling with Denver.
Raiders @ Bengals (-3)   (Sunday / 12pm CT)
No Andy Dalton, No A.J. Green… No problem, to me.  The Raiders had their shocking win at home last week, with a last second win at home over the Pittsburgh Steelers.  The Bengals played the Chargers tough in LA last week, actually outgaining LA in total yardage, which shows me that they're still fighting, and I think they can handle the Raiders at home.
QB Jeff Driskel, in relief of Andy Dalton, is completing 65+% of his passes, with 3 TDs and 1 INT.  He's been serviceable.
metrics have the Bengals winning by 5.41.  I'm only giving up a field goal, so I'll roll with Cinci this week.
Lions (+2.5) @ Bills   (Sunday / 12pm CT)
metrics have the Lions actually winning by 2.64 points.
This is not a situation where the opposing team knows nothing about the team from the other conference – Lions coach Matt Patricia has coached against the Bills twice a year for the entire time he was in New England.
Lions are 4-4 as an underdog this year, and the Bills did not cover (or win) last week in the only game they've been favored in all season
I trust Matt Stafford more than Josh Allen in this situation.
Packers @ Bears (-5.5)  (Sunday / 12pm CT)

the Packers came out and got a huge home win, 34-20, over the Falcons last week in their first game after Mike McCarthy's firing.  But… now they have to travel to Soldier Field to face a fantastic Bears defense.
The Packers came back to beat the Bears 24-23 in the first game of the season, but Mack was limited in that game, and it was in Wisconsin.  The Bears will still be pissed about letting that one get away.
The Bears can wrap up the NFC with a win in this game, and completely end Green Bay's playoff hopes.
Khalil Mack and that Bears defense will eat up the Packers, who always get the benefit of the doubt with spread lines because of Aaron Rodgers.  I like the Bears giving up less than a TD here, and I think they cover easily.  Metrics have the Bears -7.67.