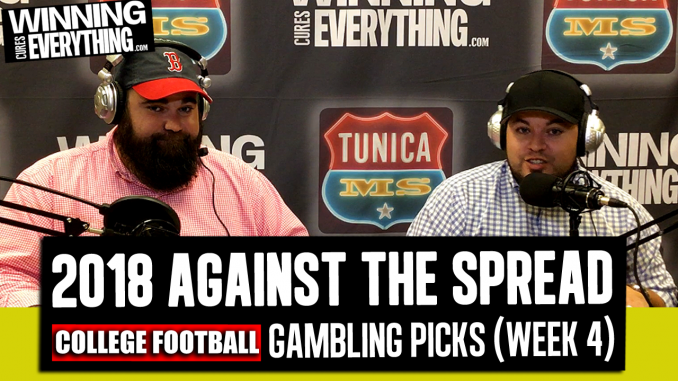 Gary's picks
College Football
Week 4!  To keep up with our record for the year, along with results from each game we pick, please visit our Gambling Picks page!
Notre Dame @ Wake Forest (+8)  (Saturday / 11am / ABC)  
Notre Dame's only spread cover this year was a win over Michigan…and they won that one in the first half.  Haven't looked good since.
Wake will be fired up after losing a close game at home to a good Boston College team last week
Notre Dame is only averaging 3.63 yds per run this year
Wake is 7-4 ATS after a loss since 2016, and with last week's push, they're 2-0-2 as a home underdog in that span
last year, at Notre Dame, Wake lost 48-37, but still racked up 239 yds rushing and 348 yds passing on ND's vaunted defense
Kansas St (+16.5) @ West Virginia  (Saturday / 2:30pm / ESPN)  
the last 4 games in this series have been decided by less than a touchdown
Kansas St is 18-8 ATS as a road dog since 2010, and West Virginia is only 19-23 as a home favorite in that span
Kansas St's overall numbers – through 3 games – are a bit skewed because of the Mississippi St game
West Virginia didn't play last week because of Hurricane Florence – WVU is 3-11 ATS after a bye under Dana Holgorsen
Bill Snyder got K-State back to normal a bit in week 3 vs UTSA, averaging 7.13 yds per play in a 41-17 win
NC State (-6.5) @ Marshall  (Saturday / 6pm / CBSSN)  
Both teams had games canceled last week because of the hurricane.  Since 2013, NC State is 9-2 ATS the week after a bye, and Marshall is 6-2.
As a road favorite, Dave Doeren and NC State are 7-2-1 since 2013 (when he took the job)
Marshall gave up 6.08 ypp to Miami OH (who is awful) and Marshall is only averaging 5.70ypp.
Analytics call for NC State to win by 3 TDs, so the fact that this is under a TD looks like a gift here
Texas Tech @ Oklahoma St (-13)  (Saturday / 6pm / FS1)  
Ole Miss – a team that had not had a 200 yard rusher since 2010 – had a guy run for 200+ yds vs Texas Tech
Oklahoma St's Justice Hill is averaging 8.15 yds per carry, including 8.20 yds average on 15 carries vs Boise St.
Oklahoma St's defense is vastly improved under former Duke DC Jim Knowles
In 3 games, OK St has 16 sacks, 32 TFLs, and is only giving up 3.98 yds per play, including only 2.11 yds per carry on 105 attempts
Oklahoma St will win this by 3 TDs at least.
East Carolina (+22) @ South Florida  (Saturday / 7pm / ESPNNews)  
since coming to South Florida in 2018, Charlie Strong's Bulls are only 5-8 ATS as a favorite, and 3-4 as a home favorite
ECU was off last week because of the hurricane, but the week before, they beat UNC 41-19, averaging 6.22 yds per play
USF is giving up almost 6 yds per play, and has given up over 800 rushing yards on the year – ECU gained 220 rushing yards on North Carolina, who held Cal to only 160 on the same 49 attempts (3.27 yds per rush).
all my metrics have this anywhere from a 12 to 15 point spread, so getting more than 3 touchdowns looks crazy here
Stanford (-2) @ Oregon  (Saturday / 7pm / ABC)  
the public LOVES betting on Oregon… but since Marcus Mariota left after the 2014 season, the Ducks are 15-25-1 against the spread
David Shaw, in that same time span, is 26-17-1 ATS
Oregon is giving up 226 yds passing per game, including 7.1 ypc passing – Stanford QB KJ Costello will be able to take advantage of that, as he's throwing for almost a 60% completion percentage for 729 yds, along with 7 TDs and 3 ints.
Oregon has played absolutely nobody to prepare them for this game – Average Sagarin rating of opponents: Stanford – 76, Oregon – 171.
Wisconsin @ Iowa (+3.5)   (Saturday / 7:30pm / FOX)  
Iowa is 3-0 ATS, while Wisconsin has under performed and, honestly, disappointed, going 0-3 ATS so far this year, after going 9-5 ATS in 2017
Iowa is giving up only 8 ppg, and Wisconsin is giving up 13.7 ppg.  The most interesting matchup will be Wisconsin RB Jonathan Taylor, who is averaging 8+ yds per carry, while Iowa's defense is giving up only 1.54 yds per run.
The thing I love most about this is that, according to VegasInsider.com, 54% of the spread bets – and 98% of the money – has come in on Wisconsin early this week… yet the line went down from WI -3.5 to -3, which says they're wanting people to take Wisconsin on this one.   I absolutely love Iowa here.