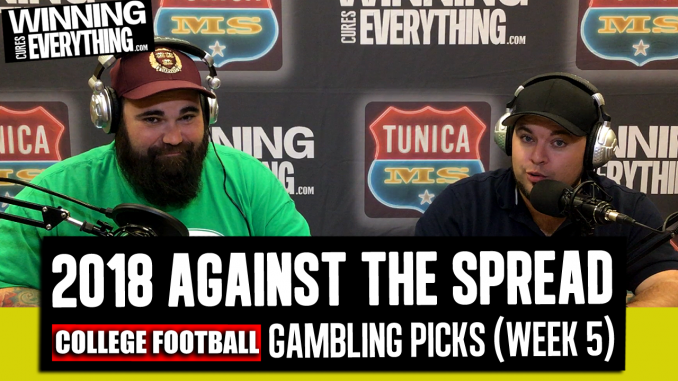 Gary's picks
College Football
Week 5!  To keep up with our record for the year, along with results from each game we pick, please visit our Gambling Picks page!
Army (+9) @ Buffalo   (Saturday / 11am / CBSSN)  
Army averages over 40 mins time of possession per game, and are converting 52% on 3rd down, compared to Buffalo, who is barely averaging 30 mins and 40% 3rd down conversions.
Buffalo gave up an average of 5.62 yds per play vs Temple and Eastern Michigan (the two best teams they've played
Buffalo is getting hype for thrashing Rutgers last week 42-13.
Army is 7-3 ATS as an underdog since the start of 2017
my metrics say Buffalo should be around a 1 point favorite.  9 points is absurd.
West Virginia @ Texas Tech (+3.5)   (Saturday / 11am / ESPN2)  
Texas Tech's defense has drastically improved over the last 2 seasons.  They're still not great, but it's serviceable.  This year in road/neutral site games, TTU is giving up 7.64 yds per play, but at home, it drops to 4.94.
This is West Virginia's first road game, and they have not played a single threatening passing attack so far
my metrics say Texas Tech should actually be favored by about 0.5 pts, not including home field advantage
Temple (+14) @ Boston College   (Saturday / 11am / ESPNU)  
in the last 2 games (vs Maryland and Tulsa), Temple is giving up only 3.76 ypp, and their offense is gaining 5.31 yds per play
Boston College showed last week that their offense can be schemed against – Purdue held them to 229 yds total offense & 3.63ypp
my metrics say Boston College should only be favored by about 6 pts here
ULM @ Georgia St (+7.5)   (Saturday / 1pm / ESPN+)
both of these teams have underperformed against good teams, and are average vs G5 competition
Georgia St, behind QB Dan Ellington, should be able to keep this within a TD
my metrics have ULM as only a 1 point favorite
Old Dominion @ East Carolina (-7)   (Saturday / 11am / CBSSN)  
Old Dominion's win over Virginia Tech last week gave us a favorable line here
ODU still gives up over 500 ypg and over 35 ppg
ECU beat an ACC team earlier this season as well
ECU will score a ton of points, and now that there's film on backup QB LaRussa, I don't think ODU's offense will be able to keep up
my metrics say ECU should be favored by more than 11 points
UTEP @ UTSA (-10)   (Saturday / 6pm / ESPN+)  
UTSA has improved their rushing yards in all 4 games this season, and are currently around 3.6 yds per run (started with 34 rushes for 2 total yds at Arizona St in week 1)
UTEP is 1-3 ATS while UTSA is 0-4… but UTSA is 1-3 SU, while UTEP is 0-4.
Both teams are pretty bad this year… I picked this game because my metrics called for UTSA to be a 17.5 pt favorite, and it's only a 10 point line
Oregon @ Cal (+3.5)   (Saturday / 9:30pm / FS1)  
Cal is 8-3 as an underdog under head coach Justin Wilcox
Cal is at home, off a bye week, while Oregon is coming off of a heartbreaking overtime loss at home to Stanford
Oregon played REALLY weak competition before playing Stanford… and then gave up 7.96 yds per play to the Cardinal.
my metrics say that Cal should be favored by 2 points in this one, so catching more than a field goal at home is a must play