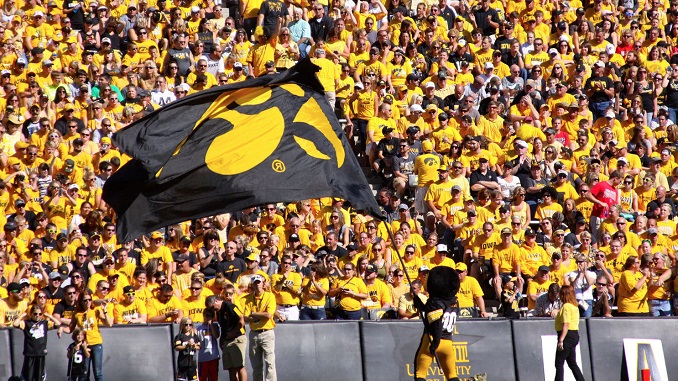 Gary's picks
College Football
Week 8!  To keep up with our record for the year, along with results from each game we pick, please visit our Gambling Picks page!
Maryland @ Iowa (-12) (currently -9.5)   (Saturday / 11am / ESPN2)  
Iowa is 7-2 ATS in their last 9 games as a home favorite
Maryland is 3-6 ATS in their last 9 as a road underdog
Iowa is 5-1 ATS this year
Metrics have Iowa as 14.6 pt favorites
the public is all over Maryland right now, which makes me feel even better about this game
Maryland, aside from the win over Texas in the 1st game, has gotten hammered by Temple and Michigan.  Their wins have been over these teams:

Bowling Green (1-5)
Minnesota (3-3, who is on a 3 game losing streak since losing their star running back)
Rutgers (1-6)

gimme the Hawkeyes all day
Miami (OH) @ Army (-9) (currently -8)   (Saturday / 11am / CBSSN)
a non-conference game for Miami (OH), who will probably not put too much effort into this game because they're in their conference race, and they have to play Buffalo next
oddsmakers still have not caught up to Army.  The Cadets are 4-0-1 ATS in their last 5 games
metrics have Army winning this game by 16
Eastern Michigan (-4.5) @ Ball St (currently EMU -3)   (Saturday / 2pm / ESPN+)
last 3 seasons, Eastern Michigan is 8-0 ATS in October road games
EMU is 14-3 on the road since 2016
Ball St is only 2-8 ATS in their last 10 as a home underdog
metrics have Eastern Michigan winning by 7
NC State (+17) @ Clemson  (Saturday / 2:30pm / ESPN)
my metrics have Clemson only favored by 14
Clemson is 7-11-1 ATS in their last 19 as a home favorite (0-3 ATS in 2018)
NC State is 7-3 ATS in their last 10 games vs Clemson, including covering the last 2 years
Clemson has trouble with teams that can throw the football (Texas A&M, Syracuse) – NC State is #6 in the country in passing offense
Oregon @ Washington St (+2) (currently -3)   (Saturday / 6:30pm / FOX)
Washington St is 5-1 ATS in their last 6 as a home underdog
WSU is 8-1 ATS in their last 9 games overall, including 6-0 this year
since 2016, Oregon is 3-11-1 ATS after a win, and 3-8-1 as a road team
with College Gameday in town, the Ducks are going into a buzzsaw in Pullman, WA.  Homefield advantage will be intense.
  Vanderbilt @ Kentucky (-11.5)   (Saturday / 6:30pm / SECN)
Kentucky is 2-0 SU & ATS vs Vandy in their last 2 meetings, including a 44-21 beatdown in Nashville in 2017
Vandy is 1-9-1 ATS vs SEC teams since 2017
Vandy is giving up an average of 280+ rushing yds per game in those 9 losses & 1 push
Vandy can't stop the run, Kentucky is coming off a bye… this should be a blood bath
Fresno St (-15) @ New Mexico (currently Fresno -13.5)  (Saturday / 7:30pm / ESPNU)
Fresno St is 16-3-1 ATS in their last 20 games
New Mexico is 3-7 ATS in their last 10 games
metrics have Fresno St -18
Jeff Tedford and his defense will keep things rolling, and they should beat up on this New Mexico team, even on the road