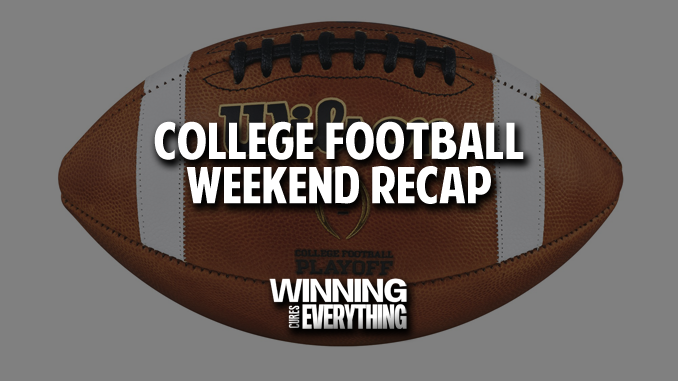 The recap of the college football weekend!  Grab your WCE shirts for the season here.
Now that we're finished with Week 2, I'll be posting a weekend rewind of all the stories that I paid attention to on Saturday.  I'll be doing this every week.
We'll start with my Top 10, and then go more in depth into some of the more interesting topics.
Gary's Top 10
Alabama
Clemson
Oklahoma
USC
Penn St
Michigan
Oklahoma St
Georgia
Washington
Ohio St
Alabama did what they were supposed to do to Fresno St – built a lead and played A TON of young guys.  Clemson absolutely dominated a pretty good Auburn team, allowing just 15 yards on 29 second half plays, after Auburn dominated the first half but couldn't capitalize, racking up only 2 field goals early.
Oklahoma jumps into the top 3 after a win in the Horseshoe, but they don't crack the top 2 because, honestly, everybody saw this coming with Ohio St.  The Buckeyes just haven't been great, and JT Barrett seems to have regressed as a QB over his time in Columbus.  They're still immensely talented, so they're still in the top 10, but they have major issues right now.
USC put a beatdown on Stanford, thanks to Sam Darnold looking incredible.  Penn St beat up on Pitt, even though the Panthers held onto the football for basically the entire ballgame.  Michigan wasn't overly impressive in beating up Cinci, but that was almost to be expected.  There's still a lot to work on there.
Rounding out the top 10, Oklahoma St has done nothing but impress in their two big wins over smaller teams, Georgia got a road win with a freshman qb in South Bend in a big time atmosphere, and Washington, after sleepwalking through Rutgers last week, put a 63-7 beatdown on Montana.
What does Oklahoma's big win at Ohio St mean for the Big 12?
Obviously, we're still really early in this process, there's a lot of questions going on here.  The Big 12 East was widely renowned as the best division in football, thanks to Michigan, Penn St, and Ohio St.
But Oklahoma dominated Ohio St in the Horseshoe, and Ohio St hasn't exactly looked great.
So if the Big 12 earns a spot in the playoff, what conference do they knock out?
Well, the front-runners for each conference are Alabama, Clemson, USC, Oklahoma, and, now, Penn St.  So who gets left out if they all go undefeated?  A lot of that depends on what happens with everybody's big non-conference opponents.  Alabama beat Florida St – who ended up losing their QB in the game.  Clemson beat Auburn at home.  USC hosts Texas and plays at Notre Dame, both of which have already taken losses.  Oklahoma won at Ohio St, and hosted UTEP, and hosts Tulane next week.  Penn St hosted Akron & Pitt, and they host Georgia St next week, but they host Michigan and play at Ohio St in consecutive weeks during the season – but those are currently the only two ranked teams they play during the season, unless somebody else steps up in the Big 10.
Looking at this, it's entirely possible that Oklahoma could get in over Penn St, if all 5 of these teams go undefeated.  Talk about some pissed off Nittany Lion fans.
Let's talk about the Big 12 though.  If Oklahoma goes undefeated, including wins at Texas, at Kansas St, and at Oklahoma St, but then loses in the Big 12 championship game, what happens there?  If they hand either Kansas St or Oklahoma St their only loss of the season, but then one of those two beat Oklahoma in the Big 12 championship game, which team would be more likely to get to the playoff?  Kansas St plays at Vanderbilt next week, and Oklahoma St plays at Pitt this weekend.  That could knock the Big 12 out completely.
Either way, Oklahoma's win over Ohio St made this season infinitely more interesting.
Ole Miss's COI hearing is Monday… and they can't stop the run
Ole Miss can't stop the run.  And they can't run the ball.
South Alabama ran for 170 yards on the Rebels last week.  This week, UT-Martin ran for 219 yards.  In those games, Ole Miss ran for 102 yds against USA and only 54 this week against UTM.
That's not what Rebel fans want to hear heading into conference play.  Pretty much everybody on Ole Miss's schedule can run the football… extremely well.  If UTM racked up 219 yards rushing, imagine what Alabama, LSU, Auburn, and even Vanderbilt, Kentucky and Mississippi St will be able to do against that defensive line.  Texas A&M ran for well over 300 yards on UCLA in the first game of the year.
Put that together with the fact that the Ole Miss COI hearing starts tomorrow, and you've got the makings of a really long season in Oxford.
SEC's afterthoughts look ready to make noise
South Carolina (picked 4th in the division) looks like the best team in the East after a 35-28 neutral site win over NC State and a 31-13 win at Missouri.  They've got a fantastic quarterback in Jake Bentley, the defense is legit, and Deebo Samuel is as electrifying a player as there is in all of college football.  Their depth isn't quite there yet, but they're healthy right now and they're rolling.
Mississippi State (picked 6th in the West) hasn't played the level of competition that South Carolina has, but they've outscored their opponents 106-21, and they've rushed for 608 yards total in the two games.  This week, we get to see exactly what they're made of, as LSU comes to Starkville.
And don't forget about Vanderbilt (picked 6th in the East), who stomped MTSU 28-6 on the road in week 1 (MTSU then went on the road and upset Syracuse this weekend 30-23), and beat Alabama A&M 42-0 this week.  QB Kyle Shermer is 35/46 on the year for 498 yards with 7 TDs and zero interceptions.  Turns out Derek Mason is a pretty good coach when he's got a good QB.
Can any of these take down some of the giants in each division?  Still a long way to go, but all three of these teams look well-coached, and they've all got stout defenses and play-making QBs.  I'd be wary of all of them.
What's going on with Auburn's offense?
In the first half, Auburn had 102 yards of total offense.  They held onto the ball for over 12 minutes in the first quarter.  In the 2nd half, they had 15 yards of offense on 29 plays.
Jarrett Stidham was sacked 11 times.  He had 18 "rushing" carries for -42 yards.  So, in the box score, Auburn rushed 42 times for only 38 yards.  But Pettway rushed 22 times for 74 yards.  Stidham was 13/24 passing for only 79 yards.
The problem is the offensive line.
So is Clemson's defense just that good?  It's possible.  But allowing 11 sacks is troubling for any offense, especially if you can't get the ground game going.
Auburn hosts Mercer this week, and then travels to Missouri before Mississippi St comes to the plains.  The Bulldogs have some hosses in their front 7.  If the offensive line doesn't get things shored up, that could be a long afternoon.
On the same note… what's wrong with Ohio St's offense?
We chalked up Ohio St's slow start on offense against Indiana to the fact that College Gameday was in Bloomington for the first time, it was the 1st game of the season, Tom Allen knew what new OSU offensive coordinator Kevin Wilson would be doing, among other things.
But after being beaten 31-16 at home by Oklahoma this weekend, we're still asking the same questions about the offense.
The problems appear to start with JT Barrett.
Barrett was 19/35 for 183 yards, no TDs, and 1 interception.  His throws were not accurate, and he couldn't seem to get in a rhythm at all.
Oklahoma's defense is good… but this was more about OSU's offense not performing.  They stopped themselves a lot.  Urban Meyer's offenses haven't looked good, consistently, since Tom Herman left.  Ohio St has the talent, but what will the rest of their season look like if they can't count on their QB?
USC put a whoopin on Stanford.  What happens in the Pac 12?
Will Muschamp and Derek Mason have, historically, not been viewed as great coaches.
But now that they've found really good QBs, they're beginning to win games.  They look like they know what they're doing when they've got somebody under center that can execute.
So is Clay Helton really a great coach, or is Sam Darnold just lifting up an incredibly talented team?
Right now, I don't think it matters.  USC beat up Stanford about as bad as Washington did last year, ringing up 623 total yards, going 10/12 on 3rd down, and being as balanced as possible on offense with 316 passing yard and 307 yards rushing.
Yes, that says 307 yards rushing.  Against Stanford.
As it sits, USC doesn't play another ranked team on their schedule, other than a Friday night game at Washington St on 9/29, unless UCLA ends up ranked at some point.  Even then, is there anybody left that anyone believes will beat USC?  They'll be favored in every game, including road games at Colorado and Notre Dame.
Whether it's Darnold or not, Clay Helton will be getting a raise at the end of this season.
Is Arkansas's Bret Bielema officially on the hot seat?
TCU owned Arkansas on the scoreboard in Fayetteville yesterday, 28-7.  Arkansas couldn't find a way to score for basically the entire game.
Bielema needed to win this game, because they have an off week, and then they play Kevin Sumlin in the next installment of the "Hot Seat Bowl" after the UCLA/A&M game in week 1.  If Arkansas opens 2-2 (I think they'll beat New Mexico St on 9/30), they then travel to South Carolina, to Alabama, host Auburn, and play at Ole Miss before they get to November, when they play at LSU and host Miss St and Missouri.
Is this team good enough to get to 7-5?  Or even 6-6?  And if they don't, is Arkansas willing to pay the crazy buyout that would be owed to Bielema?  It's going to be a long season in Fayetteville.