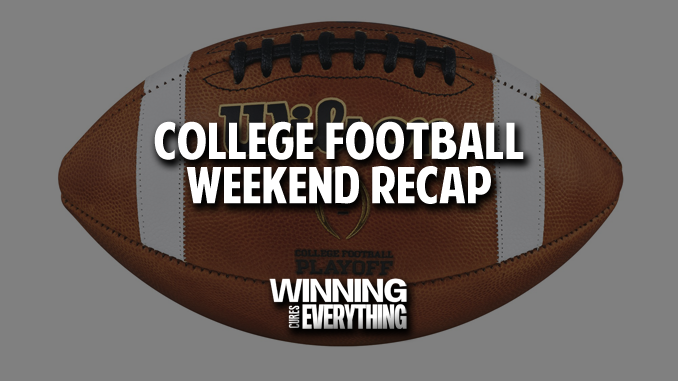 The recap of the college football weekend!  Grab your WCE shirts for the season here.
Now that we're finished with Week 3, I'll be posting a weekend rewind of all the stories that I paid attention to on Saturday.  I'll be doing this every week.
Since Chris & I started this website, people have been asking for advice. Usually, it's what team to bet on this week. 'You got Patriots or Steelers?' 'Chicago or Detroit?' Let me tell you this. Where you're betting is just as important as who you're betting on. That's why I always tell people to go to MyBookie.ag. Right now, you can use promo code WCE100 for a 100% deposit bonus.
They have the fastest payouts – seriously, just two business days – and that 100% deposit bonus is epic.  That means whatever you deposit, they'll match it completely.  It's no different from betting in a glitzy Las Vegas casino, but you can do it right from your smartphone. Trust me, go to MyBookie.ag to place your bets, and tell them we sent you by using promo code WCE100 to get that 100% deposit bonus.  Right off the bat, you're making money for doing nothing. Get over there, and get the best odds anywhere!
Let's start with my Top 10, and then go more in depth into some of the more interesting topics.
Gary's Top 10
Clemson
Alabama
Oklahoma
Oklahoma St
Penn St
USC
Michigan
Wisconsin
Georgia
Washington
Clemson's complete domination of Louisville (in a 47-21 win on the road at night) moves the Tigers into the top spot because, honestly, holding Lamar Jackson to only 21 points, even with him racking up almost 400 yards of offense by himself, is a pretty impressive feat.  Nobody in the country has a combination of wins as good as Auburn at home, and Louisville on the road, even if both end up not looking as great at the end of the season (because I don't believe either team is all that good).
Oklahoma was in a fight with Tulane early, with the game tied at 14 and Tulane driving, until the defense returned an interception 77 yards for a TD to make it 21-14 Oklahoma.  From there, it was just a beat down, as Oklahoma won 56-14.  Oklahoma St absolutely demolished Pitt, rolling up 7 TDs in 7 offensive possessions in the first half at Pitt.  It was complete and utter domination.  It really looks like we're going to get Bedlam twice this year – once in Stillwater, once in the Big 12 title game.
Penn St rolled Georgia St 56-0.  They've now beaten their opponents by a combined score of 141-14.  USC moves to 6, thanks to a double overtime win over a Texas team that doesn't look very good, and their huge win over Stanford now doesn't mean nearly as much because of the Cardinal's loss to San Diego St last night.
Rounding out the top 10, Michigan has a top level defense, but their offense does not yet look the part of an upper echelon team after a 29-13 win over Air Force.  Wisconsin smoked BYU 40-6 in Provo and QB Hornibrook was nearly perfect on 18/19 passing with 4 TDs.  The Badgers look like it could be between them and Penn St for a playoff spot this year in the B1G title game.  Georgia moves to 3-0 after a 42-14 win over Samford – and I've got them at 9 because, honestly, there's no team left in the East that looks like they could beat Kirby Smart's team this season.  Finally, Washington rounds out the top 10 after a 48-16 win at home over Fresno St.  Chris Peterson's schedule suddenly doesn't look nearly as daunting now that Stanford appears to be weaker than anticipated.
Miss St took LSU out behind the woodshed

Of all the results of Saturday night, the most interesting one was Miss St's win over LSU.  Not because State beat LSU – there were tons of people that predicted that possibility – but I don't believe ANYBODY saw a 37-7 absolute beatdown of the Bayou Bengals coming.
Was the coaching matchup really that one-sided between Dan Mullen and Ed Orgeron?  Even if it was, shouldn't the talent levels have helped keep this game a little bit closer?  Under Les Miles, LSU had 34 losses from 2005 to 2016, and only two of them were by 30 or more points – a 51-21 loss to Florida in 2008, en route to Florida's 2nd National Title under Urban Meyer, and a 41-7 loss to Auburn in 2014, in Brandon Harris's first start as a true freshman, when LSU could get absolutely nothing going on offense.
This was a different level beating though.  Miss St threw for 180 yds to LSU's 137.  State rushed for 285 yards to LSU's 133.  LSU had 9 penalties for 112 yards, while MSU had 5 penalties for 49 yards.  Neither team had a turnover.
There was no fluke here.  No game changing play.  Mississippi State physically dominated Ed Orgeron's Tigers, and it was never close.
So what does mean for both teams?  LSU could be in a lot of trouble this season.  There's still Florida, Auburn, Alabama, Arkansas, Tennessee, and Texas A&M on the schedule.  Syracuse and Troy are not walk-throughs.  Ole Miss can find ways to score.  This is not as easy of a schedule as it once looked.
Mississippi State, though?  Suddenly, the next two weeks, at Georgia, and at Auburn, suddenly are two of the biggest games of the SEC season.  If State can dominate LSU by 30, what could they do to an inexperienced QB like Jake Fromm this week?  The Mississippi State game at Georgia this week is now, by far, the best game of this coming weekend.
It's still early, but it sure does look like the power in the SEC West is shifting.
Vanderbilt looks legit after beating Kansas St 14-7
Vanderbilt's defense is incredibly stout through 3 games this season.  They've beaten Middle Tennessee St, Alabama A&M, and Kansas St by a combined score of 87-13.  Kyle Shermer is a legit quarterback.  He's 49/69 for 703 yards with 8 TDs and 0 interceptions.
Kansas St had scored 55 points in both of their opening games, rolling up 519 yards in the first game, and 493 in the 2nd.  Against Vandy, the Wildcats rolled up only 277 total yards, but they had two touchdowns called back – one due to a block in the back on a punt-return-touchdown, and one on a 35 yard fumble return touchdown that was reviewed and called back because Shermer was down before the ball came out.
So how good is Vanderbilt really?  Vanderbilt Stadium was more than half filled with Kansas St fans, but after the game, the chants of "WE WANT BAMA" started up through the Vandy fans.
We'll find out this week how much they actually meant that, as Bama visits Nashville for the 2:30pm CBS game.
The SEC East is an absolute mess
Kentucky looked awful through the first two weeks, and then went on the road and beat South Carolina, who appeared to be the best team in the East.
Missouri got curb-stomped at home by Purdue.  Florida and Tennessee both looked absolutely awful, with Florida getting the win on a hail mary play, on the last play of the game, to win 26-20.
Vandy looks good, getting a huge win over #18 Kansas St at home, but they host Alabama this week.
Georgia did not look great in their win at Notre Dame last week, but they did win, and Notre Dame came back and whipped Boston College this past weekend to make it look better.  Georgia hosts Mississippi State this weekend.  Win that one, and the East opens up.
So who wins the East?  Your guess is as good as mine right now.
The SEC West doesn't look so good either
Auburn rolled up 510 yards of offense against Mercer… but turned the football over 5 times, and was only up 17-10 until they put the game away with a 4-yard touchdown run with 4:50 left in the game to win 24-10.
Alabama toyed with Colorado St, going up 17-0 before it turned into 17-10, when going up 41-10, before giving up 2 late touchdowns to make it 41-23.  The Rams are a good football team, and Alabama played a ton of players to get in some experience before SEC play, but they didn't look dominant.
Ole Miss lost at Cal 27-16, and that was just a sign of things to come in Oxford.  Ole Miss was physically dominated the entire game, and they lost kicker Gary Wunderlich, and their best receiver AJ Brown, to injuries.  On top of that, the Rebels had 16 penalties for 113 yards.
Texas A&M was down 21-14 at the half against UL Lafayette, but came back and ran up the score in the 2nd half to win 45-14. They play Arkansas next week, who didn't play this week, but lost 28-7 at home to TCU last weekend.
Through 3 weeks, there are only 2 teams in the SEC West that don't have losses – Alabama and… Mississippi State.
USC survives, Stanford doesn't, and Memphis tops UCLA
The Pac 12 doesn't look exactly like we thought it would.
Nobody really knows who USC is at this point.  In Week 1, they struggled with Western Michigan, who then went and couldn't score an offensive touchdown against Michigan St in week 2.  In Week 2, USC completely dominated Stanford, 42-24, rolling up 300 yards rushing and 300 yards passing, but Stanford then got beat 20-17 by San Diego St this week.  Also this week, USC went down 17-14 at home to Texas with less than a minute left, before coming down the field and kicking a field goal to send it over overtime, and USC eventually won in 2 overtimes.  There's no telling what this team will turn into, but Sam Darnold is a big-time QB.
There are still 7 teams that are undefeated through 3 weeks – USC, Colorado, Utah, Washington St, California, Oregon, and Washington.
How many of these are actually good teams?  Colorado's defense looks good again.  Utah has not looked great in any game so far.  Mike Leach and Washington St beat up on Oregon St, and had to go to 3OTs to beat Boise St last week.  Cal has beaten North Carolina and Ole Miss so far – which sets up an improbable undefeated matchup between the Bears and USC in Berkley next weekend.  Oregon hammered Wyoming 49-13 in Laramie last night, and Washington hasn't played a single serious team yet, other than a less-than-awesome 30-14 win at Rutgers to open the season.
The schedules haven't gotten good yet, but the fact that there are still 7 undefeateds through 3 weeks is better than any other conference can say, aside from the Big 10.
Penn St & Wisconsin look like the best of the Big 10
Penn St stomped on Georgia St 56-0, and Wisconsin disposed of BYU, in Provo, 40-6.  But there are 5 other Big 10 teams that remain undefeated so far: Iowa, Minnesota, Maryland, Michigan St, and Michigan.
Iowa did not look good in a win over North Texas, a week after having to fight to get to overtime at Iowa St, before eventually winning that one.  Minnesota looked bad in week 1 against Buffalo, but last week beat Oregon St 48-14, and this week hammered Middle Tennessee St 34-3 (MTSU was without their starting QB).  Maryland and Michigan St had the week off, and Michigan sleep-walked through a 29-13 win over Air Force.
Is Ohio St still a threat in this league?  Of course.  But it appears there may be more competition than they thought.
Can anybody in the ACC compete with Clemson?
Clemson got a huge 14-6 win last week, at home, against Auburn, but that doesn't look as shiny after Auburn had trouble putting away Mercer this weekend 24-10.  Now, they've gone into Louisville, at night, and walked away with a 47-21 win over Heisman-winner Lamar Jackson's Cardinals.  While it looks good now, Louisville had trouble with Purdue and North Carolina in the 2 weeks prior – two teams that have looked pretty good since, but were not expected to be much this season.  So we don't really know exactly what those wins are worth just yet.  But the Tigers do look like the best team in the conference… again.
There are 4 other teams that are undefeated in the ACC right now.  Virginia Tech took a while to get going, but eventually blasted East Carolina 64-17 on the road.  So long as VaTech takes care of business at home against Old Dominion next week, that should setup a big time matchup with Clemson in Blacksburg, VA, on Sept 30th.
Miami has only played one game so far, a 41-13 win over Bethune Cookman, who actually led 6-3 in the 2nd quarter before the Hurricanes got things rolling.  Hurricane Irma has completely shifted their schedule around, and they host a really good Toledo team this coming weekend to show whether or not they're ready to compete in the ACC.
The other 2 undefeateds right now are Wake Forest and Duke.  Are you surprised as well?  Duke didn't dominate Baylor like people expected, but they stomped on Northwestern last weekend, and now own 2 wins over other Power 5 teams outside the ACC heading into a game next week at North Carolina.  Wake Forest beat Presbyterian 51-7, won at Boston College 34-10, and this week they dominated Utah St 46-10.  Next week, they play at Appalachian St, who is a pretty good Group of 5 team, before a stretch of hosting Florida St, traveling to Clemson and Georgia Tech, hosting Louisville, and playing at Notre Dame.
The college football season is already getting weird, and we're only through 3 weeks.