The recap of the college football weekend!  Grab your WCE shirts for the season here.
Since Chris & I started this website, people have been asking for advice. Usually, it's what team to bet on this week. 'You got Patriots or Steelers?' 'Chicago or Detroit?' Let me tell you this. Where you're betting is just as important as who you're betting on. That's why I always tell people to go to MyBookie.ag. Right now, you can use promo code WCE50 for a 50% deposit bonus.
They have the fastest payouts – seriously, just two business days – and that 50% deposit bonus is epic.  That means whatever you deposit, they'll match half of it.  Deposit $100?  They'll give you $50.  It's no different from betting in a glitzy Las Vegas casino, but you can do it right from your smartphone. Trust me, go to MyBookie.ag to place your bets, and tell them we sent you by using promo code WCE50 to get that 50% deposit bonus.  Right off the bat, you're making money for doing nothing. Get over there, and get the best odds anywhere!
Let's start with my Top 10, and move into other interesting topics after an unexpectedly interesting Saturday.
My Top 10
Alabama
Miami
Wisconsin
Clemson
Oklahoma
Auburn
Georgia
Ohio St
TCU
UCF
Alabama handled Mercer, as they should have.  Miami woke up after being down by 14 multiple times to Virginia at home, and walked out with a 16 point victory.  Wisconsin shut up a lot of critics with a 24-10 win over Michigan at home in Madison.  Clemson beat up on a Sisters of the Poor school.  Oklahoma struggled early with Kansas before wiping the floor with them – and Baker Mayfield continued to make enemies in the process.
Auburn took a little while to get going, staying tied at 7 with ULM until almost halftime, before running away with a 42-14 victory.  Georgia steamrolled Kentucky, Ohio St cakewalked over Illinois, and TCU beat Texas Tech 27-3 while starting a backup freshman QB.  UCF continued their dominance of the AAC with a convincing win at Temple.  I'm keeping UCF in the Top 10 until they take a loss.
SEC Power Rankings
Alabama
Auburn
Georgia
LSU
Miss St
Texas A&M
Kentucky
South Carolina
Missouri
Ole Misss
Florida
Arkansas
Tennessee
Vanderbilt
Alabama did what they were supposed to, with a 56-0 win over a Mercer team that lost 24-10 at Auburn earlier in the season.  Auburn played around with UL Monroe, with the game tied at 7 until almost halftime, before rolling to a 42-14 victory.  Georgia beat up on Kentucky, 42-13, and Nick Chubb rushed for over 1000 yards for the 3rd straight season.
After those 3, we reach the 2nd tier.  LSU covered the spread at Tennessee in a monsoon, 30-10.  Miss St struggled, but ultimately ripped the hearts out of Arkansas fans, scoring the game-winning touchdown with :17 seconds left for a 28-21 win.  Texas A&M, now with Nick Starkel back at QB, got a 31-24 win at Ole Miss, including pitching a 10-0 shutout in the 2nd half.
South Carolina beat up on Wofford to move to 8-3 on the season, with a game against Clemson in Columbia for a chance at 9 wins.  Missouri led Vandy 35-0 at the half, and never looked back in a 45-17 win in Nashville.  Florida was able to look pretty dominant in a win over UAB in the swamp, which did nothing to save this coming weekend's Florida / Florida St game from being less embarrassing.
Best Reddit / Message Board Post of the Weekend
Upon further review… pic.twitter.com/8JctfaMffO

— RedditCFB (@RedditCFB) November 19, 2017
1 Hot Take

UCLA wasn't firing Jim Mora unless they knew Chip Kelly was coming
UCLA's situation with Jim Mora was nothing like Florida's.  Jim McElwain and Florida administration never got along, and that relationship had deteriorated enough that they had to get him out, whether they had a plan for the next guy or not.  It also helped that he made a goof to where the school could get out of a big part of the buyout.  UCLA had a huge buyout with Mora, and, had they not known that they could get Chip Kelly, they would have not made this move yet.  Remember, UCLA still has a game left to be able to get to a bowl game.  Not exactly a successful season, but still a chance to play into December.  Knowing they can get Chip Kelly – his agent is a UCLA grad from 1983 – makes this move make sense.
Stock Report
Stock Up
Wisconsin

Wisconsin's biggest test of the regular season wasn't actually that difficult at all.  Michigan has had problems on offense all year, and that continued against the Badgers' nation leading defense.  Michigan kicked a field goal to take a 10-7 lead with [6:36] left in the 3rd quarter… and from there, it was all Wisconsin, as they scored 17 unanswered to win 24-10.  The Wolverines were held to 58 yards rushing, and only 234 yards on offense for the game.  Things really went south when freshman QB Brandon Peters went out with an injury in the 3rd quarter.  With that game out of the way, Wisconsin only has a game at Minnesota left to reach 12-0, before getting Ohio State in the Big 10 Championship game for a possible playoff bid.
Stock Down
Baker Mayfield

Mayfield has been the Heisman front-runner for weeks now, and the general public has appreciated his firey attitude and drive to win… but his behavior towards Kansas over the weekend was just deplorable.  People don't like when you pick on the little guy.  Kansas never had any chance in this game, much like most of their games this season.  Baker's vulgarity towards the Kansas sideline was just ridiculous, and he's shown his lack of sportsmanship for a lot of this season.  I enjoy his banter with other teams, but he's doing things late in the season that could cause voters to not place him on their ballots, and it could cost him a shot at the Heisman trophy.
Stat of the Week
Alabama shutout Mercer 56-0 this week.
That makes 18 shutouts Alabama has had under Nick Saban, between 2007 and 2017.
Alabama had only 18 shutout games between 1986 through 2006.  That's coaches Ray Perkins (with starting quarterback Mike Shula), Bill Curry, Gene Stallings, Mike DuBose, Dennis Franchione, and Mike Shula combined.
Underdog Win of the Week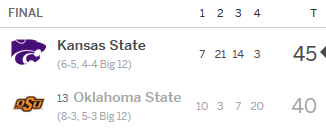 Kansas St absolutely surprised Oklahoma St, who still had a chance at the Big 12 title game.  In Stillwater, no less.  This was a pretty thorough beating until the 4th quarter.  Kansas St kicked a field goal with just over 8 minutes left in the game to go up 45-20, and Oklahoma St scored 3 touchdowns in 4 minutes to cut it to 45-40… and then went 4-and-out on their own 46 to give the ball back to Kansas St to end the game.  This was about as shocking as you could get at this point in the season, because Oklahoma St was favored by 19.5 points when this line closed.