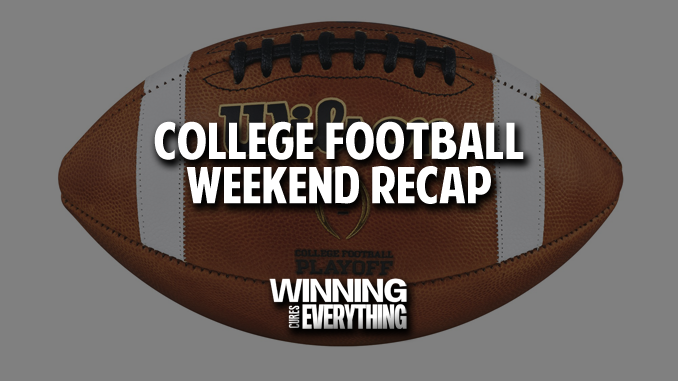 The recap of the college football weekend! Grab your WCE shirts for the season here.
Week 9 had 15 of 16 either undefeated or 1-loss potential playoff teams playing… and we saw 2 undefeated teams lose, and 3 more 1-loss teams go down as well.
Since Chris & I started this website, people have been asking for advice. Usually, it's what team to bet on this week. 'You got Patriots or Steelers?' 'Chicago or Detroit?' Let me tell you this. Where you're betting is just as important as who you're betting on. That's why I always tell people to go to MyBookie.ag. Right now, you can use promo code WCE100 for a 100% deposit bonus.
They have the fastest payouts – seriously, just two business days – and that 100% deposit bonus is epic. That means whatever you deposit, they'll match it completely. It's no different from betting in a glitzy Las Vegas casino, but you can do it right from your smartphone. Trust me, go to MyBookie.ag to place your bets, and tell them we sent you by using promo code WCE100 to get that 100% deposit bonus. Right off the bat, you're making money for doing nothing. Get over there, and get the best odds anywhere! OUR PROMO CODE GETS YOU A 100% DEPOSIT BONUS UNTIL NOV 1st. AFTER THAT, IT'S ONLY 50%, SO SIGN UP TODAY!
Let's start with my Top 10, and move into other interesting topics
My Top 10
Alabama
Georgia
Notre Dame
Ohio St
Clemson
Penn St
Oklahoma
Miami
Wisconsin
TCU
There's 1 and 2… and then everybody else right now. Notre Dame has the best loss, and 3 good wins. Ohio St has one good win and one good loss (although it was in beatdown fashion). Clemson has some good wins, but their wins over Louisville and Auburn don't look as good as they once did. Penn St has a good win over Michigan… and then a close loss at Ohio St, who pretty much suffocated them defensively. Oklahoma looked better against Texas Tech than they have in recent weeks.
Miami and Wisconsin are still undefeated, but they're winning games in the absolutely ugliest way possible, against some really awful competition.
Finally, I guess I had to keep TCU in the Top 25 because they've got good wins at Oklahoma St and over West Virginia, so I can't move Oklahoma St over them just yet, and the loss at an improved Iowa St is respectable… but man, their offense didn't score a single point in Ames. I don't like that at all with games coming up against Texas, at Oklahoma, at Texas Tech, and against Baylor.
SEC Power Rankings
Alabama
Georgia
Auburn
Miss St
LSU
Kentucky
South Carolina
Texas A&M
Florida
Missouri
Tennessee
Arkansas
Ole Miss
Vanderbilt
Of course Alabama and Georgia are going to sit at 1 and 2. Auburn, Miss St, and LSU are all right there. Kentucky, South Carolina and Texas A&M are the next tier… and then there's the rest.
Seriously, do I even have to rank the last 6 teams? I don't guess I have to rank anybody at all, but, good gracious, these teams are all abysmal in their own ways. Missouri has a chance to win out against Florida, Tennessee, Vandy, and Arkansas, and get to 7-5. That's how much all of those teams have fallen. The SEC is an absolute shit show.
Best Message Board Post of the Weekend
This comes to you from the VolNation.com message board…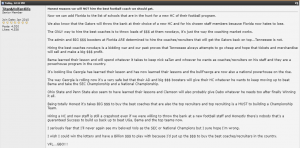 3 Hot Takes
Georgia should be ranked #1 in Playoff Rankings
Georgia and Alabama have been mirror images of each other so far this season. They're both 8-0, have both dominated everybody on their schedule, have a great running back corps, a strong defense, and a young qb that's not asked to do too much. But Georgia should be #1 right now because their wins over Miss St and Notre Dame are significantly better than any win on Alabama's resume right now. Alabama's 2 best wins, so far, were over Fresno St (who lost to UNLV last night) and Colorado St (who lost to Air Force last night), and Texas A&M (who got crushed at home by Miss St last night). Georgia has the better resume.
Florida should hire Dan Mullen
Florida's former athletic director, Jeremy Foley, has interviewed Dan Mullen for this gig before. And it didn't go very well. Apparently Mullen's ego rubbed some higher ups in Gainesville the wrong way before he was passed over for Muschamp and McElwain. But the truth is this – Mullen SHOULD have an ego. He has surpassed expectations every single year in Starkville, and he has more wins in Starkville since Tebow's last session (2009) than Florida does (62 wins for Mullen, 59 wins for Florida). Mullen coached Tim Tebow to Heisman trophy, and developed Dak Prescott and Nick Fitzgerald at Miss St – both better than any QB that has come through Gainesville in that span. Florida can kick the tires on Bob Stoops and Justin Fuente… but if they're tired of losing and want to bring in a guy that absolutely gets the culture there, and who would win, they need to swipe up Mullen.
Notre Dame's 2016 is keeping them underrated in 2017
Notre Dame has wins at Michigan St, over USC, and over NC State. Their only loss is at home by 1 point to the #2 team in both polls – who has dominated every other team on their schedule en route to an 8-0 record. And yet, Notre Dame is #5 in the AP Poll (behind Ohio St and Wisconsin – two Big 10 teams that have 1 good win between them) and #8 in the Coaches poll (behind Ohio St, Wisconsin, Clemson, Miami, and Penn St). Resumes should matter, and domination should matter. Miami and Wisconsin may be undefeated, but they've been awful against not-great (and in some cases, bad) football teams. Penn St has a good win over Michigan, but that's about it – their loss could be comparable to Notre Dame's. Honestly, Notre Dame has 3 better wins than anybody ranked 3-7 in the Coaches Poll, aside from Ohio State's comeback win yesterday over Penn St. The Irish host a fired up Wake Forest team next weekend, and then get Miami to try and prove that they belong in that top 4.
Stock Report
Stock Up
Dan Mullen

His Miss St Bulldogs are 6-2 with blowout wins over LSU and at Texas A&M. He has literally overachieved every year. He knows how to develop quarterbacks (or at least how to put them in positions to succeed), and he understands the SEC. No, he may not have a win over Nick Saban… but are you gonna fault him for that?
Stock Down
Jim McElwain

Does it get any lower? You're 22-12 and you get fired in the middle of your 3rd season, after winning the SEC East in your first 2 years? Something obviously wasn't right between the coach and the administrators, which may not bode well for future gigs. He'll end up somewhere, but it probably will not be in the pressure-cooker SEC.
Stat of the Week
This week's insane stat is an easy one.
JT Barrett
Passing: 33/39, 328 yds, 4 TDs, 0 int
Rushing: 17 carries / 95 yards
He accounted for 80% of Ohio State's offense against Penn St. Oh… and the other Heisman Trophy guy… Barkley? Yeah, He had a 97 yard KO return for a TD, and a 36 yard rushing TD… other than that, he had 4 receptions for 23 yards, and 20 rushes for 8 yards. Woof.
Underdog Win of the Week
I feel like we should give this to Iowa St for their straight up win as a 7 point dog to TCU… but they were at home, and there were a lot of people that picked that one.
I'm going to go with this one.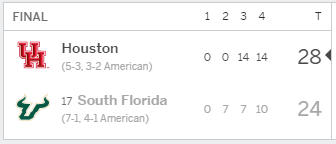 Houston was 4-3, coming off a heartbreaking home loss last Thursday to Memphis, after leading that game 17-0 at the half, 24-7 in the 3rd, and 31-14 later in the 3rd.
The Cougars were 10 point underdogs when the line closed, and South Florida was undefeated, ranked #17 in the country.
But… South Florida had shown us that they weren't exactly world beaters. We should have seen this coming, after watching Memphis throttle the same Tulane team that South Florida had trouble with the week before.
That last game for Charlie Strong's bunch – at UCF – doesn't look nearly as much fun anymore.
Hot Seat Coaches
The SEC is absolutely on fire right now. And by "on fire," I mean in the dumpster sense.
Kevin Sumlin
Just when you thought that things were picking up for Sumlin, and that he might be able to keep his job against this awful SEC, his Aggies get absolutely throttled at home by Mississippi State. The Bulldogs smoked A&M 35-14, and were up 35-7 before a garbage TD. They out-rushed A&M 228 to 96, and made this team look average, at best. We all knew they were average… but we thought Miss St was as well. Dan Mullen has overachieved nearly every year in Starkville, and this year is no different. Now, with games left against Auburn, at Ole Miss, and at LSU, Texas A&M could squarely be looking at a 6-6 season.
Matt Luke
Yeah, there's still a chance he could keep this job, but they have games at Kentucky, Louisiana-Lafayette, Texas A&M and at Miss St left. All 4 are losable, they'll be underdogs in the 3 conference games, and 4-8 doesn't look good for any interim coach, especially with looming NCAA sanctions. Luke gets to keep this job if the rest of the athletic department is left in shambles after multiple firings (including AD Ross Bjork).
Butch Jones
Tennessee lost 29-26 at Kentucky last night for only the 2nd time in the last 33 years. The Kentucky loss was the final straw for Derek Dooley's tenure… but I still get the feeling that AD John McCain may wait until the end of the season to let Butch Jones go. UT sits at 3-5 right now, 0-5 in the SEC, with game against Southern Miss (who is 5-3), at Missouri, LSU, and Vanderbilt to close out the season. This Vols teams could literally go 0-8 in conference play for the first time ever. It's not a matter of if, but when, for Butch.
Bret Bielema
Do you really get credit for beating this Ole Miss team, with their backup quarterback, after having to come back from down 31-7 in the game? The defense tightened up in the 2nd half and the offense made some plays, and they kicked a game winning field goal with :04 left… but man, this Arkansas team looks absolutely awful. This game is just an indicator that nothing is right in Fayetteville right now, and with games at LSU and hosting Miss St and Missouri (who is playing SIGNIFICANTLY better lately) left on the schedule, Bret and the Hogs may finish the year 4-8, with only wins over Coastal Carolina, Ole Miss, New Mexico St, and Florida A&M. Not what the administration expected in year 5 under Bret. If they don't act quickly on this, they could end up losing the prodigal son (Mike Norvell) to another team – his name is already listed as the front runner at Florida.
Gus Malzahn
Auburn is in the Top 15 right now. Their only losses have been at Clemson and at LSU. But that LSU team isn't exactly great, and they were up 20-0 before losing 27-23. Malzahn's bunch finishes at Texas A&M, and hosting Georgia, ULM, and Alabama. If he loses his last 3 conference games for a 7-5 finish, would Auburn want to make a change? He would be 0-8 against Georgia and Alabama in the last 4 years, and they still have not beaten LSU in Baton Rouge since 1999.
Barry Odom
I think we might be able to take Odom off of the hot seat here pretty soon. Missouri is on a 2 game winning streak, and they looked better on the road against Kentucky and Georgia before the 2-game nonconference slate. The Tigers host Florida this week, and then Tennessee… two teams whose seasons are in shambles right now, before visiting Vanderbilt and Arkansas… two more teams that are on the verge of completely packing it in. Missouri has a chance to finish on a 6 game winning streak to end the season here. If they do that, there's no way they drop Odom.