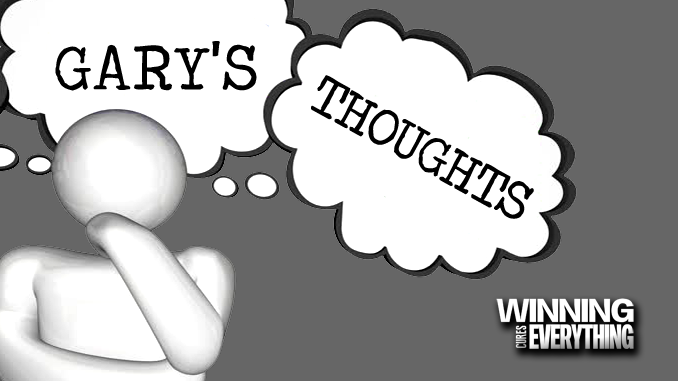 Gary's thoughts on the news of the week!  Grab your WCE shirts for the season here!
This weekly Thursday post is exactly what it says it is: my thoughts on stories that have popped up through the week.
The best thing about this piece is that there's no set number of topics I have to cover, and I can talk about anything that is entertaining, regardless of whether or not it is sports-related (although I'll always attempt to keep it limited to the realm of sports).
There are tons of stories out there that I could write individual articles on, but I'm not interested in writing an entire post on things that have already been well covered by other media outlets.
If there is a topic that is not being covered adequately, then I'll research it and write about it.  But for this weekly post, I'll give my opinion on what I think is interesting, and we'll go from there.
Since Chris & I started this website, people have been asking for advice. Usually, it's what team to bet on this week. 'You got Patriots or Steelers?' 'Chicago or Detroit?' Let me tell you this. Where you're betting is just as important as who you're betting on. That's why I always tell people to go to MyBookie.ag. Right now, you can use promo code WCE100 for a 100% deposit bonus.
They have the fastest payouts – seriously, just two business days – and that 100% deposit bonus is epic.  That means whatever you deposit, they'll match it completely.  It's no different from betting in a glitzy Las Vegas casino, but you can do it right from your smartphone. Trust me, go to MyBookie.ag to place your bets, and tell them we sent you by using promo code WCE100 to get that 100% deposit bonus.  Right off the bat, you're making money for doing nothing. Get over there, and get the best odds anywhere!
1. Rick Pitino & Tom Jurich "Effectively" Out at Louisville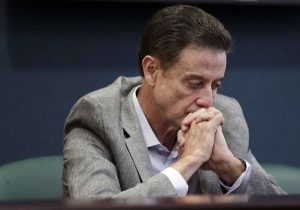 Article: https://www.cbssports.com/college-basketball/news/louisville-puts-rick-pitino-on-unpaid-leave-is-effectively-fired-his-lawyer-says/
The FBI Probe into College Basketball is just getting started, but a really big domino has already fallen.
Rick Pitino will not ever coach a game at Louisville again, and Tom Jurich is on paid leave right now, but my guess is that he'll be fired as well.  He tied himself to Pitino and Petrino, who have both proven to be great at their jobs, but also not exactly honorable or ethical men.
Louisville was not named specifically in the FBI report, but you can put two-and-two together and figure out which athlete was being discussed (5 star Brian Bowen), and which school he went to.
The whole thing is ridiculous because Pitino went on a radio show not long ago and explained that they just got lucky with this kid.  They didn't think he was interested, Pitino got a call asking if he was interested in the kid, the kid took an unofficial visit (which means he and his family paid for their own trip), and soon after the visit, he committed.  Pitino bragged that they didn't have to spend a dime recruiting him and he just fell in their laps.  Looks even more insane now than it did then.
The named assistant coaches that were federally charged were from Arizona, USC, Oklahoma St, and Chuck Person at Auburn.  An executive at Adidas, some financial planners, and others have also been charged, and it was announced today that Nike has had records subpoened today.
This story could end up taking down the entire sport of college basketball, if they go deep enough.  It's going to be very interesting to see how the NCAA and the FBI clean this up.
We can thank AAU / Summer basketball for this getting completely out of hand, and it's only going to get uglier.
2.Bobby Petrino's buyout at Louisville is cut in half thanks to Jurich firing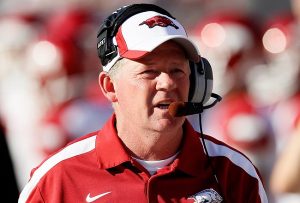 Article: https://www.sbnation.com/college-football/2017/9/27/16373688/louisville-ncaa-fbi-tom-jurich-bobby-petrino-buyout
Another intersting aspect of this is the effect it could have over the college football landscape.
Currently, the FBI investigation has nothing to do with college football.  But one of the first dominos to fall – Louisville AD Tom Jurich – actually opens up an interesting coaching change possibility.
Louisville football coach Bobby Petrino was incredibly successful in the SEC when he was at Arkansas, and there's no number of SEC teams that are beyond frustrated with their sitting head coach.  With so many schools with coaches on the hot seat, a Petrino return to the SEC would be a welcome sight for several fanbases.  This seemed like a stretch before, because Jurich gave Petrino a second chance to come back to Louisville after a huge PR nightmare that cost him his job at Arkansas.
Petrino owed Jurich quite a bit.  Not to mention, even after this season, his buyout was going to be $8.5M to leave to go to another school.
That's not the case now.  Petrino's contract states that, if the athletic director changes, his buyout is cut in half.  $4.25M sounds a lot more reasonable to schools that may be looking for a new head coach.  Especially these bigger programs that are looking for a return to championship contention.
Can you imagine Bobby Petrino in College Station?  Or in Knoxville?  Or even Auburn or Baton Rouge?
3. Gus Malzahn may be off the hot seat at Auburn thanks to the FBI, NCAA & Chuck Person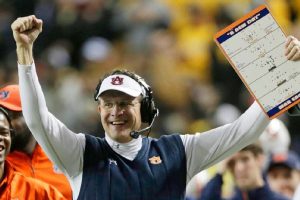 The FBI announced charges against 4 assistant men's basketball coaches, and it also pointed out multiple NCAA violations going on at even more schools, including Louisville, Miami, and a myriad of other places.
The investigation includes Auburn assistant coach Chuck Person, who was federally charged with bribery and corruption for taking $91,500 to help steer athletes to a financial advisor, among other things.
How does this help Gus Malzahn?
There's already a ton of heat on Athletic Director Jay Jacobs, thanks to the football program not being great, the softball program imploding due to sexual assault claims against coaches (and the supposed hiding of that from the media by the athletic department), and now the FBI and the NCAA digging into the basketball program.
There's not a lot of good going on inside the athletic department at Auburn.
The last thing anybody is going to want to do is fire the coach of a seemingly stable program and try to hire a new football coach with all of this instability going around.  A new football coach would have no way of knowing how long Jay Jacobs would be his boss, and nobody wants to go coach at a program where the NCAA and FBI are digging around.
So the winner, so far, out of this College Basketball FBI fallout?  Right now, it appears to be Gus Malzahn and Bobby Petrino.  Cheers to College Football!
 4. Auburn basketball is offering full refunds to people who bought season tickets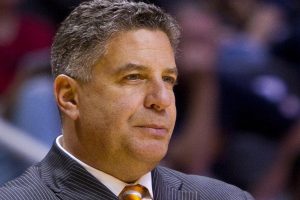 Article: http://www.al.com/auburnbasketball/index.ssf/2017/09/auburn_offering_full_refunds_f.html
I had to throw this in here because of how crazy it actually is.
First off, on Monday, DirectTV started offering refunds to anyone that wanted to cancel their NFL Sunday Ticket subscription due to the national anthem protests.  That's $350 a pop, and we're already 3 weeks into the season.
Now, Auburn is offering full refunds for anyone who bought basketball season tickets.
That's kinda unheard of, but it's the right, and proactive, thing to do.
Even though the basketball program has not officially had any sanctions leveled against them, and the only real change is that Chuck Person will certainly not be coaching for them, the product on the floor will look INCREDIBLY different than what they had been advertising.
This would have been the 4th straight season that they had sold out of basketball season tickets.  That's not a common thing on the Plains.  They were already sold out… and now are offering refunds.
Crazy how things can change in the blink of an eye, right?
5. The GET THAT MONEY Gambling Picks are up!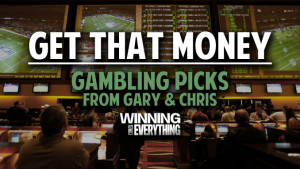 Article: http://winningcureseverything.com/get-money-gambling-picks-092817/
We're going 15-0 this week, baby.  10 CFB Games, and 6 NFL games between myself and Chris.  I'm currently at 54% ATS on the season, so hop in for the hot streak!