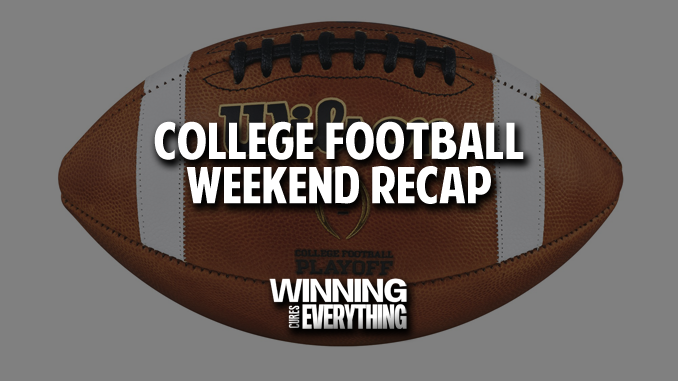 There are still 2 games to go in Week 1, but it's Sunday morning, and that means it's time for the CFB recap.
We learned a lot on Saturday, including some Heisman favorites whose campaigns ended, some teams that had national title hopes damaged early, and teams we had written off that might be a little better than anticipated.
Let's jump in:
Michigan is still the same
I fell into the trap.  I believed the hype of Harbaugh finally having a "good" quarterback, and a good offensive line coach, and Don Brown's defense was going to be lights out, and Notre Dame hasn't won 10+ games in back to back seasons since '92-'93…
You all heard the same things.
I really thought the loss of Mike Elko was going to change things up for Notre Dame's defense, but they sure looked like a good defense again.
Jim Harbaugh, in "big" games, just hasn't been very good at Michigan.  Is he just better suited to be an NFL coach?  Harbaugh is 28-12 at Michigan… in that same time span, Brady Hoke was 27-13, and he cost much less.  The return on investment just hasn't been very good.
Shea Patterson showed to be the same QB at Michigan that he was at Ole Miss… against good competition, he can't get the job done.  Patterson was 20/30 for 227 yds with 0 touchdowns, 1 interception, and a lost fumble on the last possession of the game.
Now, on that same note…
Is Michigan not very good, or is Notre Dame a title contender?
I haven't decided just yet.  Notre Dame jumped out to a 21-3 in the 2nd quarter, but was held to less than 100 yards of total offense in the 2nd half.
I still don't think Brandon Wimbush is very good.  He was 12/22 for 170 yards, with 1 TD (which was a jumpball and could have easily been intercepted) and 1 interception.
Ultimately, Notre Dame made the plays they needed to, and Michigan's offensive line is still just a swinging door.  I still don't feel like Notre Dame is that good, but Michigan is much worse than I thought they'd be.
I thought losing Mike Elko would hurt them… but that defensive front 7 is absolutely legit.  This could be an insanely good team… but there are still questions.
I can't decide if Auburn and Washington both have great defenses, or if both offenses just made massive mistakes
Both Auburn and Washington were able to get into the red zone quite a bit, but both teams made massive errors once they got there.
Washington had 2 turnovers, there were 22 penalties called in the game, and there were 3 missed field goals.
This was pretty big win for Gus Malzahn, who had lost 2 straight (both in Mercedes Benz Stadium in Atlanta) to end last season.  With this win, Auburn sets up to probably be undefeated heading to Georgia in November.
It was a sloppy game, with a 95% Auburn crowd in the stands… and it was actually entertaining.  It felt like every possession was high-stakes, and that's all you can ask for.
Tua is Bama's guy, and a legit Heisman contender

Nick Saban doesn't want to answer questions about the qb competition… and now we don't need him to.
With QB Tua Tagovailoa on the field, Alabama never punted.  Tua led the Tide on 5 touchdown drives, en route to a 34-0 lead, and the 2nd drive, he had led Alabama to the Louisville 17 yard line before Devonta Smith lost a fumble.
Alabama returned a kickoff for a touchdown, and an interception for a touchdown. Jalen Hurts was in for 4 and 1/2 possessions, which led to 3 punts, a field goal, and he started a drive that 3rd string QB Mac Jones led down the field for a missed 27 yard field goal.
Oh, and that inexperienced secondary?  They pitched a shutout until late in the 3rd quarter, when the 2nd and 3rd string started making their appearances.
Texas's return to excellence was greatly exaggerated
Tom Herman's bunch crapped the bed in Landover, MD against a team with an interim head coach (Matt Canada), and that defense had no answers for Kasim Hill.
Matt Canada made Todd Orlando's defense look suspect, for sure.  And that's putting it lightly.
Maryland won 34-29, and it felt like it should have been worse.  Tom Herman's offense doesn't look like they've improved at all with Sam Ehlinger taking all the snaps, as Maryland outgained Texas both rushing and passing, including Texas giving up 3 turnovers to Maryland's zero.
So, I guess next year is THE year, right?
Several Heisman campaigns are already busted
It was a bad weekend for a couple of Heisman trophy hyped-up hopefuls.
It's not the end of the world… but it didn't start out well for these guys.
Stanford's Bryce Love, the co-favorite in Vegas (along with Tua), rushed 18 times for only 29 yards and 0 TDs against San Diego St, and he caught 3 passes for only 18 yards.  For those keeping track at home, that's 21 touches for 47 yards… 2.24 yards per touch.  Not heisman-esque.
Arizona's Khalil Tate looked downright pedestrian against BYU.  8 rushes for 14 yards and 1 TD, along with 17 of 34 passing for 197 yards and 1 TD in a 28-23 home loss in Kevin Sumlin's debut.
SEC debuts went well… except for one
Mississippi St's Joe Moorhead, Florida's Dan Mullen, Texas A&M's Jimbo Fisher, Ole Miss's Matt Luke, and Arkansas's Chad Morris all experienced 3 TD or more victory margins in their first games… but none of them played West Virgnia in their debut like Tennessee's Jeremy Pruitt.
West Virginia smoked Tennessee 40-14 in Charlotte… and even though the score was lopsided, there were good things to take away from the game.
Everybody knew this is a rebuilding year in Knoxville, so the loss isn't surprising.  QB Jarrett Guarantano didn't look nearly as lost as he did last year, and went 19 of 25 for 172 yards and 1 TD, with no interceptions.  RB Tim Jordan ran 20 times for 118 yards and 1 TD, so that was encouraging.
However… the defense looked incredibly lost early, and Mountaineer QB Will Grier continued to feast on the defense, en route to a 25 of 34, 429 yd, 5 TD performance that put him clearly towards the top of the Heisman race after week 1.
Aside from the first year coaches, the rest of the SEC came away with week 1 wins.
South Carolina's new offense looked impressive in Week 1, scoring more points than in any game of Will Muschamp's career in Columbia.
Kentucky struggled early, but outlasted Central Michigan 35-20.
Missouri dropped 51 on UT-Martin in a 51-14 win.
Georgia dropped the hammer on Austin Peay early and won easily, 45-0.  Backup QB, #1 recruit, Justin Fields went 7 of 8 for 63 yds and 1 TD, along with 3 runs for 33 yards.
Vanderbilt was tied 7-7 with MTSU after the 1st quarter, but scored 28 unanswered to win 35-7.
Does Ole Miss have a running game?
We already knew Ole Miss had an insane passing attack, with QB Jordan Ta'amu and WRs AJ Brown, DK Metcalf and others… but they also having a rushing attack?
Juco RB Scottie Phillips ran 16 times for 204 yards and 2 TDs in his debut, becoming the first Rebel RB since 2010 to eclipse 200 yds in a game, and only the 8th to do it.
If this offense can actually run the ball, look out.
Group of 5 names to look out for
Hawaii scored their 2nd straight up win as a double digit underdog after beating Navy 59-41 Saturday night, and a lot of it is due to Warriors' QB Cole McDonald, who has gone 56 of 78 for 846 yds for 9 TDs and 0 interceptions in 2 games, along with 19 rushes for 82 yards and another 2 touchdowns.  McDonald is legit.
North Texas junior QB Mason Fine went 40 of 50 for 444 yds and 3 TDs in a 46-23 win over SMU.
Memphis QB Brady White, a grad transfer from Arizona St, went 22 of 28 for 358 yards and 5 TDs… in the first half, en route to a 56-0 halftime lead over Mercer.  The Tigers went on to win 66-14, and play at Navy next weekend.