The recap of the college football weekend!  Grab your WCE shirts for the season here.
Since Chris & I started this website, people have been asking for advice. Usually, it's what team to bet on this week. 'You got Patriots or Steelers?' 'Chicago or Detroit?' Let me tell you this. Where you're betting is just as important as who you're betting on. That's why I always tell people to go to MyBookie.ag. Right now, you can use promo code WCE100 for a 50% deposit bonus.
They have the fastest payouts – seriously, just two business days – and that 50% deposit bonus is epic.  That means whatever you deposit, they'll match half of it.  Deposit $100?  They'll give you $50.  It's no different from betting in a glitzy Las Vegas casino, but you can do it right from your smartphone. Trust me, go to MyBookie.ag to place your bets, and tell them we sent you by using promo code WCE100 to get that 50% deposit bonus.  Right off the bat, you're making money for doing nothing. Get over there, and get the best odds anywhere!
Let's start with my Top 10, and move into other interesting topics after an interesting Saturday.
Butch Jones has been fired
Butch Jones informed his staff that he had been fired on Sunday morning, about 12 hours after his Tennessee Volunteers lost 50-17 at Missouri.
This was not a surprise.
Basically, we've all been waiting since the last weekend in September for when this was going to take place.  The Tennessee team this season has been an embarrassment on the field, losing at Kentucky, losing by 5 touchdowns to Missouri, losing by 38 at Alabama, and the team doesn't appear to be progressing to get any better each week.
So now we get to officially start the silly season in Knoxville.  Grumors anyone?
My Top 10
Alabama
Miami
Oklahoma
Clemson
Wisconsin
Auburn
Georgia
Ohio St
Notre Dame
TCU
I almost didn't rank anything past about 7 or 8.
Honestly, the top 10 is more just to get an idea of what teams can make the playoffs and who can't.  The Big 10 is going to have some serious issues, unless Wisconsin wins out… and would you take Wisconsin over Ohio St right now?  Can you get Ohio St in with 2 losses, if Oklahoma also ends up with 2 losses?  Notre Dame won't have a way to sneak in unless Georgia loses 2 more times, because you can't justify the Irish over them, since Georgia won in South Bend.
It just goes on and on.  The team with the best opportunity to get into the playoffs with 2 losses is Auburn.  Their domination of Georgia moved them up quite a bit, and if they can beat Alabama, and then beat Georgia for a 2nd time in Atlanta for the SEC Championship game, I don't think there's any way to keep Auburn out of the playoff.
This is the most fun part of the college football season.  Crazy things occur in November every season.  The more a team wins, the bigger the target gets, the tighter their pants get, and teams that haven't been there always find a way to choke on the biggest stages (i.e. Georgia yesterday, Michigan in 2016, Oklahoma St in 2015, etc).
SEC Power Rankings
Alabama
Auburn
Georgia
LSU
Miss St
Texas A&M
Missouri
South Carolina
Kentucky
Ole Miss
Arkansas
Florida
Tennessee
Vanderbilt
There's not much to say here.  Alabama survived a road tilt at Mississippi State, Auburn beat the mess out of Georgia, and LSU handled Arkansas.  I've got Missouri the highest I've had them all season, and I've told Chris on our podcast for several weeks now that Missouri is going to win out and finish 7-5.  Drew Lock is legit, and that offense is going to absolutely smoke Vandy and Arkansas to finish out the season.
This next week shouldn't do much to alter the landscape in the SEC, so we're mostly waiting for rivalry week to see what happens in the Iron Bowl.
Best Reddit / Message Board Post of the Weekend
SEC fans looking back on the season-so-far and asking… HOW? pic.twitter.com/1RWlPYKCoO

— RedditCFB (@RedditCFB) November 12, 2017
3 Hot Takes 
Alabama is in trouble when they go to Auburn
Everybody just assumed that Alabama could just throw in as many different linebackers as they needed to, and the team would be just fine, right?
Not quite the case.
Mississippi State had 172 rushing yards against Alabama, and 330 yards total.  They dominated the line of scrimmage through the majority of the game.  The biggest issue was the Tide's lack of depth at linebacker.  Shaun Dion Hamilton was the quarterback of that defense, so without him out there setting alignments and filling gaps, Mississippi State noticed the weakness and attacked it.
Auburn will notice and do the same thing.
The biggest issue will be whether or not Jalen Hurts will get rid of the football when he's supposed to, or keep holding on to the ball too long.  Somehow, someway, he was able to do enough to get the win with a touchdown pass with less than 30 seconds left on the clock, but there's a lot of improving that needs to happen before the Tide travels to Auburn in a couple of weeks.  Auburn's defensive line and linebackers will be putting 8 in the box on almost every single play, and the only way to get them to stop is to hit em over the top.
Is Jalen Hurts capable of doing that?  If not, it may be a replica of the Auburn/Georgia game.
Georgia couldn't handle playing in a raucous road environment
Georgia's road games this year were as follows:
Notre Dame
Tennessee
Vanderbilt
That's it.  Florida is always a neutral site game in Jacksonville.  Notre Dame and Vanderbilt had more Georgia fans in the seats than the home team, and the Tennessee game… well, Neyland Stadium hasn't exactly been scary in a few years now.
This loss can't be pinned solely on Jake Fromm.  It wasn't his fumbles on punt returns, or personal fouls on punts, etc, that kept drives going for Auburn, or the fact that his offensive line couldn't block Auburn's defensive front.  The entire team, collectively, crapped the bed on the Plains.
The question now is this… can they recover enough to handle Kentucky this weekend and then figure out how to play more poised when they go to Atlanta for what will surely be another rowdy environment at Georgia Tech.
Missouri is the 2nd best team in the East right now
At the beginning of the season, Missouri was favored by 2.5 at home over South Carolina.  The Gamecocks proceeded to slow down the Tigers offense en route to a 31-13 win.  The next week, Purdue came in to Columbia and stomped on the team by a score of 35-3.  Missouri started the season 1-5 with losses to South Carolina, Purdue, Georgia, Kentucky, and Auburn.  That's a pretty difficult stretch for a young team.
Mizzou has now reeled off 4 straight multi-touchdown wins against Idaho, UConn, Florida, and Tennessee, with only Vanderbilt and Arkansas left on the schedule.  These guys are going to outscore Vanderbilt and Arkansas to end the season, and they'll get to a bowl game at 7-5.
The question now is… do they give Barry Odom an extension?
Stock Report
Stock Up
Gus Malzahn

Has anyone ever needed a win over a rival as bad as Malzahn needed this one?  He's been on the hot seat for the last 2 seasons, and a lot of that had to do with the fact that he hadn't beaten Alabama or Georgia in the last 3 years.  His only wins over both teams came thanks to miracle plays (The Prayer at Jordan-Hare and the Kick Six) in his first season.  So to come out and completely dominate Georgia by taking advantage of every single mistake they made… that was impressive.  If Malzahn was smart… he'd take his newfound popularity and turn it into another job, because if things go south again, it won't be long before he's shown the door under a new athletic director (don't forget… AD Jay Jacobs is gone after this season).
Stock Down
Kirby Smart

In their first really hostile road game of the year, the Dawgs made some incredibly dumb mistakes, including (but not limited to) a fumbled punt return after a 3 and out early in the 3rd quarter when only down 16-7, and a personal foul penalty for jumping over the punt protection in the 2nd quarter, which led to a 1st down after stopping a drive.  Both of those led to touchdowns for Auburn.  There wasn't much poise from the Georgia players in this game at all, and that comes down to the coaching staff.
Stat of the Week
Missouri ran for 433 yards against Tennessee Saturday night, at a clip of 8.2 yards per carry.
In 2016, Missouri ran for 420 yards at 6.3 ypc.
So in 2 years, against a team that is not known for running the football, Tennessee has given up 853 yards rushing to Missouri.
Bob Shoop… you got some 'splainin to do.
Underdog Win of the Week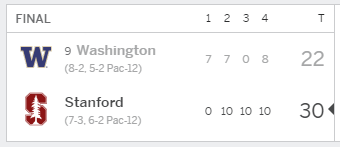 Stanford, a 6 point underdog at home, effectively ended the Pac-12's playoff chances with a 30-22 win at home over Washington.
This wasn't one of those fluke, win by a field goal, win by a dropped punt, kinda games either.  Stanford was up 30-14 midway through the 4th quarter and had basically dominated the football game.
Every team in the Pac 12 now has at least 2 losses, and nobody has a good enough record, or a good enough win, to sneak their way in the playoff conversation.