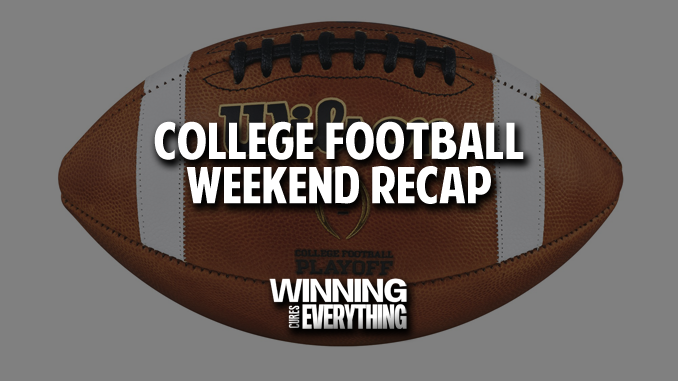 Week 2 had some highlights, and it's always good to have a college football weekend, since we have so few, but – for the most part – there were not many good games to watch this weekend.
Even without a lot of great games, there were a lot of things we learned.
Let's jump in:
Kentucky beat Florida for the first time since November 1986.
Kentucky 27, Florida 16.
Now, I bet on Kentucky +14.5, and I thought they would keep this game close, but I haven't seen Kentucky beat Florida since I was 3 years.
I'm 35 now.
Kentucky dominated Florida in the trenches.  Ran for 303 yards, and Benny Snell had 179 yards of that.  Florida has some issues that Dan Mullen is going to have to fix.
Clemson escaped College Station on a bogus rule & a lucky turnover.
This is not disrespecting Clemson.  They took advantage of opportunities and walked out with a win over Texas A&M.
But it wasn't easy.
A fumble/interception by Nick Starkel – in his one play at QB – led to a touchdown in the 2nd half for Clemson, and a fumble out of the back of the endzone that gave Clemson the ball back with less than 2 minutes left basically cost Texas A&M the ball game.
Let's discuss the Starkel fumble first.
Kellen Mond had to leave the field for one play because of an injury, and rather than do the conservative thing and hand the ball off to a running back, Jimbo made the call to let Starkel drop back to pass.  Clemson's linemen got pressure on him, went for the sack, and knocked the ball out, which was picked up in mid-air.  Before that play, Texas A&M was down 14-6.  The play immediately after the fumble, Kelly Bryant find Tee Higgins for 50 yards, and they scored shortly after to make it 21-6 with [6:28] left in the 3rd quarter, which was much more difficult to come back from than 14-6 at the Clemson 21.
Now, the fumble out of the endzone rule.
What looked like it would be a possible touchdown pass that turned into a fumble out of bounds, the referees called this one a fumble out of the back of the endzone.  The ball goes out of bounds, to the right, and looked like it was just fumbled out of bounds.
But there's a chance it went over the pylon, which means it's the "out of the endzone" rule, which gives possession back to Clemson on the 20 yard line with [2:13] left in the game.
Why do we have such an egregious rule against a team that has gotten THAT CLOSE to the endzone?  I've never understood the rule.  I'm in favor of anything that doesn't take possession away from the offense.  If a player fumbles out of bounds at the 45 yd line, they move it back to where they fumbled, not back to the original line of scrimmage, or possession to the other team.  I just don't get it, and it might have cost Texas A&M the ballgame.
The AAC is making a Power 6 statement again.
USF 49 – Georgia Tech 38
Houston 45 – Arizona 18
USF / GaTech was entertaining.  Georgia Tech, leading 38-35, was driving for a 10 point lead, and had driven to USF's 12 yard line with [7:27] left in the game, but lost a fumble, which USF turned into a touchdown and a 42-38 lead with [5:08] left.
At that point, Paul Johnson went brain dead.
Georgia Tech had already run for 416 yards, had 3 time-outs left, and got the ball at the 25 yard line… and Paul Johnson called 3 straight pass plays.  The 3rd of which was intercepted and turned into another USF touchdown.  I don't get it.
As for Arizona's trip to Houston… Houston was up 38-0 deep into the 3rd quarter before Arizona showed any signs of life.  Khalil Tate, again, ran only 7 times for 8 yards.  Why they're not releasing this kid to make plays makes no sense to me.  Kevin Sumlin is stopping his own offense by calling for his mobile qb to stay in the pocket.  I don't know what to make of Houston from this game… but I know Arizona isn't very good.
Georgia dominated, and South Carolina is not ready for primetime.

The only thing you need to know from this game is this:  Georgia 271, South Carolina 54.
That's rushing yards, and that should tell you how much Georgia dominated this game on the line of scrimmage.
South Carolina was a little too hyped up, and Georgia looks every bit of a national title contender.  This game wasn't even really worth watching after Georgia went up 14-0 early.  South Carolina made it interesting by halftime, trailing only 20-10, but Georgia came out in the 3rd quarter and scored on 3 straight drives of 75, 75, and 86 yards, outscoring SC 21-0 for a 41-10 lead.  South Carolina's first 2 drives of the 2nd half went for 8 yards and 8 yards.
It was ugly.
More notes
Bryce Love got rolling (22 carries, 136 yards, 1 TD) and Stanford beat USC 17-3.  That's the least amount of points USC has scored vs Stanford since 1941.
Nebraska's star freshman QB Adrian Martinez looked great… but he went out with an injury and Colorado took advantage, coming back to win 33-28 in Lincoln.
Kansas snapped a 46 game road losing streak in a 31-7 win at Central Michigan.  It had been since 2009 that Kansas won a road game.
Will UNC's Larry Fedora survive this season?  Odds aren't great.  After losing at Cal last week 24-17, North Carolina lost at East Carolina 41-19… the same East Carolina that lost last week to NC A&T.  Don't look now, but UNC has UCF, Pitt, at Miami, and Virginia Tech for their next 4.  0-6 looks realistic, if not downright likely.
Everyone made fun of Arizona St hiring Herm Edwards in the offseason… but who's laughing now?  Arizona St beats Michigan St 16-13 in the most NFL way possible – ASU moves the ball deep into Mich St territory, and with 2 minutes left, and Mich St with no timeouts, ASU kneels the ball 3 times to run out the clock and sets up a 28 yard field goal to win the game 16-13.  Arizona St held Michigan St to 63 yards rushing in this game.  Pretty impressive by the Sun Devils.
Iowa's defense is just suffocating.  Iowa beat Iowa St 13-3… but QB Nate Stanley has not impressed in his first 2 weeks.  If he can get the offense moving… look out.
Apparently Jalen Hurts is NOT redshirting this season, unlike the reports that came out.  He looked good, with a couple of really impressive passes into tight spaces.  He finished 7 of 9 for 93 yards and 2 TDs.  Tua is still better (averaging 1 TD for every 6.6 ATTEMPTS… that's insane), but they were both having fun and were hugging and congratulating each other on good games in Alabama's 57-7 win over Arkansas St.
Oklahoma lost stud RB Rodney Anderson to a knee injury in a 49-21 win over UCLA.  The injury will keep him out for the year.
Notre Dame had some trouble with Ball St this weekend. The Irish beat Ball st 24-16, but it was close throughout, and Brandon Wimbush threw 3 interceptions and 0 TDs, even though he did pass for 297 yds.