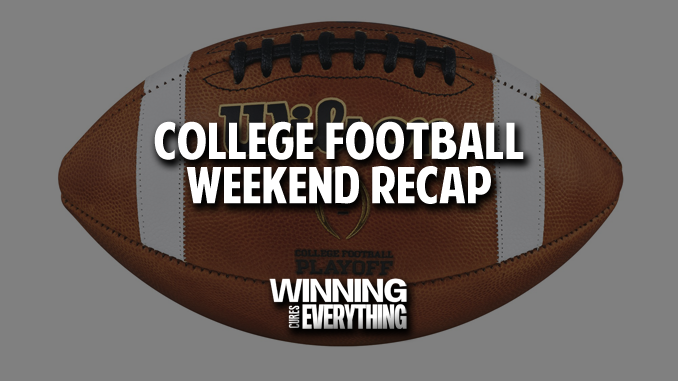 Week 3 helped separate the pretenders from the contenders just a little more, and it showed us that some teams still have a LONG way to go before their new coaches get them back to relevancy.
Let's jump in:
I was dead wrong about LSU.
LSU 22, Auburn 21
Let's go ahead and get the bad calls out of the way.  Both teams caught some bad breaks as far as penalties go.
This is the 2nd straight year that Auburn has had a double digit lead on LSU deep in the 3rd quarter, and LSU has won both games.
Coach O's team doesn't quit.
I had this team 1-2 at this point in the season, and, right now, they're the only team in the country that has 2 road/neutral site Top 10 wins.
Make no mistake – LSU's defense is absolutely legit, and it sets up an incredibly interesting mid-season stretch, where LSU hosts Georgia (Oct 13), Mississippi St (Oct 20), and Alabama (Nov 3).
For that run to be reeeeally interesting, they will have to beat Ole Miss in Baton Rouge, and Florida in Gainesville… but of those things look much more likely right now than they did at the beginning of the season.
If the playoffs started today, LSU would have to be in, based on their resume so far.  Props, Coach O.  This is impressive.
Now, about Auburn… do we make anything of this?  Or was this just another tough loss against a really quality opponent?  Malzahn's team's last 7 games have looked like this:
#1 Georgia (Win – 40-17)
ULM (Win – 42-14)
#1 Alabama (Win – 26-14)
#6 Georgia (Loss – in Atlanta – 28-7)
#12 UCF (Loss – in Atlanta – 34-27)
#6 Washington (Win – in Atlanta – 21-16)
Alabama St (Win – 63-9)
#12 LSU (Loss – 22-21)
Auburn is 3-3 against Top 12 teams in their last 8 games.  That's a brutal slate.  I don't think I'm selling the farm just yet, if I'm an Auburn fan.
Willie Taggart's start at Florida St has been putrid… and while we're at it, so has Chip Kelly's at UCLA.
I have not seen a team this poorly coached and unorganized in… well, even bad teams look better than this.  Willie Taggart's start at Florida St has been terrible.
But this isn't the first time he's done this.  At Western Kentucky and South Florida, Taggart's first seasons ended with 2-10 records, and then he built the programs back up from there.
This looks different though.  There's talent in Tallahassee, but the players don't seem to like playing with each other, and the mistakes being made on the field are just ridiculous.
A 30-7 loss at Syracuse, with Syracuse's starting QB out with an injury, is just ridiculous.  Syracuse gave up 42 points to Western Michigan in Week 1.  Florida St didn't even score until there was only 6 minutes left in the game, and the clock mismanagement at the end of the first half was borderline criminal.
Of course, on the other side of the country, UCLA refuses to be outdone.  At least FSU has won a game… UCLA is 0-3 with home losses to Cincinnati and Fresno St (a 38-14 blowout), with a 49-21 blowout at Oklahoma sandwiched in there.
Chip Kelly has enough good will built up that the fans will wait around for him.  At Florida St, though, they are not used to losing.  This could be a long long season for the Seminoles and Bruins.
Other than Ohio St, the Big 10 was terrible.
Ohio St went down to Arlington, TX and, while not looking great, was able to sneak out with a 40-28 win over TCU.
I say sneak because, if TCU had not turned the ball over, the Horned Frogs probably win this football game.  Instead, TCU has 3 turnovers, which killed them, even though they rang up 511 yards of offense.
What has happened to Ohio St's defense?  I thought this defense, under Greg Schiano, was supposed to be unbelievable.  Instead, they've given up over 500 yards to Oregon St and TCU, even though they won both games.
The rest of the Big 10… well, not so great.  Here's the results:
BYU 24 – Wisconsin 21

BYU played the perfect Wisconsin game.  Not much offense, no turnovers, let the other team make mistakes to beat themselves.  In this case, Wisconsin beat themselves by losing the only turnover of the game, and missing a 42 yard field goal that would have tied the game with no time left.  Takes a little luster off the Iowa / Wisc game this weekend.

Kansas 55 – Rutgers 14

It's not just that Rutgers lost to Kansas.  It's that they gave up 400 yards rushing to KANSAS.  Wow.

Temple 35 – Maryland 14

Temple was 0-2 coming into this game, with losses at home to Villanova (FCS) and Buffalo.  Maryland didn't even have an offensive score in this game.

Troy 24 – Nebraska 19

Without Martinez, Nebraska will be lucky to win 3 games this season.  Troy is not a great team this season, but they took advantage of Nebraska's starting QB being out, and converted turnovers into scores, and found a way to hang on and win the game.  Scott Frost opens his career at Nebraska 0-2.

USF 25 – Illinois 19

The only thing that's surprising about this is that it was actually close.  USF should have beaten them much worse.

Missouri 40 – Purdue 37

Purdue had 572 yards passing and still found a way to lose.  Purdue is now 0-3 on the season, with a home loss to Eastern Michigan thrown in there.  Not good.

Akron 39 – Northwestern 34

Northwestern was up 21-3 at the half in this one, and Akron ended the game with 15 penalties for 140 yards… and the Zips won the game.  Northwestern threw 2 pick-6 interceptions, and had a fumble returned for a touchdown.  This was just odd.  Akron has been playing football since 1894 and had NEVER BEATEN a Big 10 team.
…and so was the Pac-12.

The Pac-12 was not as bad as the Big 10… but they were still pretty bad.  We talked a little bit earlier about UCLA losing at home to Fresno St 38-14.  Fresno St held the Bruins to 270 yards of total offense and forced them into 4 turnovers and 1 of 10 on 3rd downs.
Here's the other results:
Nevada 37 – Oregon St 35

Nevada was actually favored by 3.5 in this game at kickoff, but they nearly gave up a win against the Beavers after having a 30-7 lead in the 2nd quarter.  Oregon St came all the way back in this game, but missed a 33 yd field goal as time expired, and they lost the game by 2.  Oregon St looks improved though, and their offense is making some noise.

San Diego St 28 – Arizona St 21

SDSU was at home in this one, and they were up 28-14 with [4:14] left in the 4th quarter.  Arizona St's Manny Wilkens led his team down the field and scored to make it 28-21 with [1:40] left.  SDSU recovered the onside kick, but fumbled the ball back to Ariz St with :51 left.  Manny Wilkens, on 4th down, throws a deep pass to the San Diego St 2 yd line, but the SDSU defensive back gets called for targeting… and during the review, they determine that the Sun Devils player didn't actually catch the ball.  ASU gets one more shot from the 35 instead of the 2 yard line, and the pass falls incomplete.  Pretty remarkable ending for a game.  I don't think this one is too crazy… SDSU beat Stanford last year, after all.

Texas 37 – USC 14

After USC went up 14-3, Texas absolutely dominated USC on both sides of the ball.  USC still has a ton of talent, but they could not run the football at all on the Longhorns, a team that gave up 143 yards rushing to Maryland and 189 yards rushing to Tulsa.  USC ended the game with -5 rushing yards on 16 carries.  That's just incredible.
The Big 12 made a statement with some good wins.

We already talked about Texas's domination of USC, and Kansas's 55-14 beatdown of Rutgers, but there were other big games as well.
Oklahoma St 44 – Boise St 21

Oklahoma St's defense looks incredibly improved under former Duke defensive coordinator Jim Knowles.  The Cowboys had 7 sacks and 10 tackles for loss against Boise St, and the Broncos could never get in an offensive rhythm.  Mike Gundy's team looks really really good.

Texas Tech 63 – Houston 49

Both QBs in this game had 5 touchdowns each.  There was over 1300 yds of total offense.  And somehow, Kliff Kingsbury found a way to win this one.  How Houston could be that bad on defense, with the #1 defensive lineman in the country (Ed Oliver) just blows my mind.
More notes
North Texas 44 – Arkansas 17.  This is just hard to look at.  Total yardage was about even here… but Arkansas's 3 QBs combined for 6 interceptions, and North Texas faked a fair catch on a punt return and scored a touchdown.  But seriously… 6 interceptions.  That's unbelievable.
Alabama 62 – Ole Miss 7.  Ole Miss still has the #1 most efficient offense in the country, even after Alabama held them to 7 points (on a 75 yard pass on the 1st play of the game) and 248 yds of total offense.  Alabama has outscored the Rebels 128-10 over the last 2 seasons, and is the first SEC team to score 50+ points in the first 3 games of a season.  Tua… what can you say about him?  He's led 20 Alabama drives so far this season, and has scored 14 touchdowns and 1 FG on those drives (75%).  Another incredible stat… Tua, on 3rd downs, is 12 of 12 for 298 yds and 6 TDs. Just unreal.
Boston College 41 – Wake Forest 34.  Boston College lost at home to Wake 34-10 in 2017.  With this win, BC's schedule sets up pretty well, with Purdue, Temple, NC St, and Louisville before dealing with a stretch in late October to early November that includes home games against Miami and Clemson, and a road game at Virginia Tech.  This team looks like they could compete for the ACC title.