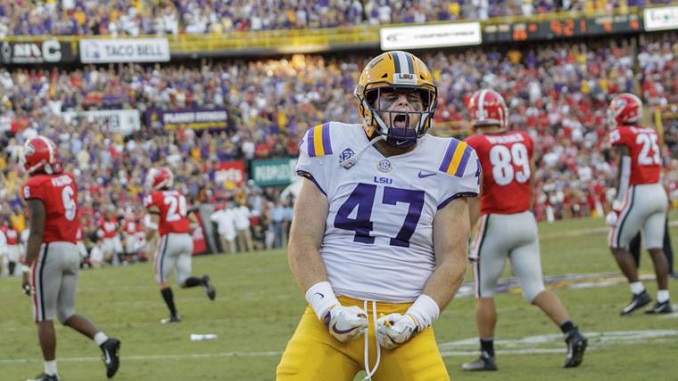 What a fantastic weekend.
4 Top 10 teams go down, LSU dominates Georgia to get back in the playoff discussion, Michigan beats Wisconsin like they rarely get beaten, and Iowa St is making it a trend of beating up on Top 10 teams.
Let's go ahead and dive in:
There are only 8 undefeated teams left.
7 weeks are in the books, and – out of 130 FBS teams – there are only 8 undefeated teams remaining.
SEC (1)
Big 10 (1)
ACC (2)
Independents (1)
AAC (3)
Here's the schedule for the coming weekend for the undefeated teams:
Cincinnati @ Temple (11am ESPNU)
Alabama @ Tennessee (2:30pm CBS)
NC State @ Clemson (2:30pm ABC)
Notre Dame (bye)
UCF @ East Carolina (6pm ESPN2)
UConn @ South Florida (6pm CBSSN)
Ohio St @ Purdue (6:30pm ABC)
LSU bullied Georgia, and this game was never in doubt.
Good gracious, LSU.  Stop!  Stop!  They're already dead!
This was a beatdown from the first whistle, and it makes you wonder…
How will Georgia rebound?
Can Florida do this to Georgia in 2 weeks?
Exactly how good is LSU… and for that matter, Florida?
Every week, in college football, you'll see something you didn't expect.  And there were not a lot of people that expected LSU to completely dominate both lines of scrimmage against this Georgia team.  A lot of people didn't expect Ed Orgeron and his staff to completely outcoach Kirby Smart and his staff.
LSU ran for 275 yds.  They converted 4 of 4 fourth downs.  They played to win, didn't turn the ball over, and took the ball away from Georgia 4 times.
I don't know that it would have mattered, but if Kirby Smart was going to move from Jake Fromm to Justin Fields at any point this season, this would have been the spot.  And he stayed with Fromm.
This is right in the middle of the season, so Georgia has time to bounce back from this, but Georgia invincibility and intimidation for other teams may be gone.  Florida ran all over LSU and were able to slow them down… they're going to think they can do the same thing.  Kentucky dominated Florida at the line of scrimmage… they're going to think they can do the same to Georgia.
LSU has moved back into the playoff conversation, after everyone assumed they'd drop back to the 8-4 or 7-5 team everyone expected them to be at the beginning of the year, and the Ed Orgeron experiment in Baton Rouge appears to be working.
Michigan destroyed Wisconsin 38-13, and looks like a Top 5 team.
Michigan had 444 yds of total offense against Wisconsin… and 320 of it came on the ground.
This game was actually worse than the score, and the box score, indicates.  Alex Hornibrook couldn't complete a pass after the 1st quarter, and Michigan completely dominated a Wisconsin team that was 15-1 straight up in true road games under Paul Chryst.
Shea Patterson looks like the real deal in this offense, and the defense is as nasty, if not nastier, than originally advertised.
Now, after a beatdown of this magnitude, can Michigan actually go into East Lansing next week and beat one of the rivals that Harbaugh has had trouble with in Michigan St?  Which Michigan St team will show up?  The one that beat Penn St in Happy Valley last week, or the one that got beat by 10 at home by Northwestern the week before that?
Oregon knocks off Washington in overtime… and knocks the Pac 12 out of the playoff?
Before the season, the only Pac 12 teams thought to have a shot at the playoff were Washington and Stanford.
Well, after stealing a game at Oregon, Stanford imploded in 2 straight weeks, being blown out at Notre Dame, and at home by Utah.
Washington lost in Week 1, but that was forgivable because it was to a highly thought of (at the time) Auburn team in Atlanta, GA.  Now, Washington takes their 2nd loss, and Oregon is the team standing with only 1 loss.
This was a fun game, and it appears that Mario Cristobal was the right hire for this program.  Sitting at 5-1, Oregon now gets to travel to Pullman, WA to face Mike Leach and Washington St. Cougars, who are hosting ESPN's College Gameday for the first time ever.  That place will be absolutely bonkers, so it's entirely possible that Oregon could lose it.  But, even if they don't, if they finish with a Pac 12 title, well, this is what their resume looks like:
currently #34 at Sagarin / #28 at ESPN FPI
have faced the #111 ranked schedule (according to Sagarin)
remaining schedule is #51 (according to ESPN FPI)
loss to a not great Stanford team
biggest win is over an already 2-loss Washington
remaining schedule looks like this:

@ Washington St
@ Arizona
UCLA
@ Utah
Arizona St
@ Oregon St
Pac 12 Championship game vs… USC?
The numbers hate Oregon, and they haven't dominated anybody, including the weaker teams on the schedule.  So, effectively, Oregon just killed the Pac 12's chances at a playoff appearance this year.
Iowa St completely shut down Will Grier and West Virginia's offense.
Iowa St should have been starting 3rd string freshman QB Brock Purdy from the beginning of the season, apparently.
Of course, their defense was going to be pretty good, regardless of who was playing on offense.
The Cyclones offense was rolling, picking up 498 total yds, with RB David Montgomery running for 189 yds and 1 TD, and Brock Purdy going 18/25 for 254 yds, 3 TDs and 1 int.
But that's not really the story of this game.  Matt Campbell's team held former Heisman candidate Will Grier to only 11 of 15 passing for 100 yds, 1 TD, and 1 int, and the entire West Virginia offense had 152 total yds and only 14 points.
That's insane.
WVU was averaging over 500 yds of total offense in their 5 previous games, and 41.4 pts per game.
Now, can Iowa St continue to do stuff like this against non-ranked teams?  That remains to be seen.  But last night, Ames, IA was rockin.
UCF figured out how to squeak out a win, but Memphis gave the blueprint for how to beat them…
Now, the question remains… is there anybody left on the schedule that can do what Memphis showed can beat Central Florida?
Memphis ran for almost 300 yds on this defense, and – had it not been for rain – would have likely beaten UCF, as they lost 2 fumbles, in the middle of a monsoon, that absolutely changed the game.
UCF has now won 19 straight games, but even the weaker Memphis defense found a way to get to McKenzie Milton, who had not been sacked all season until this game.  Memphis held UCF to 165 yds rushing, and 2 of those were broken long runs.  No other team has held UCF to less than 239 yds rushing.
If not for the Memphis QB, Brady White, making a terrible decision with 18 seconds left in the game, Memphis could have lined up for a game winning field goal, but White completed a pass inbounds with no timeouts left, and the clock ran out.  Just awful for the Tigers, but it showed that UCF is vulnerable.  Now, can USF, Cincinnati, or a team like Temple or Navy, find a way to beat Central Florida?
Random Notes:
Michigan St beat Penn St 21-17 in Happy Valley, and it appears that Dantonio has James Franklin's number, along with Jim Harbaugh's.  Who is this Spartan team?  The one that lost at Arizona St, or at home by 10 to Northwestern?  Or the one that beat Penn St on the road?  The Spartans host Michigan and Ohio St, so the Big 10 East goes through East Lansing this year.
Auburn's woes continue with a 30-24 home loss to Tennessee, who broke an 11 game SEC losing streak on the Plains.  Auburn broke 100 yds rushing after having less than 100 yds in the last 3 games, but 3 turnovers doomed them at home.
Notre Dame survived an upset bid with a 19-14 win over Pitt.  Ian Book actually looked human in this game, and it appeared that the Irish are very much ready for their bye week.
Virginia upset Miami 16-13, in a game that the box score would tell you Miami should have won.  The Cavaliers capitalized on Miami's 3 turnovers, and the Hurricanes didn't on Virginia's 3.  Bronco Mendenhall has that program believing in bigger things.
Florida came back from a 21-3 deficit on the road and beat Vandy 37-27.  The most fascinating part of this game was the near brawl between Florida coach Dan Mullen /defensive coordinator Todd Grantham and Vanderbilt coach Derek Mason.  I can tell you this… Mullen would have gotten his ass kicked.  You don't want to mess with Mason.
Nebraska lost 34-31, in overtime, at Northwestern, to move to 0-6 for the first time ever.  The Cornhuskers had a 31-21 lead with about 4 minutes left at Northwestern, and gave up a 99 yd TD drive to the Wildcats with 2 minutes left that sent the game to OT, and then turned the ball over on their possession in overtime.  Scott Frost's team is figuring out new ways to lose very single week.
UCLA got their first win of the season in a 37-7 beatdown of California.  Chip Kelly's team appears to be improving, and Justin Wilcox's team is headed the wrong direction.
Alabama 39, Missouri 10.  Alabama's defense, which gave up 31 last week to Arkansas, put the clamps down on Drew Lock and company from the 2nd quarter on, after giving up 10 pts early.  The most interesting thing from this game was Tua going out with a knee scare.  It'll be interesting to see if he plays against Tennessee this week, as it might make more sense to play Jalen Hurts in Knoxville and give Tua this week and the bye week to heal up for the trip to Baton Rouge on Nov. 3rd.