Listen to Podcast 142 to get all of these picks and more reasons behind them:
Since Chris & I started this website, people have been asking for advice. Usually, it's what team to bet on this week. 'You got Patriots or Steelers?' 'Chicago or Detroit?' Let me tell you this. Where you're betting is just as important as who you're betting on. That's why I always tell people to go to MyBookie.ag. Right now, you can use promo code WCE100 for a 100% deposit bonus.
They have the fastest payouts – seriously, just two business days – and that 100% deposit bonus is epic.  That means whatever you deposit, they'll match it completely.  It's no different from betting in a glitzy Las Vegas casino, but you can do it right from your smartphone. Trust me, go to MyBookie.ag to place your bets, and tell them we sent you by using promo code WCE100 to get that 100% deposit bonus.  Right off the bat, you're making money for doing nothing. Get over there, and get the best odds anywhere!
Sign up for our E-mail List!
Get our latest news once a week, including pick'em reminders!
Biggest Games of the Weekend

GET THAT MONEY
Gary & Chris Gambling Picks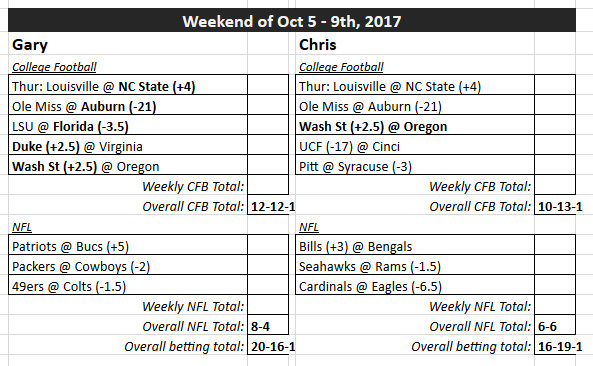 Gary's picks
College Football
Thursday: Louisville @ NC State (+4)
NC State's defensive line is gangbusters, and I look for them to handle Lamar Jackson the same way that LSU, Houston, etc did last year.  The Wolfpack doesn't turn the football over, and Louisville needs mistakes from the other team, along with plenty of possessions to get their offense going.  I think NC State wins this one straight up.
Ole Miss @ Auburn (-21)
Ole Miss's offensive and defensive lines are really really not great at football, and Auburn's lines are looking great right now.  Auburn can run the football and stop the run, Ole Miss can't do either.  I think Auburn smokes Ole Miss.
LSU @ Florida (-3)
I don't understand this line, so it kinda scares me a little bit.  Florida has great line play, and LSU's line has gotten pushed around for 3 straight games (at Miss St, Syracuse and Troy).  LSU lost to Florida by 6 at home last year.  Florida found a running game against Vandy last week, and I think they push LSU around on Saturday.
Duke (+2.5) @ Virginia
Duke got smoked on the scoreboard at home last week against Miami… but Virginia is not Miami.  The score got out of hand against the Hurricanes, but the stat sheet looked like a really even game.  Duke's defense is incredibly aggresive.  Virginia beat Boise St at Boise last Friday, but this is not the same Boise you've been used to for the last decade.  I haven't figured out why Virginia is favored here, so I think Duke wins outright.
Washington St (+2.5) @ Oregon
This line opened with Washington St as a favorite.  Then it moved to Oregon -2.5.  I saw a stat that said anyone that has beaten a ranked USC team since 2001 is 0-14 against the spread the following week.  I don't think Leach will let this team fall off after such a big win last week.  Oregon is missing their 1st and 2nd string QBs, and their leading rusher, and Luke Falk is going to feast on this Oregon defense.
NFL
Patriots @ Bucs (+5)
I don't know that the Bucs can slow down the Patriots offense enough to win this game… but I know the Patriots defense won't be able to slow down so many weapons for Tampa Bay.  Jameis Winston is going to have a field day against that Patriots secondary, because they can't get a pass rush on him.  I look for this one to be a field goal game either way.
Packers @ Cowboys (-2)
The Packers are coming off a huge win at home in blowout fashion against the Bears, and the Cowboys are coming off a close loss at home to the LA Rams.  I don't think Green Bay can stop Zeke Elliot here, and the Cowboys won't lose two straight home games in Jerryworld.  Look for the Cowboys to pull off this revenge game by a touchdown.
49ers @ Colts (-1.5)
The 49ers are winless and haven't been able to figure out a true identity.  The Colts have looked WORLDS better since bringing in Jacoby Brissett at QB.  I think the Colts aren't great, but they're good enough to beat the 49ers, and I'm only laying a point and a half?  I think they at least win by 3, if not more.