Listen to Podcast 152 to get all of these picks and more reasons behind them:
Since Chris & I started this website, people have been asking for advice. Usually, it's what team to bet on this week. 'You got Patriots or Steelers?' 'Chicago or Detroit?' Let me tell you this. Where you're betting is just as important as who you're betting on. That's why I always tell people to go to MyBookie.ag. Right now, you can use promo code WCE100 for a 100% deposit bonus.
They have the fastest payouts – seriously, just two business days – and that 100% deposit bonus is epic.  That means whatever you deposit, they'll match it completely.  It's no different from betting in a glitzy Las Vegas casino, but you can do it right from your smartphone. Trust me, go to MyBookie.ag to place your bets, and tell them we sent you by using promo code WCE100 to get that 100% deposit bonus.  Right off the bat, you're making money for doing nothing. Get over there, and get the best odds anywhere!
[spp-player url="http://feedproxy.google.com/~r/WinningCuresEverything/~5/foHBqSH_CJQ/348632416-winningcureseverything-ep152-102617-get-that-money-cfb-and-nfl-gambling-picks.mp3″]
Biggest Games of the Weekend (Straight Up)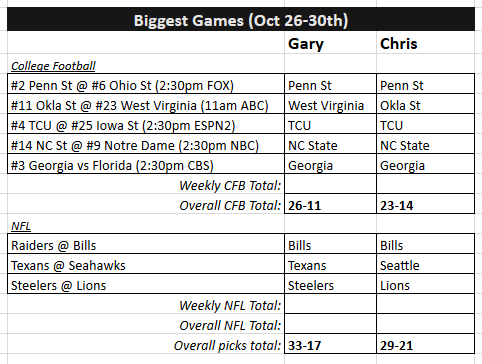 GET THAT MONEY
Gary & Chris Gambling Picks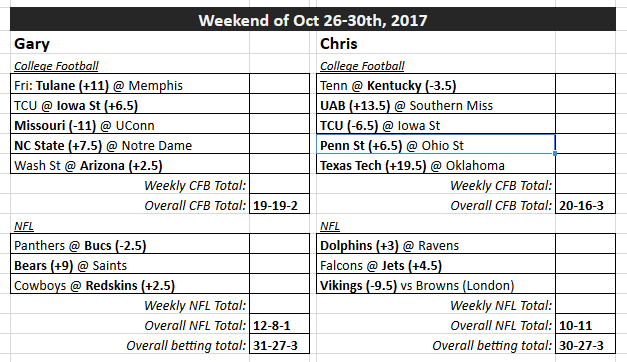 Gary's picks
College Football
Tulane (+11) @ Memphis
I believe Memphis will win this game, because they'll be able to outscore Tulane, but Memphis is 3-4 against the spread (were 2-4 before the Houston win) and Tulane is 5-2 against the spread.  Willie Fritz's triple option offense will give Memphis absolute fits (Navy did as well, but they turned the ball over 5 times), and they'll be able to put up yardage, but Memphis will outscore them.  This is a touchdown or 10 point win for Memphis, which means Tulane covers the number.
TCU @ Iowa St (+6.5)

I thought last week at Texas Tech was going to be where the Iowa St train got derailed… but they went into Lubbock and beat Tech by 3 touchdowns.  There's just something about Matt Campbell's team ever since they switched to Kyle Kempt at QB.  They protect the football, Kempt's completion percentage is 70%, and they're able to run the football better than they did in the first 3 games.  TCU is not in a look ahead spot here (they host Texas next weekend), but I think Iowa St's team can hang with TCU here.  I look for this to be about a field goal game either direction, which covers the 6.5.
Missouri (-11) @ UConn
Missouri is good at one thing – running up the score on bad football teams.  Yes, UConn just beat Tulsa last weekend, but Tulsa is 2-6 on the year, and they're incredibly inconsistent.  Missouri consistently puts up big points on crap teams.  UConn is a crap team.  I watched Memphis put up 70 on UConn after only scoring 7 in the 1st quarter.  UConn is weak in the secondary, and Drew Lock is going to feast on em.  Missouri by 4 TDs here.
NC State (+7.5) @ Notre Dame

Notre Dame is 6th in the country in rushing yards per game at 317+ ypg.  It's how they've been smashing teams.  Georgia (#4 nationally against the run) is the only team that's been able to slow them down — Georgia held them to 55 yards rushing on 37 carries.  Michigan St (#8 against the run) held them to 182 yards rushing.   NC State is 6th against the run, giving up only 91ypg.  NC State will slow down the running game and force Brandon Wimbush to beat them.  He may be able to do it, but the only game he's had over 200 yards passing was against Georgia.  I look for NC State to keep this one close, and I'll even have a little bit on the money line because they were off last week while ND was whipping USC, so the players in South Bend may be a little too high on themselves after the national media crowned them this week.
Washington St @ Arizona (+2.5)

Washington St had a heavy, heavy home loaded schedule early, and now they've got a bunch of games on the road to end the season.  They beat Colorado 28-0 in a rainy game last weekend in Pullman, but now they're back on the road against an Arizona team that's found a mega-talent at QB in Khalil Tate.  The Wildcats, since putting him in at QB, have averaged over 45 points per game, and are on a 3 game winning streak, including 2 on the road.  Tempe will be rockin, and this team is ready for a big time win over a top 15 team.  I think Arizona will win this game outright in another crazy #Pac12AfterDark game.
NFL
Panthers @ Bucs (-2.5)
Tampa Bay needs to get back in the win column in the worst way.  Carolina is playing absolutely awful football.  Tampa's offense is never an issue, but they're coming home after 2 tough losses on the road, and Jameis Winston appears to be healthy again.  Carolina has not been playing well the last 2 weeks, and I think the Bucs, being home for the first time in 3 weeks, get a touchdown win at home.
Bears (+9) @ Saints

The Saints are on a 5 game winning streak, but they haven't played a defense like the Bears.  The Bears are taking care of the football, and they'll be able to slow down Drew Brees and the Saints high-powered offense.  The Saints may win, but I believe it will be a touchdown win at best.
Cowboys @ Redskins (+2.5)

The Redskins have all sorts of injury issues.  The Cowboys are coming off of a 40-10 "get right" win over the 49ers.  But I think Kirk Cousins is still a great QB, and his offensive line will be able to hold up against a weak Cowboys pass rush this weekend.  I love the Redskins at home to win straight up Sunday.  It just sets up to where everybody believes the Cowboys should roll this team, and this season has shown us to expect the unexpected this year.