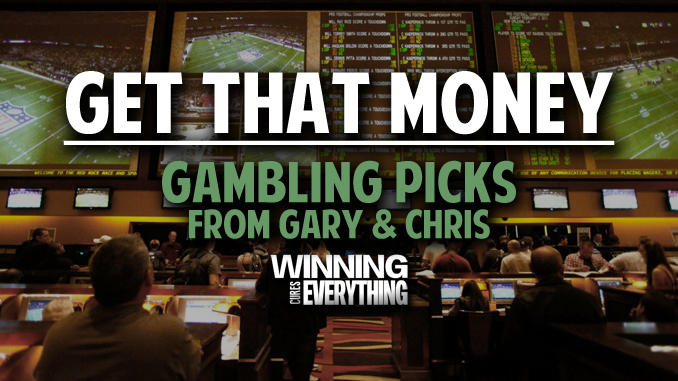 Listen to Podcast 156 to get all of these picks and more reasons behind them:
Since Chris & I started this website, people have been asking for advice. Usually, it's what team to bet on this week. 'You got Patriots or Steelers?' 'Chicago or Detroit?' Let me tell you this. Where you're betting is just as important as who you're betting on. That's why I always tell people to go to MyBookie.ag. Right now, you can use promo code WCE100 for a 50% deposit bonus.
They have the fastest payouts – seriously, just two business days – and that 50% deposit bonus is epic.  That means whatever you deposit, they'll match half of it.  It's no different from betting in a glitzy Las Vegas casino, but you can do it right from your smartphone. Trust me, go to MyBookie.ag to place your bets, and tell them we sent you by using promo code WCE100 to get that 50% deposit bonus.  Right off the bat, you're making money for doing nothing. Get over there, and get the best odds anywhere!
Keep up with our podcasts!
Enter your e-mail, and we'll let you know what's going on at WCE a couple of times a month!
Biggest Games of the Weekend (Straight Up)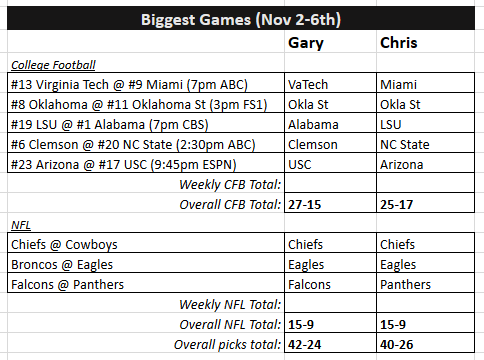 GET THAT MONEY
Gary & Chris Gambling Picks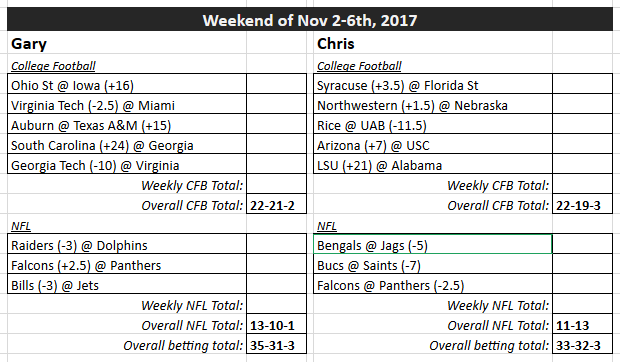 Gary's picks
College Football
Ohio St @ Iowa (+16)

Ohio St is coming off of a huge emotional victory… but they're going to Iowa, where, seemingly, nobody plays well.  Iowa's defense is legit – they've held their last 4 opponents to 17 points or less, and their only loss at home this year was to Penn St – a 21-19 last second win.  This smells, to me, like the Buckeyes' game at Michigan St last year, where they were favored by 20+ and had to squeak out a 17-16 win.
Virginia Tech (-2.5) @ Miami
Yes, Miami is undefeated.  But no, they have not had to play Clemson yet, unlike Virginia Tech.  VaTech is rolling on both offense and defense right now, and while the metrics will tell you that Miami should win this game, I think Virginia Tech has been waiting for this game since the Clemson loss.  I think Miami is a little bit fraudulent right now, and Mark Richt has a history of flopping in games like this (while he was at Georgia).  I think Justin Fuente's bunch get it done, and they win by a touchdown, or more, on the road.
Auburn @ Texas A&M (+15)

Auburn's dealing with the injury bug a little bit, as they have 3 starters out on the offensive line, and 1 backup… so they're down to a 3rd string RT at the moment.  Kam Pettway is out for a while with a fractured scapula, so Kam Johnson will have to handle basically all of the carries.  Oh, and by the way — Texas A&M is #2, nationally, with 30 sacks on the year, and they lead the SEC in tackles for loss.  So if you're going to try and leave Stidham back there like a statue, A&M is going to pounce on this injured offensive line.  I think Auburn has the talent to be able to win this game going away, because I don't know that Kellen Mond will be able to put a lot of points on the board… but last week, against Mississippi State, they put in Nick Starkel (who was injured in the 1st game against UCLA), and he was able to lead a scoring drive late.  So if things start poorly for Mond, look for Starkel to get in and make something happen.  I think Texas A&M finds a way to keep this one unexpectedly close, especially with Auburn hosting Georgia next week.  Gimme them points with the Aggies.
South Carolina (+24) @ Georgia
Obviously, Georgia is the more talented team here… but, they played an emotional rivalry game last week against Florida, and they have a massive rivalry game next week at Auburn.  South Carolina catches them at the perfect spot.  On top of that, Georgia hasn't asked Jake Fromm to do too much in the last month or so… basically just hand the the ball off to the awesome stable of running backs, and don't turn the ball over.  Carolina only gives up 137 ypg on the ground, so Fromm will have to make a few plays in the passing game.  Also, don't count out the fact that Muschamp played at Georgia with Kirby Smart, and they're still friends, so Muschamp will really want this one, and Smart won't look to embarass him.  24 is just too many here, so give me South Carolina.
Georgia Tech (-10) @ Virginia

41-10 and 31-14.  Those are the scores of Virginia's losses the last two weeks to Boston College and Pittsburgh.  Against North Carolina, Boston College, and Pittsburgh, they've given up 211, 237, and 176 yards rushing (6.03 yards per rush, 5.04, and 4.40).  Georgia Tech averages 5.66 yards per rush, and over 327 yards rushing per game.  Georgia Tech will score on Virginia in bunches.  Oh, and Georgia Tech is 6-0-1 against the spread on the season… so I'm rolling with the Yellow Jackets.
NFL
Raiders (-3) @ Dolphins
They always say "Don't take the west coast team travelling to the east coast…" but that's for noon kickoffs.  In this situation, it's a Sunday night game.  Oakland didn't exactly show up against Buffalo last week, but I look for Derek Carr to get things rolling against a Dolphins team that just traded away their best offensive weapon (Jay Ajayi), and who will be working Jay Cutler back into the lineup.  The Raiders should put up points on this Dolphins team, and I think they cover the field goal spread.
Falcons (+2.5) @ Panthers
The Panthers traded away Kelvin Benjamin, their #1 receiver, and I don't know what they'll be able to do on offense without him.  The Falcons got a much needed win at the Jets last weekend, and I think they'll continue their winning ways this week by getting big plays out of Freeman, Coleman, and Jones.  Matt Ryan is having an insane Super Bowl hangover, but he looked ok last week against a good Jets defense, and I think he pulls the same kinda thing here.  Falcons win this one outright.
Bills (-3) @ Jets

The Jets have covered an awful lot of games (5-2 against the spread on the year), but so have the Bills (5-1-1 against the number).  The difference here is that the Jets are turning into what they were supposed to be, currently on a 3 game losing streak, and the Bills are getting better, now having won 2 straight.  The Bills defense is great, and will shut down the opportunistic Jets at home.  I look for the Bills to win this one by a touchdown.