Listen to Podcast 164 to get all of these picks and more reasons behind them:
Since Chris & I started this website, people have been asking for advice. Usually, it's what team to bet on this week. 'You got Patriots or Steelers?' 'Chicago or Detroit?' Let me tell you this. Where you're betting is just as important as who you're betting on. That's why I always tell people to go to MyBookie.ag. Right now, you can use promo code WCE50 for a 50% deposit bonus.
They have the fastest payouts – seriously, just two business days – and that 100% deposit bonus is epic.  That means whatever you deposit, they'll match it completely.  It's no different from betting in a glitzy Las Vegas casino, but you can do it right from your smartphone. Trust me, go to MyBookie.ag to place your bets, and tell them we sent you by using promo code WCE50 to get that 50% deposit bonus.  Right off the bat, you're making money for doing nothing. Get over there, and get the best odds anywhere!
Sign up for our E-mail List!
Get our latest news once a week, including pick'em reminders!
Biggest Games of the Weekend (Straight Up)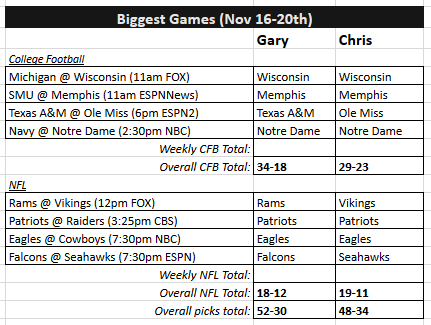 GET THAT MONEY
Gary & Chris Gambling Picks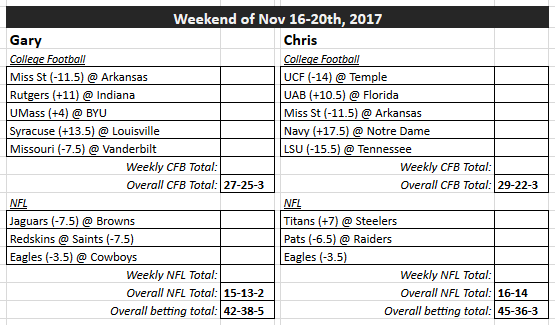 Gary's picks
College Football
Miss St (-11.5) @ Arkansas
Arkansas is 0-5 at home against the spread, and 2-8 overall, while State is 7-3 against the number.  Arkansas's AD, Jeff Long, was just fired this week, so Bret Bielema is on the chopping block.  After a close loss at home to Alabama last week, Miss St will be looking to get back on track against an Arkansas defense that gives up nearly 7 yards per play.  State's rushing attack should get close to 300 yards, and Fitzgerald and company will put up a ton of points here, while State's top 20 defense will hold Austin Allen's offense at bay.
Rutgers (+11) @ Indiana
Indiana is at home, and they're the better team, but Rutgers has been flying under the radar all year, going 8-2 against the number, while Indiana is 2-7-1 against the spread.  Indiana should ultimately win this game, but Rutgers keeps it within a touchdown.
UMass (+4) @ BYU
All of the metrics that I have show that UMass should win this game straight up.  BYU has been putrid all year, and their only wins have come against the worst of the worst.  UMass throws the ball all over the field… and that's BYU's biggest issue.  UMass averages 295 yards passing per game, and BYU gives up almost 8 yards per pass attempt.  That's a good formula for UMass.  Give me those points – UMass will cover.
Syracuse (+13.5) @ Louisville
Louisville's defense is atrocious.  Syracuse's defense gave up 64 at home to Wake Forest last week.  Now, Syracuse isn't as bad as they looked last week, but they'll give up yards and points to Lamar Jackson's bunch.  I don't know that Syracuse pulls this win off on the road, but they've been a covering machine this year, and they'll keep it within 10 points on Saturday.
Missouri (-7.5) @ Vanderbilt
Missouri is absolutely humming on offense right now, scoring 42 against Florida, and 50 against Tennessee in their last 2 games.  Vanderbilt has not held a single SEC team under 34 points this year.  Missouri should put up 50 in this game, even on the road, and Vandy won't be able to score enough to keep it close.
NFL
Jaguars (-7.5) @ Browns
The Jaguars lead the NFL in interceptions, and the Browns throw more interceptions than anyone other team.  Cleveland's QB problems have not gotten any better, and Jacksonville's running game will do enough to keep the Browns on the sideline for much of this game.  Look for a 2 TD win here for the Jags.
Redskins @ Saints (-7.5)

New Orleans is on a 7 game winning streak, and the Redskins have a ton of injuries to deal with right now.  Eventually, the Saint's winning streak will end, but it won't be this weekend.  Looking at the metrics, the Saints should win this game by close to 3 TDs.  I'm rolling with the home team.
Eagles (-3.5) @ Cowboys
The things the Cowboys do best – run the football – plays right into the hands of the Eagles defense, who lead the NFL giving up only 66 rushing yards per game.  On top of that, Zeke Elliot is serving his suspension, so it's Dak or bust for the Cowboys.  Even if Dak Prescott can muster a few drives, the Cowboys defense is not good enough to slow down Carson Wentz and his crew.  The Eagles will win by at least a touchdown, and I firmly expect it to be a double digit win for the visitors.