Listen to Podcast 130  to get all of these picks and more reasons behind them:
Since Chris & I started this website, people have been asking for advice. Usually, it's what team to bet on this week. 'You got Patriots or Steelers?' 'Chicago or Detroit?' Let me tell you this. Where you're betting is just as important as who you're betting on. That's why I always tell people to go to MyBookie.ag. Right now, you can use promo code WCE100 for a 100% deposit bonus.
They have the fastest payouts – seriously, just two business days – and that 100% deposit bonus is epic.  That means whatever you deposit, they'll match it completely.  It's no different from betting in a glitzy Las Vegas casino, but you can do it right from your smartphone. Trust me, go to MyBookie.ag to place your bets, and tell them we sent you by using promo code WCE100 to get that 100% deposit bonus.  Right off the bat, you're making money for doing nothing. Get over there, and get the best odds anywhere!

Sign up for our E-mail List!
Get our latest news once a week, including pick'em reminders!
Biggest Games of the Weekend

Clemson @ Louisville
Saturday, Sept 16th / 7pm CT / ABC / Louisville, KY
Gary: Clemson /  Chris: Louisville
Chris and I see things completely different on this one.
I think Clemson is a monster on the defensive line, and Louisville's offensive line is their biggest weakness.  We saw what happened when that offensive line fell off late last season.  11 sacks given up against Houston in a 33-10 loss.  4 turnovers in a 41-38 loss at home against Kentucky.  A 29-9 loss to LSU in the bowl game.
So far this year, Lamar Jackson has feasted on Purdue and North Carolina.  In 2016, North Carolina finished #127 in the country (out of 130 teams) in total defense.  Purdue finished #106.  Louisville won both of those games close.
And you're telling me that Jackson is single-handedly going to beat Clemson?  Get outta here.  Chris thinks it's happening – there is definitely something to home underdogs in primetime spots – but I think Clemson is immensely more talented than Louisville, and they'll handle this team accordingly.
Texas @ USC
Saturday, Sept 16th / 7:30pm CT / FOX / Los Angeles, CA



Gary: USC / Chris: USC

Ahh… big names in a game that really appears to be one-sided.
USC has so much more talent than Texas right now.  It's really kinda embarassing.  This game SHOULD be a lot different than the last time we saw these two teams play, back in the 2005 National Championship Game.
But… Texas is starting a new QB that looked like he fits what Tom Herman wants to do on offense quite a bit better than Shane Bechel.  And you've seen in the past how much Tom Herman teams get amped up to play big time opponents.  Remember, as a head coach, Herman is 5-0 STRAIGHT UP as an underdog, and he was 11-0 straight up as an assistant at Ohio St!
I have a feeling there could be some crazy stuff happen in this game to keep it close for a while, but, eventually, USC will be too talented, and too good, and they'll pull away in this one.
But if Texas pulls a shocker… you can't say it was a surprise.  We should expect that kinda thing from Tom Herman teams by now.
LSU @ Miss St
Saturday, Sept 16th / 6:00pm CT / ESPN / Starkville, MS

Gary: Miss St /  Chris: LSU
Who would have thought the most interesting game in the SEC, in ANY week this season, would be in Starkville, MS?
And that's exactly what we've got here – LSU's S&P numbers are through the roof.  They've blasted two really bad football teams (Yes, BYU is bad. They rank #125 in the country in scoring offense AND total offense through 3 games, including one against Portland St, who gave up 35 to Oregon St).
Mississippi St, however, appears to have some legitimate players all over the field.  They look fast, and big.  Strength coach Nick Savage is now in his 2nd season, and the level of play appears to be increasing this year.
LSU should have more depth, and thus, would win the ballgame, but with some injuries nagging the Tigers, the fact that Miss St has played them close the last 2 years (and won 3 years ago in Baton Rouge), coupled with this being a night game in Starkville, LSU could be ripe for an upset.  We get a chance to see if either of these teams can be a contender for the rest of the season.
Tennessee @ Florida
Saturday, Sept 16th / 2:30pm CT / CBS / Gainesville, FL

Gary: Tennessee / Chris: Tennessee
Wait.
Chris and I BOTH picked Butch Jones to win in Gainesville?
Honestly, though, how could you pick Florida in a game against any team with comparable talent right now, even if the game is at home right after Hurricane Irma came through?  Yes, I believe the fans will be fired up for this one, but that still doesn't mean that McElwain's offense will be able to put up enough points.
I don't buy that Butch Jones is a good coach.  But Florida still has all of the same guys suspended that were out against Michigan two weeks ago.  The Gators didn't get a warm-up game last week (the game against Northern Colorado was canceled due to the Hurricane), so Felipe Franks did not get more reps and a chance to build his confidence after leading Florida to only 3 points in a big-time national game against Michigan in Week 1.  If Tennessee gets out in front early, this could be a looooong afternoon in the Swamp.
UCLA @ Memphis
Saturday, Sept 16th / 11:00am CT / ABC / Memphis, TN

Gary: Memphis  /  Chris: Memphis
National ABC audience for the Memphis Tigers after not playing last week (due to Hurricane Irma), means Mike Norvell and crew have been working on UCLA since last Friday.
It may not matter.  Josh Rosen has opened up the season on a different level, scoring 45 against Texas A&M and 56 against Hawaii.  Memphis was outgained in the first game by ULM.  Yes, you read that correctly.  Toss on 3 big time season-ending injuries to DL Jared Gentry, LB Jackson Dillon, and LB Darian Porter, and you've got a recipe for disaster.
But… Both of UCLA's games so far were late afternoon home games.  This game is at 9am PT.  The perfect spot for Memphis to be able to strike early and often.  Home underdogs have a way of winning these early games.  Memphis was in this exact spot 3 years ago when #11 Ole Miss came to town, and they dominated the Rebels.
The Liberty Bowl will be packed, and I'll even be making an appearance at this one.  Expect a shootout, and some crazy things to happen.
Oh… and the total is 73.  May want to take the over.
Eagles @ Chiefs
Sunday, Sept 17th / 12:00pm CT / FOX / Kansas City, MO



Gary: Chiefs  /  Chris: Chiefs
The Chiefs went into Foxborough last week and absolutely put it on the Patriots in the 4th quarter.  It wasn't a fluke either.  Just a good ol fashioned beating.
The Eagles did the same thing in Washington to the Redskins.  Of course, that won't get as much hype as winning in New England, but they still looked good.
The Chiefs have some new dimensions on their offense: speed.  Something they didn't appear to have for a while.  The Eagles defense looks really good.  Which one will break first?
Chris and I both think the Chiefs win this one at home.
Cowboys @ Broncos
Sunday, Sept 17th

/ 3:25pm CT / FOX / Denver, CO



Gary: Cowboys  /  Chris: Broncos
Chris is a believer in the Broncos after a home win over the Chargers on Monday night, where Trevor Semien looked like a legit QB.
I'm still skeptical, though.
The Broncos defense still looks like they're for real, but after going up 24-7 in the 3rd quarter, the Chargers figured things out and Phillip Rivers threw 2 TDs in the 4th quarter.  It took a blocked FG as time expired for the Broncos to sneak out with the win.
The Cowboys, however, dominated the Giants for the entire game in a 19-3 win.  Ezekiel Elliot will be playing for the forseeable future, and I think he's a difference maker in this game.  Chris thinks the Broncos defense will be too much.  Should be a fun game on Sunday afternoon.
Packers @ Falcons
Sunday, Sept 17th / 7:30pm CT / NBC / Atlanta, GA



Gary: Falcons  /  Chris: Falcons
The opening of Mercedes-Benz Stadium for the Atlanta Falcons this season.  It's going to be loud, and their fans are going to be ready for a big win over the Packers… who just so happen to be the last team that played the Falcons in the Georgia Dome last season (the Falcons won the NFC Championship game 44-21 over the Packers).
These home fans haven't seen their team play, in-person, since giving up a 28-3 lead and losing in the Super Bowl to the Patriots, so they'll be fired up for a Sunday night game.
Chris and I agree on this one… too much home cooking for the Falcons to lose this one, even if they did look less-than-stellar at the Bears last week.
Other Interesting College Football Games
Notre Dame @ Boston College (Saturday, Sept 16th / 2:30pm CT / ESPN )
Chris Fallica – from ESPN's College Gameday – pointed out that since 1993, BC has be a TD or more underdog to ND 14 times.  They're 11-3 against the spread, with 5 straight up wins, including 6 straight wins against the number.  Notre Dame is favored by 14 this weekend.  I don't think BC wins, because Wake Forest showed the Eagles are not a good football team in a 34-10 beatdown last week in Boston… but these kinda games can be scary, especially on the road after losing a heartbreaker at home.
SMU @ TCU (Saturday, Sept 16th / 2:30pm CT / ESPNU)
TCU looked awful last week, and SMU in #5 in the country in scoring, averaging 56ppg through 2 games.  TCU is favored by 19, but could SMU spring the big upset?  Chad Morris finally has that thing rolling in Dallas.
Tulane @ Oklahoma (Saturday, Sept 16th / 5pm CT / PPV)
Willie Fritz has Tulane playing better than they have in years.  Their offensive looks out of that triple option are things that opposing defenses just haven't seen before.  I'm not saying there could be an upset here… but Oklahoma is -35.5 on the books right now, and they're coming off a big time emotional win at Ohio St.  This could be a let down spot.  Basically just win and go home.
Oregon @ Wyoming (Saturday, Sept 16th / 6:00pm CT / CBSSN)
Oregon is favored by 14, and NFL draft wonderkid Josh Allen is QB for the Cowboys.  This will be the biggest game in Laramie in quite some time.  Oregon is favored by 14 on the road, but the Ducks are just 1-9 against the spread as a double digit favorite since Marcus Mariota went to the NFL.
Kansas St @ Vanderbilt (Saturday, Sept 16th / 6:30pm CT / ESPNU)
Kansas St is a 4 point favorite in Nashville, but it looks like Vandy has their QB in Kyle Shermer.  The guy is just about perfect so far this year, throwing for something like 500 yards with 7 TDs and no interceptions.  Kansas St is supposed to be a contendor for the Big 12 this year… but remember, Vandy was a home dog 3 times last year – they covered all 3, and won 2 outright (by 21 and 11).
Ole Miss @ Cal (Saturday, Sept 16th / 9:30pm CT / ESPN)
Ole Miss is averaging 537 ypg, and Cal is averaging 450.  Both teams should put points up pretty easily.  Cal lost their starting RB, Tre Watson, to a season-ending knee injury after the last game, but that shouldn't matter.  Cal can run the football a little bit with Laird, their QB.  Neither defense is very good.  Look for a lot of points Saturday night in Berkley.
GET THAT MONEY
Gary & Chris Gambling Picks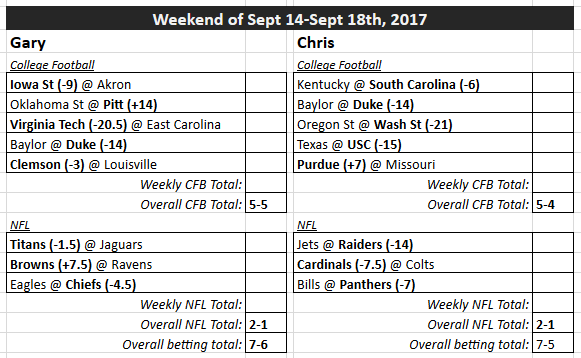 Gary's picks
College Football
Iowa St (-9) @ Akron 
Iowa St is averaging 41.5 ppg, and their offense is clicking, even though they lost to Iowa (44-41 in overtime).  Matt Campbell has this team clicking, and I saw them go toe-to-toe with a much deeper Iowa team last week.  This may be one of the bigger games in Akron in a long time, but I've seen Akron go up against a Power 5 team already this season and it ended with a 52-0 loss to Penn St.  Akron, in 2016, finished #114 in the country in total defense.  That's ok, so long as you've got an offense that can put up points… but Akron finished #84 in total offense last year too.  Iowa St will look to score early and often in this one.  I love that I was able to get this one at 9.
Oklahoma St @ Pitt (+14)
Pitt avoided disaster at home against Bo Pelini & Youngstown St in a 28-21 win in their opener.  Last week, they did everything they could to slow down Penn St in Happy Valley, including holding onto the football for more than 38 minutes.  They'll do the same thing to Oklahoma St, and the fact that it's at home makes me believe they'll show up on defense and at least keep this thing close.  Last season, Oklahoma St beat Pitt 45-38 in Stillwater, so this is a revenge game.
Virginia Tech (-20.5) @ East Carolina
East Carolina may be playing at home, but through two games this year (a 34-14 loss at home to James Madison, and a 56-20 loss at West Virginia), the Pirates have given up an average of 614ypg and an average of 45ppg, which is  #125 in the country.  Seriously, East Carolina lost at home by 20 to James Madison.  They were down 49-3 at the half to West Virginia.  You can look at ECU's offensive numbers and try to make a case that they can score a little bit… but they scored a garbage touchdown against James Madison at the end of the game, and all of their yardage came late.  West Virginia had 49 points and 450+ yards of offense in the first half.  ECU had 191 yards at the half, and only 3 points.  Did I mention that VaTech beat West Virginia to start the season?  This one could get ugly.
Baylor @ Duke (-14)
Baylor is just about as bad of a football team as you can get right now – 2 home losses to Liberty and UT-San Antonio – and Duke is coming off of a 41-17 home win over favored Northwestern.  Duke is averaging 531 ypg on offense, and 50.5 ppg.  Baylor scored 10 points at home against UTSA last week.  Baylor's defense is giving up 480 ypg.  This one could get really really ugly in Durham.  Lay the points with Coach Cutt.
Clemson (-3) @ Louisville
I went over this one above.  Louisville's offensive line is not good.  Lamar Jackson has feasted on defenses that were bad last season, and bad again this season.  Clemson should out talent these dudes, even on the road.  3 points is nothin here.
NFL
Titans (-1.5) @ Jaguars
I think the Titans played the best team in the NFL last week (Raiders) and lost a close game.  I think the Jags played a hapless Texans team that was emotional after all of the flooding in that city.  I think the Jags are good, but Mariota and the boys understand this is a must win game on Sunday.  I think they'll win by a touchdown.
Browns (+7.5) @ Ravens
The Ravens are not as good as their 20-0 win at the Bengals would lead you to believe.  The Browns, however, did show that they are capable of competing in the NFL this season, as Kizer looks good (but still young) at QB, and their offensive and defensive lines are for real.  I don't know that they'll win this game, but it wouldn't surprise me for Cleveland to into Baltimore and give Flacco and the boys a really tight game.
Eagles @ Chiefs (-4.5)
I do like the Eagles this year.  But I like the Chiefs more.  The Chiefs new and improved offense will take some time for defenses to catch up with, because the looks are so different from what they were the past few years… if only because there's more speed on the field at one time.  I like the Chiefs by at least a TD here.