Listen to Podcast 134 to get all of these picks and more reasons behind them:
Since Chris & I started this website, people have been asking for advice. Usually, it's what team to bet on this week. 'You got Patriots or Steelers?' 'Chicago or Detroit?' Let me tell you this. Where you're betting is just as important as who you're betting on. That's why I always tell people to go to MyBookie.ag. Right now, you can use promo code WCE100 for a 100% deposit bonus.
They have the fastest payouts – seriously, just two business days – and that 100% deposit bonus is epic.  That means whatever you deposit, they'll match it completely.  It's no different from betting in a glitzy Las Vegas casino, but you can do it right from your smartphone. Trust me, go to MyBookie.ag to place your bets, and tell them we sent you by using promo code WCE100 to get that 100% deposit bonus.  Right off the bat, you're making money for doing nothing. Get over there, and get the best odds anywhere!
[spp-player url="http://feedproxy.google.com/~r/WinningCuresEverything/~5/vfqSTZDb5Gk/343314050-winningcureseverything-ep134-092117-get-that-money-cfb-and-nfl-gambling-picks.mp3″]
GET THAT MONEY
Gary & Chris Gambling Picks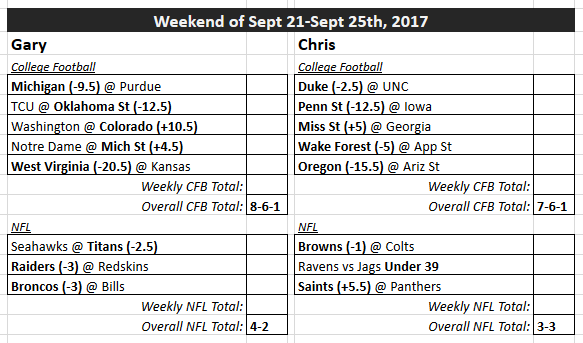 Gary's picks
College Football
Michigan (-9.5) @ Purdue (Saturday, Sept 23rd / 3:00pm CT / FOX / West Lafayette, IN)
Everybody loves Purdue right now.  Jeff Brohm has, seemingly, turned the program around… but you have to be careful in spots like these.  While Brohm has looked good in a close loss against Louisville (who was exposed last week at home by Clemson), and in big wins over Ohio and Missouri, this is still Purdue.  Let's take a look at the last 4 years of composite recruiting rankings: Michigan – #19 in 2014, #48 in 2015, #5 in 2016, #3 in 2017.  Purdue – #73 in 2014, #69 in 2015, #84 in 2016, #70 in 2017.  Michigan has WAY more talent, and the Wolverine defense is unlike anything Purdue has played yet.  I think Michigan wins this by at least 2 touchdowns, and it could get worse than that.
TCU @ Oklahoma St (-12.5) (Saturday, Sept 23rd / 2:30pm CT / ESPN / Stillwater, OK)
Nobody is stopping Oklahoma St's offense.  Especially TCU, who gave up 36 to SMU last week.  TCU can score, and they've got the potential for some explosive plays, but I don't trust Kenny Hill at all, and I keep going back to the TCU game at Arkansas, where both teams looked absolutely awful for the entire game.  TCU has to travel to Stillwater, the game is in a primetime slot on ESPN, and I'm getting the Cowboys laying less than 2 TDs?  Yeah… gimme Gundy and the 'boys.
Washington @ Colorado (+10.5) (Saturday, Sept 23rd / 9:00pm CT / FS1 / Boulder, CO)
Washington has played 3 garbage teams, and the only Power 5 team they played, they struggled at Rutgers to a 30-14 win.  Colorado is clicking on offense, and their defense is setup to stop Washington's attack this year.  I don't think that Colorado is talented enough to win the game, but this reminds me an awful lot of the Washington game at Utah last year, that ended up being a 7 point win for the Huskies.  Colorado at home, getting more than 10 points is a winner to me.
Notre Dame @ Mich St (+4.5) (Saturday, Sept 23rd / 7:00pm CT / FOX / East Lansing, MI)
This is just a gut feel, but I think Notre Dame is having some big time issues, and Michigan St's defense has looked great so far this year.  Sparty had a bye week last week, while ND went on the road and beat up a bad Boston College team.  This is a night game, at Michigan St, and this is the first time Dantonio has gotten a chance, this season, to spotlight that he got last year's awful season turned around.  I think Michigan St wins this game outright, but it's nice to have the +4.5 in your pocket here.  This should be a close game.
West Virginia (-20.5) @ Kansas (Saturday, Sept 23rd / 11:00am CT / ESPNU / Lawrence, KS)
Kansas has given up 42 at Ohio, and 45 at home against Central Michigan.  Neither of those teams has the offense that West Virginia will bring into town, and we've got this at less than 3 TDs.  I'm all about that.  Kansas is terrible, and I know 20.5 is a lot, but WV's defense is not awful (definitely good enough to stop Kansas), and their offense will absolutely blow the Jayhawks' doors off.  I'm thinking something like 51-21 Mountaineers.
NFL
Seahawks @ Titans (-2.5) (Sunday, Sept 24th / 3:05pm CT / FOX / Nashville, TN)
The Seahawks scored 9 points at GB, and 12 points at home against the 49ers.  That offensive line is just not good, and, so far, the Eddie Lacy thing didn't work, Russell Wilson is mediocre… This is more of a bet that the Titans will figure out a way to score at least a little bit, and they'll beat the Seahawks, who are traveling east here (even though it's a 3pm CT kickoff), by at least a field goal.
Raiders (-3) @ Redskins (Sunday, Sept 24th / 7:30pm CT / NBC / Landover, MD)
The Raiders, to me, are the best team in football, and the "West Coast team traveling East" issue is kinda negated by the fact that it's a Sunday night game, so the body clock thing isn't really a thing here.  The Raiders can move the ball on offense with the best of em, and I watched the Eagles rack up yardage on the 'Skins in week one like it was nothing.  I've also got a lot of faith in the Raiders defense to keep Cousins in check for the game.  Only laying 3 here?  I'll take the Raiders.
Broncos (-3) @ Bills (Sunday, Sept 24th / 12:00pm CT / CBS / Buffalo, NY)
Good team vs Bad team.  The Bills are a bad team.  The Broncos are a good team.  We've only got a 2 game sample size, but we all know the Bills are in tank-mode right now.  They scored 3 points at Carolina last week.  Denver's defense is better than Carolina's.  The Broncos could win this game 7-3 and still cover, so give me the Broncos and the fire-hot Trevor Simien to lay the wood to Buffalo this week.