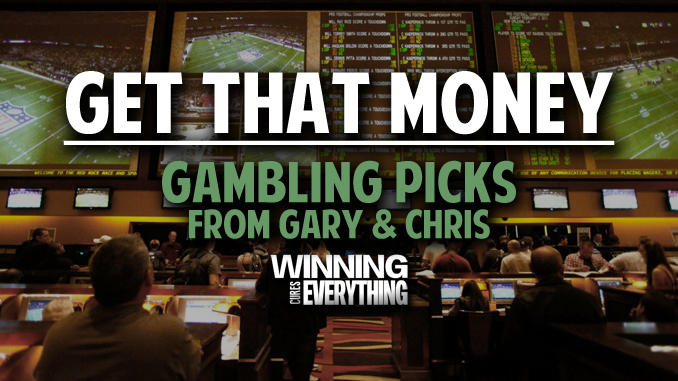 Listen to Podcast 121 to get all of these picks and more reasons behind them:
[spp-player url="http://feedproxy.google.com/~r/WinningCuresEverything/~5/tzwTNXJiu2k/340171841-winningcureseverything-ep121-083117-cfb-big-games-and-our-gambling-picks-get-that-money.mp3″]
Biggest Games of the Weekend
Alabama vs Florida St
Saturday, Sept 2nd / 7pm CT / ABC / Atlanta, GA
Alabama is #1 in both the AP and Coaches polls.  Florida St is #3 in both.
That alone makes this a MONSTER matchup.  But toss in the storyline of Jimbo Fisher being Nick Saban's former offensive coordinator, along with the stat that Saban is 10-0 in matchups against his former assistants, with the games being won by an average score of 40-10, and you've got intrigue.
If you're looking for a game that has NFL talent all over the field… y'know, before the LSU / Alabama game in November… this game will provide plenty.  Alabama starts 17 former 4 or 5 star recruits, while Florida St starts 15 such players.
This should be a lot of fun Saturday night, and it'll be a party all day Saturday, as ESPN's College Gameday will broadcast live on-site Saturday morning.
Florida vs Michigan
Saturday, Sept 2nd / 2:30pm CT / ABC / Arlington, TX
This game looks a lot more fun than it really may be, after Florida has suspended TEN players for the season opener.
Florida still has talent, and they just announced that Felipe Franks will be starting at QB for the team, instead of grad transfer Malik Zaire, but this game could definitely swing Michigan's way early and often.
I look at it this way… Jim McElwain knows his team is talented enough to win the SEC East again.  And he knows he has to discipline his players.  This is a game he could lose even if he played all 10 of these guys, so why not sit them for this game, get it out of the way, and then go win the division?
Either way, it'll be fun to see 2 big name programs open the season in Arlington.
LSU vs BYU
Saturday, Sept 2nd / 8:30pm CT / ESPN / New Orleans, LA
This game was originally supposed to be held in Houston, TX, but the game has been moved to the Superdome in New Orleans due to the historic flooding in Houston due to Hurricane Harvey.
I was originally shocked at the line here – LSU was a 14 point favorite when the game was in Houston… and when LB Arden Key was ruled out, the line didn't shift.  And then the game gets moved to New Orleans, and now LSU is a 16.5 favorite.  The day after the game was officially moved, it was revealed that RB Darrius Guice may not play… and if he does, he won't be 100%.  And the line still didn't shift.
I expect this to be an ugly game, as LSU is breaking in a brand new OC, and they still have a QB that's not a great passer, and BYU seems to always play more talented teams close.  I think LSU wins this one, but that line makes it even more interesting.
South Carolina vs NC State
Saturday, Sept 2nd / 2:00pm CT / ESPN / Charlotte, NC
This is a monster game for Chris, because he's completely on the South Carolina / Jake Bentley bandwagon.  Chris has South Carolina going 9-3 and winning the SEC East.
They don't have to win this game to win the Eastern division, but it would definitely springboard them into some interesting matchups in the first month of the season at Missouri, against Kentucky, LaTech, and at Texas A&M.
NC State has several big time fans right now as a potential playoff sleeper – most notably Cole Cubelic, who has the Wolfpack in his Playoff.
Bentley and the Gamecocks will have their work cut out for them in this one.  It appears to be two evenly matched teams.
Other Interesting Games
Colorado vs Colorado St (Friday, Sept 1st / 7:00pm CT / Pac12 Network / Denver, CO)
Colorado overperformed expectations last year, but they lost an awful lot, including DC Jim Leavitt.  Colorado St showed, in a 58-27 thumping of Oregon St last Sat, that they're for real.
Navy @ Florida Atlantic (Friday, Sept 1st / 7:00pm CT / ESPNU / Boca Raton, FL)
Lane Kiffin's debut in Boca Raton, and the line has gone from Navy -20 to -9 the day before kickoff.  Navy's ground game can overwhelm much more talented teams than FAU… I didn't think this would be close, but excitement is definitely building for Kiffin's first game.
Temple @ Notre Dame (Saturday, Sept 2nd / 2:30pm CT / NBC / South Bend, IN)
Temple is +19 in this game, and I don't really get it.  Notre Dame is coming off a 4-8 year, but they've got a ton of talent.  Temple has some talent left over, but they lost their coach, Matt Rhule, to Baylor.  Still a lot of studs on that Temple defense for new HC Geoff Collins to work with.
Virginia Tech vs West Virginia (Sunday, Sept 3rd / 6:30pm CT / ABC / Landover, MD)
Justin Fuente's 2nd year at the helm with a mostly new cast on offense.  West Virginia replaces a lot on both sides of the ball, but they welcome in former Florida QB Will Grier to run the offense.  Who knows what to expect out of this game.
Texas A&M @ UCLA (Sunday, Sept 3rd / 6:30pm CT / FOX / Los Angeles, CA)
The Battle of the Hot Seats.  Jim Mora went 4-8 last year in LA, and Kevin Sumlin went through his 3rd straight 8-5 season… which isn't bad, but it's not what A&M fans envisioned after Johnny Football led them to an 11-2 record in Sumlin's first year.  There's talent all over the field in this one, and the loser might be on his way to the unemployment line.
Georgia Tech vs Tennessee (Monday, Sept 4th / 7:00pm CT / ESPN / Atlanta, GA)
Georgia Tech's offense is always difficult to stop, but especially with new faces on defense that don't have a lot of chemistry.  Butch Jones and the Vols lost a lot of production from last year, and if the Vols lose to Georgia Tech, they could be looking at a 2-3 start to the season.  Not good for Jones's chances of sticking around for 2018.
GET THAT MONEY
Gary & Chris Gambling Picks

Gary's picks
Ohio St (20.5) @ Indiana (Thursday, Aug 31st / 7:00pm CT / ESPN / Bloomington, IN)
Indiana fired head coach Kevin Wilson in December, after reaching a 2nd straight bowl game with the Hoosiers (something that hasn't happened since the 90s – as they've only reached 11 bowl games ever).  So Urban Meyer picked him up, because Wilson is one of the best offensive coordinators in the past few decades.  He knows how to move the football.  Ohio St has WAY more talent than IU, it's Tom Allen's 2nd game as head coach (I'll count the bowl game – a 26-24 loss to Utah), and Kevin Wilson is going to try and show out.  I got this line under 3 touchdowns and feel GREAT about it.
Colorado St (+5) vs Colorado (Friday, Sept 1st / 7:00pm CT / Pac12 Network / Denver, CO)
Colorado was a senior-laden team last year (they lost 26 scholarship seniors), but Mike MacIntyre's biggest loss, I believe, was defensive coordinator Jim Leavitt, who left to join Willie Taggart at Oregon.  D.J. Eliot is the new defensive coordinator, after being at Kentucky the last 4 years – Kentucky HC Mark Stoops took over the defensive play calling from Eliot after the Wildcats gave up an average of 528 yards in the first 3 games, and 41 points to Southern Miss, 45 to Florida, and 42 to New Mexico St.  The CU offense returns 9 starters, and often used QB Steven Montez, but they had trouble scoring in some spots when he was in the game.  Colorado St is out for revenge after getting smoked 44-7 last year by the Buffalo, and they showed last week, in a 58-27 beatdown of Oregon St, that their offense is for real this year.  Mike Bobo is going to throw everything he's got at this game, and I think they'll come out and win outright.
Navy (-10) @ FAU (Friday, Sept 1st / 7:00pm CT / ESPNU / Boca Raton, FL)
Navy only returns 4 starters on offense, but that doesn't seem to ever stop them.  Of the 11 Midshipmen offensive starters, 10 of them are upper classmen (and the lone exception is a sophomore scatback).  The triple option can overwhelm much better defenses than what FAU will be throwing out there.  There will be a learning curve under Lane Kiffin, and it could take a little bit to build some chemistry in that offense, but the Owls do return 17 starters, and welcome in QB De'andre Johnson (former FSU QB, who is now the star QB on Netflix's Last Chance U Season 2).  There could be fireworks, but look for Navy to run away with this game.
Wyoming (+11.5) @ Iowa (Saturday, Sept 2nd / 11:00am CT / B1G Network / Iowa City, IA)
Iowa seems to always have trouble early in the season (2013 30-27 loss to Northern Ill, 2014 20-17 loss to Iowa St, 2016 23-21 loss to North Dakota St) and Wyoming is no pushover.  Iowa will be starting a brand new QB, while Wyoming has returning junior, and big-time NFL Draft prospect Josh Allen, who led Wyoming to an 8-4 record, and an appearance in the Mountain West title game last year after wins over Boise St , San Diego St, and Colorado St.  With Iowa's track record of early season disappointments, a new starting QB, and Wyoming's experience and another year under former North Dakota St HC Craig Bohl, I think this game goes down to the wire.  11.5 is way too many points here.
Appalachian St (+14.5) @ Georgia (Saturday, Sept 2nd / 5:15pm CT / ESPN / Athens, GA)
Appalachian St gave Tennessee all they wanted in last season's opener, a 20-13 OT win for the Volunteers, and the Mountaineers have posted 11-2 and 10-3 records the last two seasons.  They return 14 starters (7 offense, 7 defense), including senior QB Taylor Lamb.  App St never shys away from a challenge, and though they'll get beat up by much more talented teams from time to time, I think the coaching advantage falls with Scott Satterfield over Kirby Smart.  Georgia obviously has way more talent, but they have a tendency to sleepwalk through games like this, and with Notre Dame coming up on Sept 9th, I believe Smart's coaching staff will do everything they can to not have to pull too many tricks out of their hat.  I expect a vanilla gameplan, and Appalachian St will take advantage.  Georgia wins, but I love the hook here, because we can cover 14.5 even with a 38-24 game.