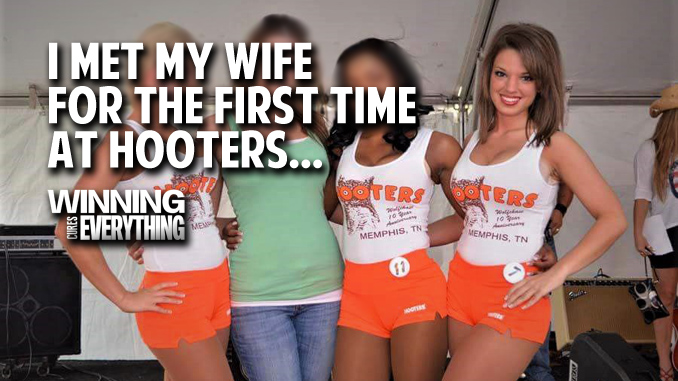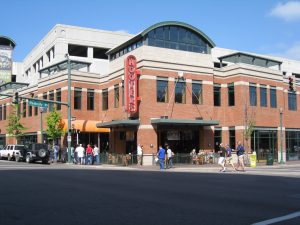 I met my wife at the Hooters in downtown Memphis almost 7 years ago.
And yes, that's actually her in the featured picture on this post.
Why are we on this topic?  On today's podcast (embedded in this post), Chris and I started out diving into last week's article Clay Travis's Mount Rushmore of Boobs, which led to a discussion about our favorite "Breastaurants" (such a great term).  This, in turn, led to a short talk about how I met my wife.
Seemed like a decent time to travel down memory lane and tell you how she and I met.
I know you guys are just like me – you can read news all day long, but sometimes you like to read up on somebody's history and figure out what makes them tick.  Well, to be blunt here, she is what makes me tick.  Even to this day.  She gives me a lot to be thankful for.
Remember, this is the same woman that I married on a college football Saturday just so she could have her dream fall wedding.  (Seriously, she was worth it.  Go check out the reasoning behind that here: http://winningcureseverything.com/why-im-getting-married-on-a-college-football-saturday-9816/)
I still remember the first time I ever saw my wife.  It was March 27th, 2010, and my bandmates (I'm in a band called Prosevere – check us out at Prosevere.com) and I went to Hooters, just off of Beale St.  UFC 111, a welterweight championship fight between GSP and Dan Hardy, was being shown there, and we wanted to go watch GSP.  That had turned into one of our weekend things – UFC PPV fights and different bars around town.
She was a waitress, and she was something else.  Beautiful smile, amazing personality (which, surprisingly, was actually how she is in real life), and great attention to detail.  Didn't mess up a single order, was incredibly attentive to our table, etc.  She was awesome.  We exchanged information, talked a bit on facebook, but she had a boyfriend, so we did not really see each other out very much.  But we always stayed in touch.
About a year later, I saw her again; this time at the Wolfchase location where she was competing in the annual bikini competition.  My guitar player and I were invited by the manager of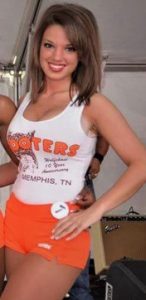 the store to come hang out and see the competition, and we figured we could do a little promotion for the band as well, since we had a show in the city not long after that.  We were friends with the band playing that night, so we found our way backstage pretty quickly.  Now, I'm the lead singer of a rock band that's toured quite a bit and has never had problems talking to people (women, in particular), but she walked right by me in a black swimsuit and was so incredibly smoking that night that I couldn't even talk to her.  I was scared to death.  The worst part about the entire ordeal was the fact that she was staring me down, expecting me to come and talk to her, and I completely chickened out.
I reached out to her again the next day and told her how great she looked.  We talked for a bit, and I found out that she was leaving Memphis to move back home to Alabama, where she would be going to school at Montevallo to get her masters in education.  We didn't talk much after she moved back, other than maybe once a month, just to exchange pleasantries through social media.  But I always stayed after her, to make sure she didn't forget about me.  I can't tell you how many times I asked her "so when ya moving back to Memphis?"  She always laughed and talked about how much she loved the city, but she had grown up in Alabama.  I spent the first 4 years of my life in that state, my father graduated from UA, and our family has had season tickets to Alabama home games since 1988, so I could understand why she would want to stay there, but I did a good job of reminding her that I was not in Alabama, so I needed her to move back up to Memphis.  Again, always giggles – not the reaction I wanted.
She didn't think of me romantically, at all, for the first 3 years of us talking.  But I was persistent.
Remember guys – persistence (not harassment or stalking) pays off.  Treat them like royalty and always be around, and you, too, can get your dream girl.  Anyway, back to the story.
So, I eventually booked a show for my band to travel to Birmingham to play at a little dive bar called "The Nick."  It was the perfect place for a band like us to play – long haired, beer drinkin rock n rollers in a smokey, run-down bar with a pool table in the back.  At most, there was maybe 20 people there, and 5 of them were her crowd.  Now, we did not know a whole lot about each other at the time, and she obviously did not know much about this place… otherwise, I would assume she and her friend would not have brought a state senator to the show, nor dressed as nicely as they all did.  Which also leads me to believe that maybe they hadn't really listened to my band before they showed up.
Either way, they did come to the show, and, lucky for me, she brought her brother and one of his friends as well, and they were hellraisers just like myself and the band.  So we hit it off immediately, then played pool and drank beers all the way up until time for us to go onstage.
After the show, my wife and I talked for about an hour outside of the venue, and, after she left to take the rest of her crew home and I finished loading out, we stayed on the phone for another 3 hours that night, and then woke up texting each other about 4 hours after that.  From that day, we never went longer than 24 hours without talking to each other.
Now, for me, it was absolute torture, because she still did not look at me as more than a friend.  But after both of us realized that we were best friends, and we were starting to get jealous when the other one would go out with other people, we ended up trying to make a long distance relationship work.  While there were some difficulties, I did eventually convince her to move to Memphis… and, yes, I did convince her to marry me.
There's a lot more detail I could go into on this, but I'll save the rest of the story for another day.  For now, I'll just leave you with a video of a Hooters waitress at my wife's old stomping grounds (at that same Hooters) doing the cowgirl rodeo (or whatever they call this thing).