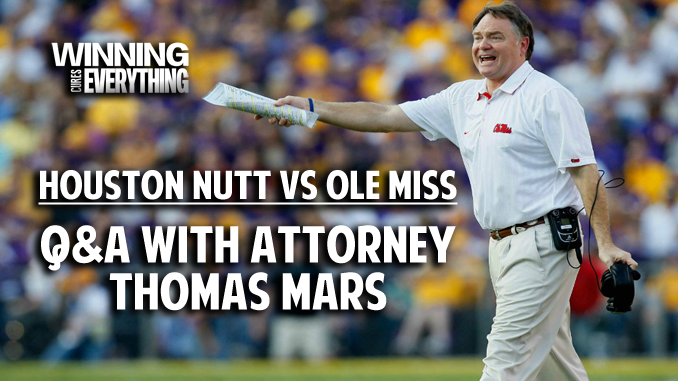 Thomas Mars is Houston Nutt's attorney in his lawsuit against the Ole Miss Athletic Foundation.
Ole Miss's jurisdictional motion to dismiss the initial case was granted because the federal court system didn't have jurisdiction over the case, and, basically, could not rule on the lawsuit.
But, according to Mars's statement, after it was dismissed on Wednesday, August 9th, said that he will be filing again in state court with more details this time.
I reached out with a few short questions to Thomas Mars, and he was kind enough to give WCE some more information regarding what is going on with the case.
We also asked some questions based on some of our prior articles regarding certain hypotheticals about the case.
Thomas Mars Q&A
WCE: It's been widely reported that you plan to refile Houston Nutt's lawsuit in state court in the near future. Is that still your intention and, if so, when will you file the complaint in state court?
Tom: Yes, that's still our intention. We'll file it when we're ready to do so – probably sooner than you might think.
WCE: We've previously reported that you made a public records request for the official records of calls to and from the Ole Miss Athletics Department from a Yuma, AZ number that you told
the university appeared to be a burner phone purchased at a T-Mobile store under the name "Nick Yang"? Why was your legal team interested in those phone calls?
Tom: I won't comment on what we know that prompted us to make that public records request or any other specifics related to our investigation of how the defamatory statements alleged in the lawsuit were communicated to the media.
I can say, as alleged in the federal court lawsuit, that the phone calls to sports reporters were made with the intention that it would be difficult, if not impossible, for someone to recreate a record of those calls. The people who made those calls were right in thinking it would be difficult to do that. If they thought it would be impossible, however, they were wrong.
WCE: We recently put out some stories (Part I & Part II) that discussed various hypotheticals about why Hugh Freeze was fired and what that may have to do with burner phones. Why do you think
he was fired?
Tom: I don't know any more about why Hugh Freeze was fired than anyone else does. I just know what Ross Bjork said about why he was fired.
I think the better question is why wasn't he fired a long time ago. After all, in just a few weeks of investigation, we found credible evidence that would have justified Freeze's termination 18 months ago. We're looking for calls to sports writers – not hookers. If we could get our hands on this information so quickly – despite the roadblocks Ole Miss put up at every turn – why wasn't the AD able to get his hands on the same information – and more?
I haven't heard a good answer to that question, and I'm not holding my breath to get one.
WCE: Aside from the Houston Nutt case, speaking from your 30 years in law and law enforcement, can you tell us more, generally, about why lawyers and investigators go after information about calls made on a burner phone? I thought the main reason people use burner phones is to make sure there's no record of their calls. So, isn't it a waste of time to be looking into burner phones?
Tom: That's a good question. The answer is based on a common misconception about burner phones. The term "burner" phone came to being years ago when law enforcement agencies and government agents in the intelligence community began to recognize that pre-paid cell phones could be used to make untraceable calls so long as the phone was later "burned."
That's a shorthand way of saying the phone was disposed of in a landfill, thrown into a lake, or otherwise disposed of in a manner where the phone couldn't be retrieved. Under those circumstances, the calls made to or from that phone would forever remain a secret.
But that's not always what happens. If the person using a burner phone doesn't realize that "burning" the phone is a key part of the process to ensure their secretive calls can't be traced or is careless enough to leave the phone unattended, the phone calls to and from that phone can potentially be recovered.
The key to doing that is to find the IMEI number on the burner phone. That number is located in different places depending on the make of the cell phone. For some phones, the number is underneath the battery inside the cell phone. For others, the IMEI number can be found just by removing the back cover. For iPhones, the number can be seen on the back of the phone using a magnifying glass or, for earlier models, on the SIM card tray.
If a person gains access to a burner phone that was left unattended or never destroyed and takes note of the IMEI number and the phone number assigned to that phone, the right people with the right equipment and experience can usually recreate most, if not all, of the activity that occurred on that phone. That's not always possible, but with a little luck, the person who thought the calls from their burner phone could never be retrieved is in for a big surprise.
The key lesson here is simple: if you're using a burner phone to keep people from discovering your misconduct – personal or otherwise – don't leave the phone unattended and make sure you "burn" it when you're done.
Get caught up with our other stories on the Ole Miss situation:
---
Get caught up with our other stories on the Ole Miss vs NCAA mess:
Ole Miss vs NCAA: All Your Questions Answered
Hugh Freeze: Why is the NCAA going after him?
Hugh Freeze: Why is Ole Miss standing with him against the NCAA?
Ole Miss vs NCAA: The Story Behind Barney Farrar
Ole Miss: Football Enthusiasm is in serious trouble
Barney Farrar's Attorney Responds to Ole Miss
Barney Farrar Response to the NCAA's NOA
Rebel Rags vs Miss St: Does this help Ole Miss?
Bruse Loyd, Farrar's attorney, on Louisville, Rebel Rags & more
Ole Miss vs NCAA: With Nutt lawsuit, how does Freeze keep his job?
Ole Miss Wants to Keep Hugh Freeze, and Here's Why
Hugh Freeze is Out at Ole Miss: What Happened and What's Next
Are things trending positive for Ole Miss vs NCAA?
What if there is more to the Ole Miss Escort Calls? (Part I)
What if there is more to the Ole Miss Escort Calls? (Part II)
Ole Miss vs NCAA: Good News… and then Bad News
Thomas Mars: Ole Miss made it clear all employees would comply with contract
---