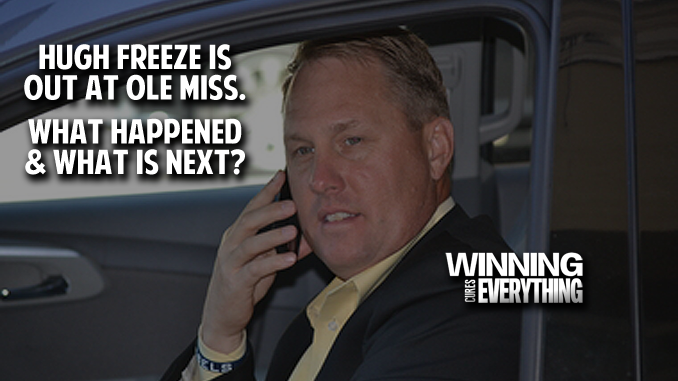 Last night, around 5pm CT, I started getting messages.
Les Miles and Ole Miss talking.  Something big's about to go down in Oxford.
Around 5:20pm, I contacted Cecil Hurt and Bo Bounds to see if they had heard anything about this.  Neither had.
I contacted as many people as I could, but nobody could confirm anything.
Then Cecil hit me up: "Well, Pat Forde bomb may have shed new light on this.  Interim coach needed ASAP perhaps."
Y sources: Explosive new information has put Ole Miss football coach Hugh Freeze's job in immediate jeopardy. A decision should come soon.

— Pat Forde (@YahooForde) July 20, 2017
Then the information started flying in.  Everybody has seen the result – Hugh Freeze resigned as head coach at Ole Miss last night.
I want to dive into everything surrounding it, but first, let me share with you a story Clay Travis told on his Periscope show last night:
I know a famous country music singer.  He was playing right outside of Oxford in Memphis.

His phone rang and he didn't know who it was.  He answered.  It was Hugh Freeze.

Freeze said "You use a curse word in one of your songs."

"I wanna bring my daughter to your concert, but you can't use the curse word in your song. 

Will you agree not to use the curse word in your song, so I can take my daughter to your concert?"

The moment I heard that story, I had doubts about Hugh Freeze.
Unreal story.
Let's jump in.
What Happened Here?
I don't know that anyone would have predicted it would end like this.  5 seasons, 2 wins over Alabama, a Sugar Bowl win, 2 New Years Six bowl appearances, a historic ESPN College Gameday appearance…
And Freeze "resigned" due to a moral turpitude clause.
No Buyout.  No settlement.  Ole Miss isn't paying him a dime.
That's per Athletic Director Ross Bjork in the press conference last night.
Last Wednesday, July 12th – the day before Ole Miss's appearance at SEC Media Days – Houston Nutt's attorney, Thomas Mars, filed a lawsuit against the Ole Miss Athletic Foundation, which included phone records from Hugh Freeze.
Rumors circled for a while that there was a call to an escort service in Tampa, FL.  Everyone in the media knew about it.  The call was less than 1 minute long.  Nobody in the media wanted to run with an actual
The call was less than 1 minute long.  Nobody in the media wanted to run with an actual story, because getting into somebody's personal life is not something that anybody wants to do.
It's part of what I had brought up last week.  Ole Miss needed "cause" to get rid of Hugh Freeze.
If they fired him without cause, they would owe him a buyout of around $16M.
I've seen Mike DuBose at Alabama survive a sexual harassment suit (until he went 3-8 in 2000), and I am absolutely of the belief that Hugh Freeze would have survived this, had it not been for EVERYTHING ELSE surrounding the program. Firing Hugh Freeze
The Houston Nutt case is not settled.
The NCAA case is still happening.
Ole Miss is not done with all of this yet.
And, from what I'm hearing, there's still more that will come out of this.
So here's the breakdown.  At 8:34 p.m. on Jan. 21, 2016, there was a less-than-one-minute phone call to a 313 Detroit area code phone number, which is linked online to a Tampa, FL area escort-service.
It was initially labeled a misdial.  By Freeze and Ole Miss.
Pat Forde wrote about that in his article last night, saying they asked about it, and Freeze lied to Yahoo.
Freeze told Yahoo last Friday that the call had been brought to Ole Miss administrators' attention by former coach Houston Nutt's attorney, Thomas Mars, and that they had questioned him about it. Freeze told Yahoo he had no idea why the call was on his phone records.

"I've got no idea, to be honest," Freeze said. "I was in an 813 area code and that was a 313 number, I think that might have been a misdial. I don't think there was even a conversation. There's nothing to it."
Ole Miss administration confirmed that it was a pattern of inappropriate conduct, which Freeze admitted to, and that if he had not resigned, the school would have "exercised the termination clause in the contract for moral turpitude."
What a crazy situation, and, apparently there's more coming out soon.
But seriously… who calls escort services from their University-issued cell phone?
How Does This Affect the NCAA Case?
It doesn't.
At least that's what I understand.
I could see a circumstance where the NCAA COI feels like they got what they wanted, but this firing/resignation came down literally days before the NCAA enforcement staff's response to Ole Miss is due.  I believe the NCAA was coming specifically after Hugh Freeze, and now he's no longer there.
But, realistically, does anything change?  This is still a program with HUGE violations.  Academic fraud.  Boosters paying players.  Vehicles.  Forget about the lawsuits and Ole Miss fighting this stuff.  There's just a lot here.
Now, does the NCAA still hammer the school?  The biggest issue here is lack of institutional control against the school.
Was the NCAA going after Hugh Freeze because of a meeting that went wrong back in 2013, or are they going after the booster system at Ole Miss that has decades of history of paying players, academic fraud, etc?
If they take Ole Miss's self-imposed sanctions and just leave it at that, then we'll know it was all about Freeze.
If they add another year postseason ban, and add more scholarship reductions, then we'll know this was about the booster system.
Is it Possible the Call to an Escort was for a Recruit?
Upon initial inspection, before the press conference and several phone calls I made last night, you had to kinda think about that, right?
Louisville just got busted for a situation like this.
And the phone call happened to fall right in the middle of recruiting season.  The infamous call was on 1/21/16 to a Tampa, FL based escort service.  Tre Nixon from Melbourne, FL committed on 1/25, and Jacob Mathis from Tampa, FL committed on signing day.  Both were highly ranked recruits in the 2016 class.
It would be easy to tie those together if you didn't know much more than that.
But when you listen to the press conference last night, and read into what all Ross Bjork said, you quickly realize this was all personal.
Hugh Freeze was hiring escorts.
And this morning, Steven Godfrey and Alex Kirshner posted a great story at SBNation titled "No, Hugh Freeze wasn't calling an escort service because of recruiting."
The dots could seem to connect easily: Freeze was calling escorts for recruits. But he wasn't. Sources told Godfrey that Freeze's calls to the service weren't like ones made several years ago from the Louisville basketball program.

Louisville got into NCAA trouble because a staff member reportedly set up recruits with escorts. Freeze wasn't doing that, these sources say.
What Happens to Ross Bjork?
Athletic Director Ross Bjork was obviously the most poised administrator in Oxford last night.
He answered questions.  Took control of the press conference.
Chancellor Vitter said Bjork took over the investigation into this to figure out what was going on.
That all sounds great.
Let's not forget that it wasn't just Freeze that Houston Nutt went after in his lawsuit, though.
Phone records obtained by Nutt's attorney, Thomas Mars, also show that Ross Bjork was involved in calling media members and spreading a false narrative about the NOA being based mostly on Houston Nutt.  This was a violation of a clause in Nutt's contract.
Those calls by Bjork could cost the school even more than Bjork's yearly salary.
Moving off of that, Bjork has tied his wagon to Hugh Freeze, and even as recent as this past Monday night, he was praising Hugh Freeze for "having the culture that's right for our university."
Ole Miss AD Ross Bjork on *Monday* praising Freeze for promoting right atmosphere, "having the culture that's right for our university." pic.twitter.com/V1wl6x2AVF

— Jessica Benson (@Local24Jessica) July 21, 2017
The school's NCAA response is built solely on Freeze's character, and throws another staffer, Barney Farrar, under the bus.
Bjork's future may rest solely on what happens with the Nutt lawsuit and what happens in the NCAA COI hearing.
Who is Matt Luke?
Matt Luke is Ole Miss's co-offensive coordinator, along with Phil Longo.  He's been the Offensive Line coach since 2012.
Now he's the interim head coach.
He's had interviews for smaller coaching jobs, like Troy, among others.  In coaching circles, he's revered as a great coach.
He had an opportunity back in 2016 to go with Kurt Roper, a friend of his from his time working with David Cutcliffe, to join Will Muschamp's staff at South Carolina.  They were offering something like $700k.  He chose to stay at Ole Miss… and rumor mill says it's because he was aware of the rumors about Freeze, and chose to stay in Ole Miss because he thought he might get this opportunity.
Luke was a center at Ole Miss and started 33 games between 1995-1998.  His brother played QB at Ole Miss from 89-91.  His father played defensive back in Oxford in the 1960s.
On top of that, he's been an assistant coach in Oxford for more than a decade, as a GA, as a full-time assistant under David Cutcliffe and under Hugh Freeze.
If you ask me, though, he's only an interim for this season, and they'll go with a bigger name next season.
Where Does the Ole Miss Job Rank in the SEC?
Based on support from the administration and the booster system, they're somewhere in the middle tier of the SEC.  They could be as high as #6, as low as #10, but I don't think it's any higher or lower than that.
But that can still be a Top 15 job in America.
They were paying Hugh Freeze the #9 highest salary in all of college football.
Almost $5M a season.
You're in the middle of a recruiting hotbed.  You're in one of the biggest, most difficult divisions in all of college football.
It's a big-time job.
Who Do They Go After?
My sources pointed out Les Miles as a potential candidate before the news of Hugh being let go was ever announced.  That's not as crazy as it may seem.
You might be able to get him on the cheap (I think he would take less money than he was making at LSU).
He's never had NCAA issues.  He's high character (although I'm hesitant to say any SEC coach is high character).  And he may be the only person that's willing to deal with the NCAA mess after sanctions are handed down, so long as he's got security from the administration (a multi-year contract).
But if they don't go with The Hat, who else could it be?
I don't buy into the Lane Kiffin hype.  He just hired his brother, Chris Kiffin, away from Ole Miss after he was named in the current NCAA allegations.  But could Sexton find a way to talk those guys in Oxford into it?  I guess anything is possible.
Would Charlie Strong leave USF after one season?  Also possible.  He's only making $1M per year.  After this year, he loses his star senior QB, Quinton Flowers.  He has to rebuild the team next year in Tampa, because he'll lose 7 senior starters on offense, and 8 senior starters on defense going into 2018.
If you have to rebuild anyway, why not do it in Oxford for significantly more money and with more resources?
The other sides to this are pretty uncomfortable.  First, would Ole Miss hire a black coach, especially one with a white wife?  It feels ridiculous to even bring that up… but history shows they've never hired a black head coach before.  Second, would Ole Miss touch Charlie Strong after 2016 allegations of him having an affair with a Louisville trustee's wife right after firing Hugh Freeze for "moral turpitude?"
Another name that could be brought up is Neal Brown, head coach at Troy.  He took over a not-so-great situation at Troy, went 4-8 in his first season, and last year he turned the team around and went 10-3, including 6-2 in conference.
I don't believe Mike Norvell, at Memphis, would take the job.  I also don't know that Ole Miss would look at Blake Anderson from Arkansas St.
An interesting name to keep an eye on: Scott Frost at UCF.
And anyone bringing up Bob Stoops and Chip Kelly… just stop.
---
Get caught up with our other stories on the Ole Miss vs NCAA mess:
Ole Miss vs NCAA: All Your Questions Answered
Hugh Freeze: Why is the NCAA going after him?
Hugh Freeze: Why is Ole Miss standing with him against the NCAA?
Ole Miss vs NCAA: The Story Behind Barney Farrar
Ole Miss: Football Enthusiasm is in serious trouble
Barney Farrar's Attorney Responds to Ole Miss
Barney Farrar Response to the NCAA's NOA
Rebel Rags vs Miss St: Does this help Ole Miss?
Bruse Loyd, Farrar's attorney, on Louisville, Rebel Rags & more
Ole Miss vs NCAA: With Nutt lawsuit, how does Freeze keep his job?
Ole Miss Wants to Keep Hugh Freeze, and Here's Why
---