Before we start in on this one, make sure you read up on the first two parts of this series:
Part 1: Ole Miss vs NCAA: Questions Answered
Part 2: Hugh Freeze: Why is the NCAA going after him?
Now that you've gone through those, let's step into another facet of this story.  Why has Ole Miss hitched their wagon to Hugh Freeze when it's obvious that the NCAA wants him out?
Coach Freeze had his first spring practice press conference on Tuesday (Feb 28th) and when asked about his job security, he stated "I'm not really concerned. I've had administrators watch me for five years … and they've been very supportive."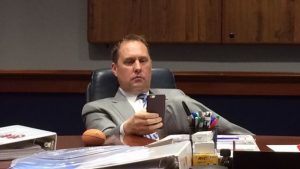 Now, if the administrators have been watching him, and, after all these allegations, they didn't realize that he's been doing something wrong, whether he was actually involved in the violations, or he didn't know (which is a whole different problem), then what does that say about the administration?
It's gone backwards from the precedent that Bjork initially started with in his first year in Oxford.  When Women's Basketball coach Adrian Wiggins was fired on October 20, 2012 before the start of the season, Bjork was quoted as saying:
"Although there is no current evidence that Coach Wiggins was complicit in or had direct knowledge of this misconduct, as head coach, he is accountable for the actions of those who report to him."
This sounds completely different from the stance that they are taking with Hugh Freeze.  But why are they doing things differently this time?
Let's look at it this way: we know that schools can fire their head coaches, and it has, in the past, cut down on the penalty handed down to the school.  The show-cause sticks with the coach, but the school does not end up with the most severe punishments, if they voluntarily rid themselves of the perpetrator(s).  Currently, the school has self-imposed a 1-year bowl ban for the 2017 football season, which will make the school forfeit somewhere between $7-8M in bowl revenue distributed to each conference member.  That's the only penalty that Ole Miss has announced thus far.  But, for the alleged violations the NCAA sent to them in the NOA, the normal penalty would look more like what happened to USC: 2-year bowl ban, loss of 30 scholarships over 3 or 4 years, financial issues and a show-cause penalty on the coach – which, in USC's case, he had already left to coach in the NFL.  Other coaches that have had the lack of institutional control issue, and a show-cause slapped on them were Tennessee basketball coach Bruce Pearl, Ohio St football coach Jim Tressell, Oregon football coach Chip Kelly, North Carolina defensive line coach John Blake, and former Tennessee basketball coach Donnie Tyndall.  Read more on what a show-cause entails here:  https://en.wikipedia.org/wiki/Show-cause_penalty.
Freeze had a press conference on Tues, Feb 28th to discuss the opening of spring practice.  It was the first time Freeze has been available to the press since the NOA was released.  And of all the things he answered, he continues to give the absolute worst answers to simple questions.
On if he would've done anything different, Freeze said he has and will continue to think about. He said he'll continue to evaluate that through the process.
How is the answer to this question not "yes?"  You are in charge of a program that just received 21 violations, 15 of which are of the most serious variety, and you answered that he has and will continue to think about whether he would have done anything differently.  Please, somebody help me understand his logic behind this.
Firing Hugh Freeze could, theoretically, save Ole Miss money.
If the NCAA gets tired of Ole Miss trying to hold on to a coach that they believe does not try to keep his program clean, they could end up dropping a 2-year post-season ban on the school, docking them quite a few scholarships, among other penalties.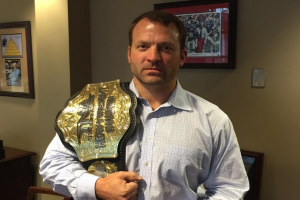 Forget looking at all of the other penalties – let's just look at a 2-year bowl ban.  And we won't even discuss the fact that, in the event that situation actually plays out, other programs will be able to recruit kids right off the roster in Oxford.  Just a 2-year bowl ban would mean forfeiting upwards of $15M in bowl revenue from the conference.
Hugh Freeze made $4.7M this past season, and his contract goes up through 2019, when he will make $5.15M.  The buyout clause of his contract is unknown, but you can guess that, without cause, the buyout will be around $10-12M, unless they've done something insane and guaranteed the entire contract for him (which nobody does).  So, say the buyout is $12M.  You're losing $15M over the next 2 years thanks to an NCAA mandated 2-year postseason ban.
Ole Miss would save $3M based on that, and save themselves years of rebuilding, all by just moving on from the current coaching staff and trying to start things over a year early.
Ole Miss will not be able to prove that Freeze has a good record of compliance.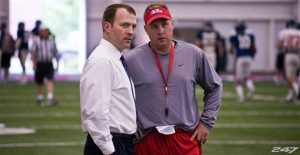 Ole Miss is fighting a losing battle by trying to go to war standing right next to Hugh.  There is nothing in Freeze's history that shows he has kept a compliant program, either as an assistant, or as a head coach.  When Freeze was first hired to Orgeron's staff at Ole Miss, back in 2005, he was brought in as the Associate AD for External Affairs.  Not long after that, according to a Feb 9, 2006 article by Robbie Neiswanger in the Clarion Ledger, Freeze had impermissible contact between Oct. 30 and Nov. 13, 2005, with 4 different Memphis-based recruits – off field coaches are not allowed to recruit players.  That didn't turn into much (secondary violations).  The players were declared ineligible on Nov. 29, 2005 and reinstated by the NCAA on Jan. 24.  Freeze, along with Orgeron and another coach (Ausmus) were given letters of admonishment for the violations, and they self-imposed a two-week ban on calling the Memphis-area prospects. Freeze was hired as the recruiting coordinator and TE coach in 2006, stayed on in 2007, and was not retained on Houston Nutt's staff in 08.
Once he was hired in late 2011 as head coach, he had 2 assistants charged with the same violation he committed years ago.  In the new NOA, one of the allegations says "a current football coach had impermissible, in-person, off-campus contact" with a prospective recruit.  That means it could even be Freeze himself that committed this one.
Freeze has hired 9 (yes, 9!) assistants at Ole Miss that worked on that same staff under Ed Orgeron from 05-07.  There were tons of questions around Orgeron's recruiting with several minor NCAA violations.  There has never been a record of compliance down there, as 4 different coaches (Barney Farrar, Maurice Harris, Matt Luke, and Chris Kiffin) have been named in Level 1 violations, and only one of them was actually fired.  And it took forever before the coach was let go.  This gets back to the ego problem that I referenced in the last post.
Now, let's talk about Farrar.  I've been referencing Farrar for months now on our podcasts.  Barney is the guy that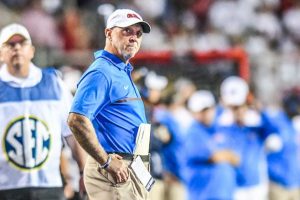 was referenced in the Tunsil draft night debacle.  He's the Assistant AD for High School & Junior College Relations, and was granted a waiver to jump into a recruiting role due to Dan Werner's wife passing away in 2009 and him being allowed to stay off the road as the single parent of a child with autism.  Farrar was implicated in a pay-for-play scandal in one of the allegations involving a recruit and boosters… and Freeze kept him on staff.  He was not placed on administrative leave (and eventually let go in December) until the NCAA granted immunity to former recruits and the nail finally went in the coffin.
On top of that, Freeze is mentioned in 3 of the violations along with a booster… the same booster is implicated in all 3 violations: Freeze and Harris took a booster to an in-home visit of a recruit, Freeze had a booster bring a recruit and his family to the Freeze household for breakfast (and, yes, the booster stayed for breakfast), and a booster provided illegal transportation to a recruit with Freeze's knowledge.
With this stuff going on, with Hugh's knowledge, how can he ever argue that he was compliant and had nothing to do with the rules violations?  There's no way he can look the Committee on Infractions in the eye and tell them that he monitored his assistants and that he knew nothing about all of this.  It wasn't just one staff member… this was multiple, and he even knew about these violations.
"15 Level I violations" is unheard of
Pete Thamel, of Sports Illustrated, talked with some experts last week, after the NOA response was released (the actual NOA has not been released to the public.  All we have is what Ole Miss has told us, thus far).  The most interesting part of this article, to me, was towards the end:
A former committee member, who asked to remain anonymous, has seriously tracked NCAA cases for more than 15 years and couldn't recall a case with that many (Level I violations). (Violations used to be classified as major and secondary, which makes comparisons imperfect. Now they are broken up from Level I to Level IV. Level I is the most serious). "In terms of sheer numbers, I can't recall anything that matches this," the former committee member said. "I just don't recall anything that's more serious."
Even if they are able to successfully dispute a couple of these… there are still SO MANY MORE.  The number of major violations is literally more than a former investigator has ever seen.  That should give you an idea of how unwinnable this case really is for Ole Miss.  Which gets us to the initial question — why are they standing behind their head football coach in front of the NCAA, knowing that, if they lose the case, it will be absolutely catastrophic for their program?
Because not standing behind this one guy could be catastrophic to the entire University, not just the football program.
I'm sure you're curious where I'm going with this.  Let's get a little background info first.
What tipped off the NCAA to even investigate in Oxford?
Ross Bjork was the athletic director at Western Kentucky from 2010 to 2012.  In 2012, Pete Boone announced his resignation as AD at Ole Miss, and Bjork was announced as his successor March 21, 2012.
The Ole Miss women's basketball program named Adrian Wiggins as head coach on March 26th, 2012, just 5 days after Bjork was hired, which means "The Network" (the Ole Miss Board of Trustees and boosters) had already set his hire in motion before Bjork was even announced.  He came from Fresno St.  With him, he brought assistants Michael and Kenya Landers from JUCO National Champions Trinity Valley Community College in Athens, TX.  The JUCO player of the year, ShaKayla Caples, from Vicksburg, MS, was on that team.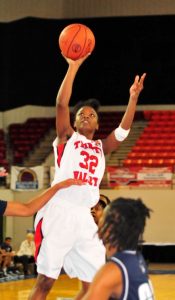 Here's a little background information on Caples: she initially signed with Louisiana Tech's women's basketball team (when they had first hit their decline) for the 2010-2011 season, but she was not able to academically qualify.  She was then granted a scholarship to Gulf Coast Community College, but had her scholarship revoked after she was arrested for armed robbery (her bond was set at $400k!).
Anyway, she ends up at Trinity Valley CC with Michael and Kenya Landers – Michael came from Baton Rouge Community College, while his wife was an assistant at LSU under Ole Miss basketball legend Van Chancellor.  Wiggins enlists that trio to come to Oxford with him, along with another JUCO transfer, Brandy Broome from Pensacola JC.
In October of 2012, Wiggins and the 2 Landers assistant coaches, are fired from Ole Miss after an internal investigation at the school, after Caples and Broome are declared academically ineligible.  Ole Miss stated it was because they did not meet NCAA transfer eligibility requirements.  The interesting thing about that is TVCC says Caples did everything she was supposed to:
Caples, who played for TVCC during the 2010-11 and 2011-12 seasons, graduated from the school last spring. It is unclear why she has been ruled academically ineligible.
So something happened between when she left TVCC and when she got to Oxford.  Hmmm.  It almost makes you think that Broome and Caples were NCAA plants, and whoever attempted to get them eligible was going to get blasted by the NCAA, because they already had the backstory on both of them.  Ole Miss took the bait.
The Women's Track & Field program found some of the same issues, which is why head coach Brian O'Neal abruptly resigned in June 2015, which was 2 years later than anyone with a brain would have figured he'd have been out.
O'Neal was hired in late 2012, and hired in Lena Bettis as an assistant as well.  They brought in an incredible track & field class in 2013, and she and 2 other assistants were fired in May 2013.  She then took over as coach at Georgia St, and in her bio on the school website, they state "Bettis helped assemble one of the best recruiting classes in Ole Miss history."  Somehow, O'Neal held on to his job until June 2015 when he resigned:
I am announcing today my resignation from Ole Miss as its head track coach … I do so with a heavy heart, but I believe this action to be in the best interests of the university and my own interests.
There's not a lot of information out there about the track and field issues, but those, along with women's basketball, are what initially brought the NCAA to campus.
Who is David Saunders and how does he piece into this puzzle?
David Saunders graduated from Auburn University in 1982.  During his time there, he was a walk-on lineman under Pat Dye (where, I would imagine, he learned the recruiting game) and assisted with the junior varsity, working with the offensive and defensive lines.  Saunders made his way all over as a recruiter, working at Jacksonville St, Georgia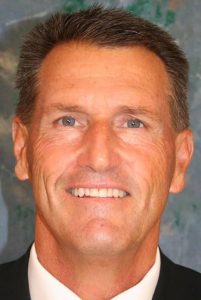 Southern, Nicholls St, Baylor, Arkansas St, and an off-field role before joining David Cutcliffe's staff at Ole Miss in 1998, staying through until 2002.  He moved from there to Milsaps as their head coach before coming back to Ole Miss with Ed Orgeron in 2006 to work as LB coach, and to recruit under… you guessed it… Hugh Freeze.
After his year at Ole Miss under Orgeron, it's not exactly known what he did for the next 2 years, but in 2008, Saunders was hired on with the Cellular South Gameplan, which is a 501(c)3 in Mississippi that "focuses on key areas such as high school graduation requirements, NCAA core course requirements, ACT and SAT testing, the college admission process and the importance of character on and off of the field."
Houston Nutt got the job in Oxford in 2008 and Saunders was supposedly promised a job on Houston Nutt's staff in 2009 and again in 2010, but his hiring was denied by AD Pete Boone several times:
"He was promised a job by Houston Nutt which fell through because Pete Boone didn't like him. The next year he was again offered a job, this time with a firm commitment, but this offer also evaporated. After the second job offer he claims he turned down several job offers and was later forced to accept $12 an hour from the university instead of the promised $120,000 per year. If true, these facts certainly could form the basis of a civil breach of contract claim although there are to my mind some unanswered questions.
    Saunders claims the reason he was disliked and denied the job by Pete Boone was because he wanted to recruit and work with players with severe learning disabilities. He claims Boone wanted to avoid recruiting these players in order to protect the academic integrity of the university. Saunders seems to claim that Boone's actions were a violation of the Rehabilitation Act and Americans with Disabilities Act."
Eventually, in 2010, he did take the job at Ole Miss, which is mentioned above, but not as an assistant coach – he was given the role of "administrative operations coordinator" and was only in Oxford for one year.  After that, as the article above references, Saunders announced plans to sue Ole Miss, alleging breach of contract and violation of the Americans with Disabilities Act.
Saunders eventually was hired on as DB coach at Louisiana-Lafayette in 2011 and stayed through 2014.  ULL went 9-4 every season Saunders was there, but, eventually, they had 22 of those wins vacated due to academic irregularities.  The NCAA has found trends with ACT scores coming from Wayne County's testing site.  ULL, with the assistance of the NCAA, uncovers the academic fraud, correlates it back to Ole Miss's pattern, and links Saunders as the one who has been using it the entire time.  A lot of the ACT scores used to get players for Ole Miss eligible were from Wayne County.
Saunders was fired, and for his transgressions, somehow, he was only given an 8-year show-clause.  Does that mean the NCAA worked out some kind of deal with him to get more information?  The ULL vs ACT case still has not gone to trial, so we do not yet have a deposition from Saunders, but you can guarantee the information that comes out of that case will be watched closely by the NCAA.
If you're wondering how it's actually linked to Ole Miss, let me point you to an article from the Clarion Ledger in Jackson, MS from Oct 2015:
Louisiana-Lafayette's 78-page response said that Ole Miss' enforcement staff and legal counsel conducted interviews on Dec. 16, 2013, with Saunders and an athlete he had previously been recruiting to Ole Miss.

"Through the course of those interviews, it became apparent to (Louisiana-Lafayette associate director of athletics for academics and compliance Jessica) Lager that the enforcement staff was testing information that suggested Saunders knew of, or had been involved in, NCAA rules violations of an academic nature while employed at Ole Miss," the response reads.

It added that Ole Miss' enforcement staff and counsel conducted an interview on Feb. 19, 2014, with Ginny Crager, formerly an ACT test administrator at Wayne County and whom Saunders described as his contact at the school.

Louisiana-Lafayette's response asserted that "a pattern of violations … trailed Saunders to" the school and that "it is evident that improper activity occurred in advance of (Louisiana-Lafayette) hiring" Saunders, who joined the Ragin' Cajuns in January 2011 and was fired in October 2014.

The response also said that an investigation revealed prior to Louisiana-Lafayette became involved that "Ole Miss had requested information from ACT concerning student-athletes recruited to that institution (and coinciding with Saunders' employment at Ole Miss)."
Saunders is now the head coach at Pearl River Community College, where he has a former Ole Miss player with eligibility issues (Terrence Metcalf) as his Offensive Line Coach, and where he was working to hire Jerrell Powe as his defensive line coach last year.
Now, if you haven't already caught on, let's get into why this is a major problem for Ole Miss.
Jerrell Powe attended Ole Miss in 2007-2008 on financial aid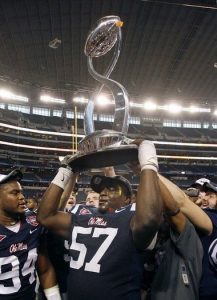 Jerrell went to Wayne County High School and planned to sign with Ole Miss, but he had not completed his core courses in high school, so he was denied eligibility.  This led him to a year at Hargrave Military Academy, where he was classmates with fellow Ole Miss recruit John Jerry, but was again denied eligibility the following year.  The NCAA told Powe that he could either return to high school or go to junior college.  Powe ended up back at Wayne County High School, then attended Penn Foster Career School in Scranton, PA in 2006, along with taking "correspondence courses" to help raise his GPA.  He tried to go back to Ole Miss for the 2007 season, and the NCAA allowed him to practice with the team for 14 days in August 07, while they sorted out his eligibility before, again, denying his eligibility to play in Oxford.  Through all of this mess, he filed a lawsuit against the NCAA.
Here's where it gets interesting: Powe attended Ole Miss from 2007-08 on financial aid, but could not practice or participate in football activities.
Now, how was he able to attend Ole Miss, but not participate?  The NCAA had questions about the BYU correspondence courses and how he was able to raise his GPA up to a 2.54 (2.50 is required) and his ACT up to an 18 (17 is required), but Powe would not "clarify certain questions the NCAA had about his coursework."
In the Fall of 2008, he was finally allowed to participate, playing in all 12 games.  However, this little bombshell hit in April of 2009.
Powe was cited with a noise violation by Oxford police, but raised eyebrows when he told the police, when they asked for him to sign the citation, that he could not read.  Some people think it was just a gag to try and outfox the police, but his mother was quoted in legal papers as saying, "Jerrell really is a good child, but he just can't read."
This is just one example, and you can bet that Freeze knows all about the Wayne County ACT setup and how to get kids enrolled in school.
So what does this have to do with Hugh Freeze?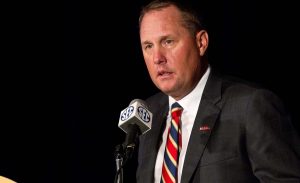 Freeze was the TE coach and recruiting coordinator under Orgeron in '06 and '07.  He and David Saunders were the main ones involved in trying to get Powe in school in '07, as everyone on campus knew that Orgeron needed help or he'd be shown the door after the season.
No, they did not play Powe in '07, but that's what makes this whole thing so interesting.
It may not be Powe that they go after, but there are sure to be several examples of kids that got ACT scores in Wayne County that would, otherwise, be ruled academically ineligible.  If these kids went to school on anything besides an academic scholarship, there's a problem.
This opens them up to misappropriation of both State and Federal funds.  You can't set a player up with Pell Grants who is not eligible to be admitted to your school.
Let's rewind and look again at the quote that Bjork had about why they had to let go of Women's Basketbal Coach Adrian Wiggins in Oct 2012:
"Although there is no current evidence that Coach Wiggins was complicit in or had direct knowledge of this misconduct, as head coach, he is accountable for the actions of those who report to him."
According to this line of thinking, Freeze is accountable for the actions of those who report to him.  Wiggins had only been there for 7 months though – Freeze has been around "The Network" and the way they do things at Ole Miss for over a decade.
If Ole Miss has been aiding in setting up financial aid for ineligible students, that could get SACS involved, which could lead to an investigation that could cost Ole Miss their accreditation.  No accreditation means a decline in incoming enrollments, it means degrees from the school don't mean anything, they'll have students transfer, they'll lose funding, and, overall, it means WAY more money than they'll lose if the football program goes to crap for 6-8 years.
So why would they not fight for Wiggins, but they'll go into war with the NCAA for Hugh Freeze?
Easy – Freeze knows where the bodies are buried.