After Ole Miss received the NCAA's Notice of Allegations earlier this week, it was pretty clear that the NCAA is going after Hugh Freeze, who, as I explained in my Ole Miss vs NCAA column, is in a no-win situation here because a) if he did know what was going on, that's obviously cheating, and b) if he did not know, he should have known.
Regardless of his response, either of those would, usually, cost any coach their job.
So the biggest question right now, after asking exactly what is going on and what will happen, is why is the NCAA trying to take down Hugh Freeze?
The best, most easily understood explanation, came from RebelGrove.com's Neal McCready, who has been writing about Ole Miss for decades now.  He was on with 104.5 ESPN's Matt Moscona in Baton Rouge on Thursday, Feb 23rd and went through a little bit of the situation.  (You can listen to the entire 11 minute interview below)
I've transcribed what I believe is the most interesting part of the interview here:
Matt: I'm curious, Neal, why – maybe this is just ignorance on my part – you write "make no mistake, the NCAA wants Freeze."  Why does the NCAA want Hugh Freeze?

Neal: Y'know, I don't know precisely.  Obviously it's one of those things where they haven't answered that.  You hear things from other people around the country who are plugged into the case a little bit, and, it's not just the tweet – the now infamous tweet Freeze issued in Feb of 2013 on the heels of that class that included Robert Nkemdiche, Laremy Tunsil, Laquon Treadwell, and all of that where Ole Miss kinda signed a top 10 class "out of nowhere."

When the NCAA first came to Oxford and talked to Hugh Freeze, that meeting did not go well.  I've heard different accounts of what happened.  It wasn't anything physical, or anything like that.  It got personal.  I think it stayed personal.  There were times in the process where I think it, maybe, would have been the more prudent thing for Freeze to make some changes on his staff that might have taken some of the steam away from the NCAA, and instead, he doubled down with those staffers.  I think that increased the rhetoric.  

They won on a national stage for a couple of years, by anyone's standards.  They went to back to back access bowls.  They won a Sugar Bowl.  I think there was, or is, a resentment on the part of the investigators of Freeze's social media presence, in terms of how outward he is with his faith, and some of those things.  And I think that some of the people that are involved in the investigation viewed that as remarkably hypocritical.

Now, I'm not saying that it is or isn't hypocritical.  That's for someone else to determine, but to answer your question, I think those have all been factors in this case getting the way that it is.

If you believe some other people, Matt, there is some pressure on these investigators, on this NCAA investigative arm, to do something about Ole Miss or else it will be taken by other programs as, essentially, a license to loosen up and get as loose with the law, and as free with the rules as they want.  I'm not sure that I buy that, but a number of people have said that.

Matt: What's so interesting, and I think there's a big misconception here from people certainly not around the Ole Miss program, is that this has to do with Laremy Tunsil.  Yet, there is not a word about the draft night incident with Tunsil.  Is that still to come, or are we to believe that's just done?

Neal: Nope. That's done.

Matt: So nothing about Tunsil?

Neal: Nothing from draft night.  All of that drama: the gas mask, the instagram, texts and stuff.  A cool story, but nope.  Nothing.

Matt: Did you ever think you'd be saying gas mask on Baton Rouge radio?

Neal: Y'know, Matt, after the last couple of years with this particular story, nothing at all would surprise me.

Matt: Let's go to Leo Lewis.  You are reporting, per multiple sources, that Ole Miss has a recording of Lewis's mother asking Ole Miss for money, and detailing incentives she received from other programs, including Mississippi St, where he ultimately signed.  In Baton Rouge, people are going to be very nervous because LSU heavily courted Lewis and missed out on him.  Should LSU be worried that, perhaps, they're mentioned on this tape?

Neal: I've heard different things.  I don't know.  He was involved with LSU very late in the process, and he had a handler who was very active in the 7-on-7 community who was, according to some people, peddling his wares throughout the process.  I remember hearing about it at the time.

It's one of the reasons that, if Ole Miss goes down… ok, Matt.

…when the lazy national media, and God Almighty are some of those people lazy, they will write that Ole Miss went down for cheating.

I will write that Ole Miss went down for stupidity.

Matt:  Would you elaborate?

Neal:  Yeah.  Everyone cheats.

You have to know as a program when to back away.  You have to know as a program what kind of kid you're talking about.  And when I say everyone cheats, don't get me wrong, I'm not saying every program is running around handing out buckets of cash.  I'm saying that most of these kids, it's understood, these high-profile recruits, that when you get to campus, at wherever, that you're going to be taken care of.  You're not going to be lacking.  If you need something, there will be ways to take care of it.

That happens everywhere.

With a kid like that, who there were people around him with hands out, why you would put yourself, or even possibly put yourself in a situation where you could get in trouble, especially knowing that the NCAA is investigating your program?  It's stupidity.

And if it comes to that, and that allegation is proven to its fruition as it is ultimately charged, that's the only word that you can use to describe them.
Now, let's break down exactly why the NCAA wants to take down Hugh Freeze, according to Neal McCready.  Remember, he said he doesn't know exactly, but these are some of the reasons they could.
#1: His initial meeting with the NCAA, back in 2013, did not go well.
Remember, the NCAA did not go to campus initially to deal with the football program.  They were there to look into women's basketball and track & field.  But they caught wind of some funky stuff going on with the football program, and when they went to meet with Coach Freeze, things went south quickly.  Nobody knows the full story, but the NCAA left Oxford with a bad taste in their mouth, and when Ole Miss was able to have the success they did, both on the field and in recruiting, while there were so many red flags around the program, the NCAA thought it made them look bad.
#2: He had the chance to fire staff members, but he "doubled down" with them.
The NCAA showed up in 2013.  Since then, Ole Miss has known they were snooping around.  Freeze has not cut ties with any staff members.  The ones that committed violations should have been shown the door (Chris Kiffin didn't do much, but neither did Bo Davis, and Alabama let him go immediately).  Barney Farrar should have been let go right after draft night.  They knew there was a lot going on with him, and they refused to let go of him until this past December, when there was nothing else they could do.
This all goes back to the question I asked Freeze at SEC Media Day: How could there be so many "mistakes," knowing the scrutiny was coming?

— Dan Wolken (@DanWolken) February 22, 2017
Ole Miss has been in this situation before, although not with NCAA troubles hanging over their heads – they've had a coach before that refused to fire his staff.  David Cutcliffe was told that he had to make staff changes.  He refused.  Ole Miss fired him.  Same issue here, only the NCAA didn't directly tell Freeze – he should have known that he needed to show the enforcement committee that he was working to try and clean things up and provide a more complaint environment around the program.  Freeze did none of that.  Ego appears to have gotten the better of them.
#3: NCAA enforcement staff viewed his outward faith on social media as hypocrital.
And it's not just social media.  Freeze told 4* cornerback Chevin Calloway (the #12 cornerback in the country, out of Texas) in regards to the NCAA situation before this year's signing day "…when you're that big and out there with faith in Christ, he's like, 'What do you expect? Jesus got nailed to the cross.'"
That's a pretty bold statement.  But Hugh posts faith-based tweets literally all the time.  The fact that he continued to tweet about integrity and moral values, even after the NCAA had proof of his program cheating, pissed off more than a few people involved in the investigation.  Here are a few tweets just to give you an example of what we're looking at, including one from the day they received the 2nd NOA.
The faith of the Bible is so in awe of the grandeur & glory of God that it is able 2 look at disappointing times & not B afraid! @PaulTripp

— Hugh Freeze (@CoachHughFreeze) September 25, 2016
Faith and fear have one thing in common. They both believe in a future that hasn't happened yet. @JonGordon11 Choose Faith not fear today!

— Hugh Freeze (@CoachHughFreeze) February 22, 2016
Today you'll look to find rest by trying to understand things, or you'll rest in the ONE who understands everything, including your life!!

— Hugh Freeze (@CoachHughFreeze) February 22, 2017
#4: The NCAA needs to set an example to prevent chaos
As McCready stated, there could be some pressure on the NCAA enforcement staff to make sure Ole Miss is punished adequately so the recruiting trail doesn't become the wild wild west again.  In the 80s and 90s, boosters and programs were paying kids everywhere.  The SEC was an absolute cesspool. Just take a look at the NCAA violators list over at FootballGeography.com.  Let's take a look at all of the programs in the SEC and their most recent violations:
Alabama – violations in 95-2000 / bowl ban 2002-03
Arkansas – violations in 94, 97-99 / probation 2003-2005
Auburn – violations in 86-92  / bowl ban 93-94
Florida – violations in 86-88 / bowl ban 90
Georgia – violations in 93-95 / probation 97-98
Kentucky – violations in 99-2000 / bowl ban 2002
LSU – violations in 2009 / probation 2011
Ole Miss – violations 91-94 / bowl ban 95-96
Miss St – violations 98-02 / bowl ban 2004
South Carolina – violations 2001-02 / probation 2005-07
Tennessee – violations in 89-90 / probation 91-93
The only program who had ZERO violations was Vanderbilt, who was the absolute worst program in the conference during the 90s and 2000s.
EVERYBODY was cheating.  But, under Mike Slive, they had to find a better way to hide it.  No SEC schools have had a bowl ban since 2007 (South Carolina), and Commissioner Slive made it a point to clean up the mess of schools turning each other in, so long as nobody was just egregious in their cheating.  Everybody hid their dealings well, and nobody went overboard on attempting to outbid neighboring programs.  And even if they did, Slive was in the middle of everything, making sure that everything was done in the best interest of the conference, and not individual schools.
With Slive gone, and Greg Sankey not commanding the same respect Slive did during his reign as commissioner, schools are back to getting a little crazy with things.  This case could possibly go off like a nuclear bomb, because all of the big boosters, that are involved with taking care of players at each school, know each other, and they share information.  The circumstances are not the same as when Logan Young and Roy Adams were going after each other, and Tennessee was turning in Alabama for cheating.  The Bama coaching staff in 97-2000 was just as sloppy with their recruiting violations, if not moreso, than Ole Miss has been.
Now, these next couple are not necessarily from McCready, but there are more reasons that I've noticed for why they could be going after him:
#5: Ole Miss lied to the public about the nature of the original Notice of Allegations.
The original NOA went to Ole Miss in late January 2016, just before signing day.  You can check out SBNation.com's story on it, which was hilariously titled "Only a few of NCAA's Ole Miss allegations believed to concern football, sources say."  Ole Miss staff ("sources") talked to several different media members, including SBNation's Steven Godfrey, and explained to him that there wasn't much to this.  The exact quote from the story was this:
One Ole Miss source tells Steven Godfrey they believe only five of the 32 are alleged football violations, and that coaches are "confident" allegations related to the current staff are secondary violations. In addition, an NCAA source tells Bud Elliott that the "vast majority" of the football allegations are more than two years old.
Last year before signing day, Ole Miss leaked to several media members that the allegations weren't serious, mostly not football. https://t.co/EVWyRGcHuj

— Dan Wolken (@DanWolken) February 23, 2017
The Rebels were able to provide the media with false information to stabilize their 2016 recruiting class, which ended up ranked the #5 class in the country, according to 247sports.com's composite rankings.  The class included three 5 star players.
Ole Miss did not release the actual NOA until a week after signing day, once everyone had already signed their letters of intent.  Once the actual NOA came out, it was revealed there were actually 13 football allegations (not 5), and 9 of them had to do with Hugh Freeze's staff.
Media members did not take kindly to that, and they still don't, as evidenced by one of Dan Wolken's tweets on Wednesday:
But yeah, it was mostly track and women's basketball, right?

— Dan Wolken (@DanWolken) February 22, 2017
If there's one thing the NCAA will not look favorably on, it's lying to kids to get them to come to your school.
#6: The aforementioned "infamous tweet" that was viewed as Freeze's "Come at me, bro" moment.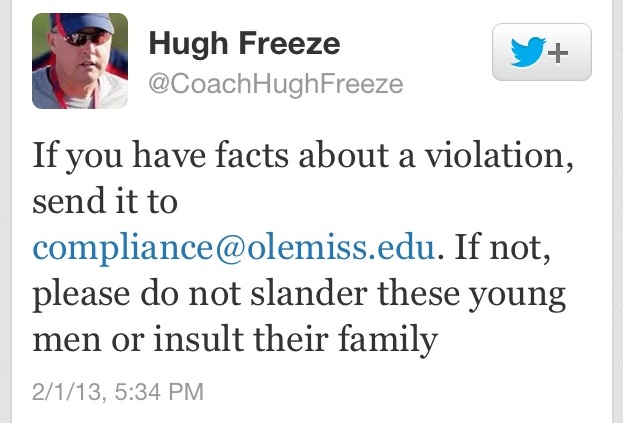 You can't put something like this out there and not expect to get some backlash.  Sports writers and researchers take it as a challenge, and once the NCAA figured out that there were some less-than-legal things going on in Oxford, it just looked incredibly hypocritical.  This tweet has since been deleted, but it did not do the Ole Miss program any favors.
This tweet was looked at as egotistical by the NCAA.  You don't post this if there is ANY chance that there could be some funny business going on inside the program.
Basically, this whole situation could have been avoided by swallowing their pride and not being so sloppy with whatever rules they were bending.  There are ways to not get caught, which we'll get into later on.