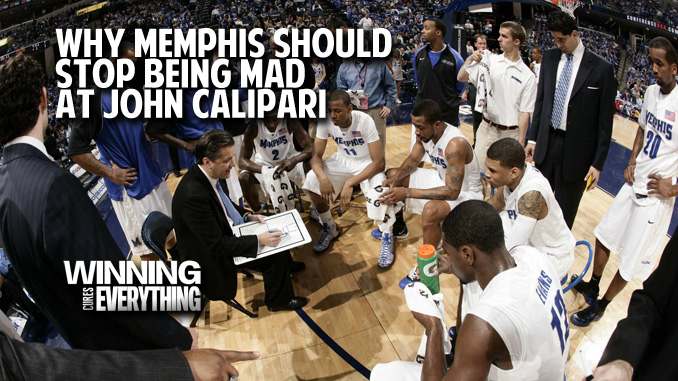 Today marks the return of John Calipari to the city where he coached for 9 years.  Friday night, against UCLA, he will coach in his first game inside FedExForum since March 2009, when he beat Tulsa to win a 4th straight C-USA Tournament.
And the talk in this town is ALL on Cal.  So what better time to jump in on a sore subject and try to make a little sense of things.
Truth be told, people believe Memphis can be a sleeping giant because of what Calipari did here.  They were able to lure Tubby Smith from a Power 5 conference job, after making an NCAA Tournament at Texas Tech (unheard of), because of what John was able to accomplish here.
Now, I'm not going to debate whether or not Tubby is a good fit for this job right now, but Cal was the reason that was possible.
Before John Calipari, the school had hired guys like Wayne Yates, Moe Iba, Dana Kirk, Larry Finch, Tic Price, etc.  Guys that were not nationally known, but some of which ended up being great for the school (and several not-so-great).
John Calipari was hired on at the University of Memphis on March 11th, 2000.  At his opening press conference, he laid out what he expected from the fanbase, and what they could expect from him.
"I just want you all to know that we, my family, feel very lucky to have this opportunity," Calipari said at the afternoon press conference at The Pyramid. "It's not the other way around for us. We feel lucky because we're going to have the opportunity to get this program to another level, to challenge the players and to get the fan base to where we expect sellouts."

"This is not going to be easy," Calipari said. "This is not like, 'let's just waltz to the Final Four.'  That's not what happens. This is a challenge, but, see, I get excited about these kinds of challenges.  This is a different kind of challenge. There are a lot of things here that are already in place."

"This isn't rebuilding," Calipari said. "We want to get in here and have people excited and just get the community understanding this is their team. We will do the the best job we can representing them in a positive way and have people talking in a positive way."

"I am excited about this and I want to do this," Calipari said. "Something kept telling me this is the right thing to do."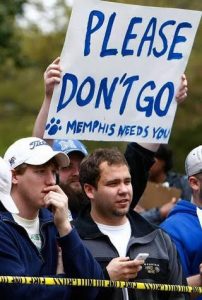 Before he was even hired, Ron Higgins had a story in the Commercial Appeal on March 5th, 2000, where he interviewed several people close to Calipari over the years who explained what Memphis should expect from him.
"He'll impact not just the school but the community," said Bob Marcum, University of Massachusetts's athletic director who was Calipari's boss. "He'll give you far more than what you expect out of a basketball coach."

"Memphis is lucky to get a guy like Cal – he'll bring in some big-time players and he'll shock the world," said Sam Cassell, who played for Calipari with the NBA's New Jersey Nets. "Cal's the man."

"John better understand that Elvis will always be the old king in Memphis, but he's going to be the new king," ESPN college basketball analyst Dick Vitale said. "I don't care if you pay him $5, $10 or $10 million. The guy is a flat-out workaholic."
Calipari did all of that stuff.  Memphis was known as a local school before he got to town.  The best players in Memphis State University (later University of Memphis) history were from Memphis.  Larry Finch.  Anfernee Hardaway.  Keith Lee.  Elliot Perry.  The list goes on and on.  Cal completely changed the perception of the program by not recruiting just local players like Shawne Williams, but by bringing in national kids like Dajuan Wagner from Camden, NJ, Darius Washington Jr. from Orlando, FL, Rodney Carney from Indianapolis, IN, Joey Dorsey from Baltimore, MD, Chris Douglas-Roberts from Detroit, MI, Antonio Anderson from Lynn, MA, Robert Dozier from Lithonia, GA, Derrick Rose from Chicago, IL, and Tyreke Evans from Aston, PA.
So let's go ahead and discuss why Memphis fans hate Cal, and then I'll get into why they shouldn't.
Why Is There So Much Hate?
The Final Four was vacated
Memphis fans did not have a problem with the way Cal ran things while he was here, and while he was winning.  World Wide Wes and other shoe guys were all over campus.  Basketball players were driving around in brand new cars.  Hell, Chris Douglas-Roberts committed to Memphis without ever even visiting the city.  Cal spun the local media (as much as he could) to only talk good things about his program, and attempted, as best he could, to get some of the problems with start players swept under the rug.
And all of that was fine, as long as Cal was at Memphis.  As long as he was a Memphian, people would stand behind him like he was a God.  Message board posters even went with the phrase "In Cal We Trust" while he was at the school.  But then he left for Kentucky, and fans found out school administrators (mostly athletic director RC Johnson) had been sitting on an NCAA investigation into the eligibility of Derrick Rose, which allowed Cal to roll on to Lexington without any cloud over him, and the mess that was left, people still blame him for.  I'll let Wikipedia explain the investigation:
In 2008, Calipari's Tigers advanced to the national championship game, their first under his leadership. They also won 38 games, the most regular-season wins in NCAA history (his 2011–12 Kentucky team would also go on to win 38 games). His team, however, would lose to the Kansas Jayhawks, 75–68, in overtime. This team would later have its entire season record vacated by the NCAA due to the ETS invalidating Derrick Rose's SAT. Despite this, Rose still denies any wrongdoing. The NCAA began to investigate the test and contacted the ETS. Because the NCAA had begun to investigate the ETS decided to review the test. The ETS sent three letters to Rose's family's former address in Chicago,(instead of to his dorm in Memphis,) asking that he verify some information on his test. Because he did not reply to the letters the ETS invalidated the test. Even though the NCAA investigated the test and reported that they could not find significant evidence to prove that Rose did not take the test. Because the ETS had invalidated the test the NCAA went back and retroactively declared Rose ineligible. To this day the official position of the NCAA is that he did take his own test. If not for the vacated wins, Calipari would be the winningest coach in Tigers history, as he would have 252 wins to Larry Finch's 220.
His leaving for Kentucky (and everything surrounding it)
Anybody taking one of the top 3 jobs in college basketball from a mid-major school would normally be expected.  Wichita State fans will feel that way when Gregg Marshall leaves.  Same with Dayton about Archie Miller.  VCU felt that way about Shaka Smart.  George Mason knew that Jim Larranaga would eventually split for a bigger gig (and he's been killing it at Miami).  UAB fans didn't get mad when Mike Anderson left for Missouri – it was a bigger job.  Those fans understood the business.
Memphis fans did not feel like Kentucky was bigger than Memphis.
And Memphis was wrong about that.  Kentucky, UCLA, Kansas, North Carolina are all traditional big boys that have maintained that level of invincibility through multiple coaches.  Their fanbases and administrations have made them the biggest and the baddest for years.  Michigan St and Duke were both built by one coach at each school, so they're powers right now, but I'm curious what to expect from them in the future once somebody else takes over.
Cal turned down offers from Pittsburgh, NC State and several others before, ultimately, taking the Kentucky job.
Truth is, Memphis offered Cal more money to stay than what Kentucky was offering, but Cal saw the writing on the wall.  With the growing divide between Power 5 conferences and the lesser-thans, eventually, Memphis would be in a significantly worse conference, and it wouldn't be as easy to get all of those big-time prospects that he had been bringing into Memphis.  Conference USA was already about as bad a conference as you could be in, and he was still able to get top seeds.  Calipari dominated Conference USA after Louisville, Marquette, and Cincinnati left the conference after the 2004 season.
The biggest problem Memphis fans had with Cal leaving was him taking his #1 rated recruiting class with him.  Fans of the school quickly realized that the top players in the country were committing to play for Coach Cal, as opposed to their school.  The cupboard was, supposedly, bare for new coach Josh Pastner (which, if Memphis was such a big time school, why did they have to hire Pastner?  Because none of the big name coaches would take the job, even with the ridiculous pay.  And yes, I understand there's something to be said for not wanting to follow a legend).  It wasn't too bare though – Pastner, as a first time head coach, took the Tigers to the NIT, and then made 4 straight NCAA Tournaments based on recruiting kids that still knew the Memphis brand that Calipari built.
Along with him taking his recruiting class, people were, for some reason, convinced that he was never going to leave Memphis.  He turned down multiple jobs while he was in Memphis building the program and mentioned how happy he was in the Bluff City.  But he never said he wasn't going to leave for Kentucky.  And it made sense for him to do that, especially at that point in time.
His comments about Memphis after being elected to CBB Hall of Fame
When Calipari was voted into the College Basketball Hall of Fame in 2015, he made some statements that I don't believe he would make again if he had known how it would be taken at Memphis.  UMass fans understand where their program is, but Memphis fans still seem to think that they have a Power 5 school, even though the checks coming in would tell you otherwise.
Here's what he stated when asked about his induction and what it meant to be at Kentucky:
"I always wanted to have a job like the other guys. It's not that I had any disrespect for Massachusetts or Memphis. I loved those places. I loved those jobs. But you were at the little table. You weren't at the big table. You never got to carve the turkey. You had plastic forks and plates,"
Those comments were not taken kindly by people in Memphis.  But what Calipari meant is that it was always a struggle to get non-conference games booked and to try and play the part of a big-time program while in one of the smaller conferences.  You didn't have the big TV checks coming in from conference affiliation – everything was based on fund-raising.  Big schools didn't want to schedule Memphis because they knew they may get beaten by them.  If Memphis wasn't invited to some of the bigger pre-season tournaments, their non-conference slate would not have allowed them to have such high seeds in the NCAA tournament, thanks to the conference not having any other invites to the Big Dance.
Here were Cal's top non-conference games in his last 4 years that were not involved in tournaments:
2005-2006 season: at Cinci, at Providence, at Ole Miss, #8 Gonzaga, Purdue, #16 Texas
2006-2007 season: at Tennessee, Ole Miss, at #9 Arizona, Cinci
2007-2008 season: at Cinci, #5 Georgetown, #17 Arizona, Gonzaga, Tennessee
2008-2009 season: at #19 Georgetown, #17 Syracuse, Cinci, at #18 Gonzaga
There were only a handful of ranked teams on each year's schedule, which didn't help prepare Memphis for the NCAA Tournament, and it got harder every year to try and schedule marquee games against other big schools.  He doesn't have that problem at Kentucky.
Why Should Memphis Appreciate Cal?
He did what he said he would do
Calipari never said he would be at Memphis forever.  He won, and he filled the seats at the Pyramid and, then, FedExForum.  Other than the fact that he took the job here, he had no ties to Memphis.  He built a powerhouse out of UMASS and then flamed out in the NBA.  He was an assistant NBA coach looking to get back to being a college head coach, and Memphis was the best job available that wanted him.  He knew he could get talent here, and he was able to do that on a consistent basis.  And even more-so once the NBA declared that kids have to be one year removed from high school before they could jump to the league.  There are a list of kids that would have been at Memphis earlier, had they not gone straight to the NBA.
He made Memphis a national brand
Memphis was looked at the same way as UCLA, Kansas, Kentucky, North Carolina, Duke and all of these powerhouse programs were while Cal was here.  And even after he left, recruits still remembered what Memphis was able to do.  Pastner was able to recruit some of the top kids in the country to come to the University of Memphis, which probably would not have happened unless Cal had established something.  Memphis had appearances on ESPN's College Gameday.  They were ranked #1 in the country.  Cal was the perfect salesman – he had great players, an exciting brand of basketball, and he generated SO MUCH publicity for the school.  Attendance went up.  Cal was a guest on a ton of national radio and television programs.  He brought the spotlight to a basketball program that had not had that kind of success in a long long long time.
He never missed the postseason
In 9 seasons, went to the NCAA Tournament 6 times, and the NIT 3 times.  His first 2 seasons took a while to get the roster and the schedules built correctly (and even then, he won the NIT in his 2nd season), but after that, sans the 2003-2004 season, where they were a missed Darrius Washington, Jr free throw against Louisville away from earning the automatic bid from C-USA, they were a regular in the NCAA Tournament, and they were regulars at going deep.  In his last 4 seasons, he made 4 straight Sweet 16s, including 3 straight Elite Eights and a Final Four.
He dominated Conference-USA
Calipari took Memphis to a 63-1 record against Conference USA foes (including the C-USA tournament) in his last 4 seasons (2005-2008) at the school.  In those 4 years, he was able to get Memphis seeded #2 twice and #1 twice, he made 3 straight Elite Eights, then a Sweet 16 in his last season, and the only other C-USA school who even made the tournament in that span was UAB (as a 9 seed) in the 2005 NCAA Tournament, which was Mike Anderson's last year at the school before he left for Missouri.
So, all-in-all, Calipari built Memphis into a national power and, honestly, left it in a better position than it was when they hired him, which was coming off of 4 seasons with a total record of 61-58 ('96-'97 the last year of Larry Finch, they went 16-15 / '97-'98 first year of Tic Price they went 17-12 / '98-'99 they went 13-15 / '99-2000 Tic Price was fired midseason due to inappropriate relationship with a student, Johnny Jones was interim and they finished 15-16).  The program was a laughing stock.  It took a while to build it, with two straight NIT appearances before 6 NCAA Tourney Appearances in his last 7 years, with an NIT in his 5th year.  He never won less than 21 games in a season, which looks a lot nicer now, since the Tigers have had 3 straight seasons with less than 20.
So, now that we're 8 years past Calipari leaving for Kentucky… Memphis fans, don't you think it's time to get past it and appreciate the coach that brought this school a time period that may never happen again in Tiger hoops history, and probably won't ever happen for about 95% of all schools out there?