In the past, recruiting services were not as up-to-date on analysis of high school football players.
Enter the age of the internet.
It was almost impossible to find some "diamonds in the rough" back in the 90s, and sites like Scout and Rivals were still just beginning to figure things out back in the early 2000s.
But with the internet, people are able to spread the word about great players much more easily, and it's not as difficult to determine who are the best high school athletes.
As recruiting rankings have legitimized over the years, there has been a shift in who has the capabilities of winning a national championship and who doesn't.
2005 is when recruiting services really got on top of things and figured out who was legit and who was not.
It is true that 21 of the last 22 national champions in college football have had at least 2 Top 10 classes in the 4 recruiting classes leading up to their national championship, but those rankings are affected majorly by the number of players.  The real data is in 247sports.com's points system.
For example, for the 2019 recruiting class, BYU is currently ranked #9 and Alabama is currently ranked #10.  Take a look at how they got to this point:

Alabama only has 4 players committed: one 5 star, and three 4 stars.  BYU, on the other hand, has two 4 stars, and six 3 stars.  So the points are closer than the number of players, because Alabama has better players committed, but BYU has more of them.
I have gone through and figured out the 4 year average point ranking of the last 13 national champions, dating back to Texas in 2005.  This is what it looks like: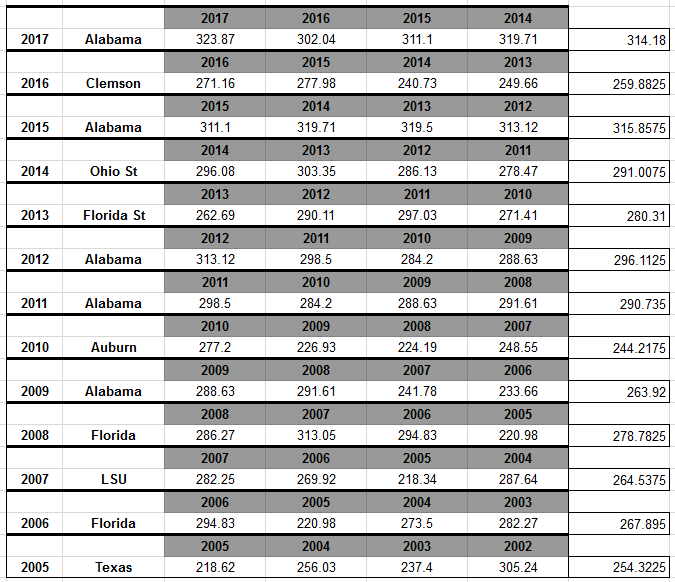 From all of that date, the average 4 year recruiting points is 278.5969.
From there, I determined the most overall talented to least overall talented teams to win the last 13 national championships, based on those recruiting rankings: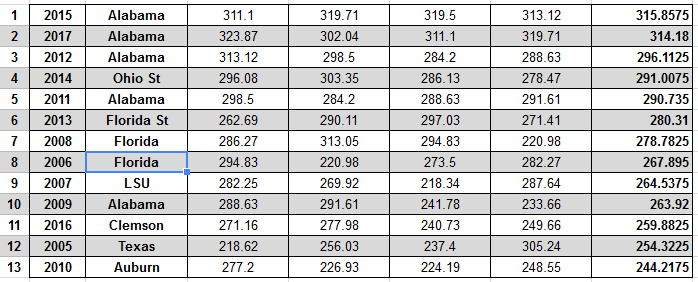 Of those 13 teams, the lowest overall talented teams were the following:
2010 Auburn
2005 Texas
2016 Clemson
All 3 of those teams had a transcendent talent at QB.
2010 Auburn – Cam Newton
2005 Texas – Vince Young
2016 Clemson – Deshaun Watson
A transcendent talent at QB can make up the difference between more talent and an average team, as those teams did.  Obviously, you still have to have talent all over the field, but those teams all beat more talented teams thanks to super-human efforts at the QB position.
Later this week, we will dig into what teams have the best opportunity to win a national championship this season, based on what we've learned from the past few seasons.