NBA Draft is tonight, but the league is preparingup for who will get LeBron next year.
The NBA Draft is tonight.
But does it really matter?
All anyone is worried about is where LeBron James will be playing next year.  Fultz, Ball, Jackson, Tatum… none of that really matters.  It's all LeBron, all the time.
Clay Travis, over at OutkicktheCoverage.com, put up a piece yesterday breaking down why the Cavs would be smart to talk to him (yes, we know he has a no-trade clause), and discuss the idea of trading James to his next team, so they can get some pieces back in return.
Either way, LeBron is a free agent after this coming season, and the writing, in Cleveland, is on the wall.  He will not remain with that team after this year.
So where will he end up?  Well, after shaving his head last week – going with the bald look – people on twitter figured out some of the different signs regarding where he's planning on signing.
Warning: These are CLASSIC.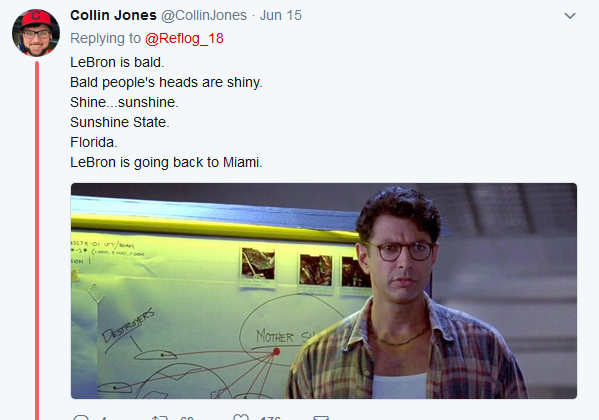 Could you imagine James holding another press conference and discussing how he's taking his talents BACK to South Beach?  It's not the same team now… but I'm sure he'd have some friends join.  Pat Riley would make it happen.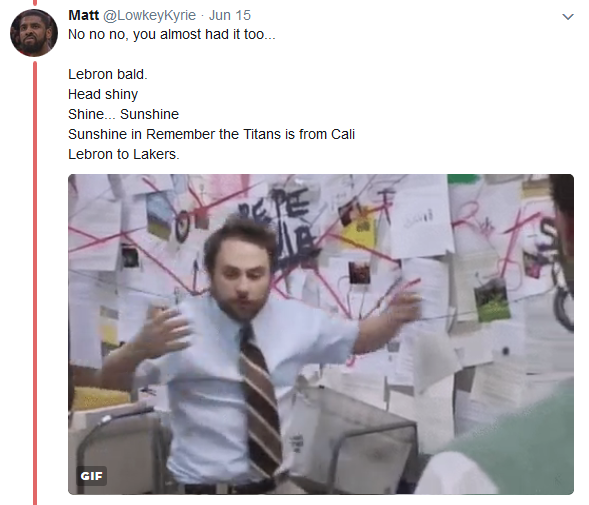 The Lakers are where everybody envisions he'll be after this season anyway.  Him, Lonzo Ball, Paul George… that's the beginnings of a super team.  And the Lakers have never had problems drawing in big-time free agents anyway.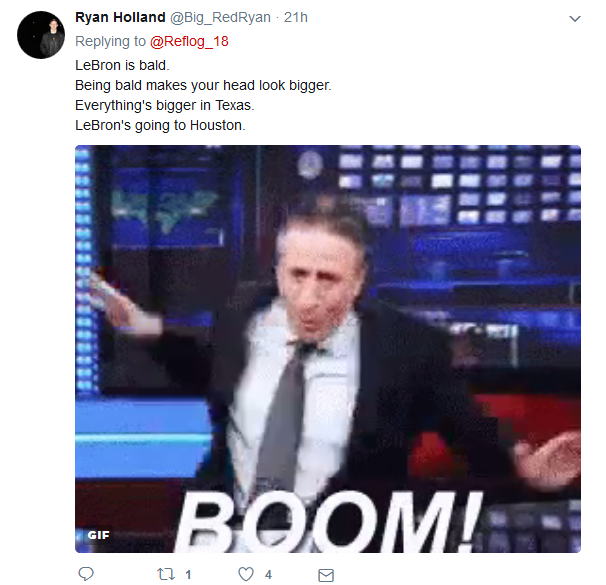 Ok.  LeBron and Harden, along with the group they've got for the Rockets… that could be interesting.  Not to mention the fact that they're, supposedly, courting Chris Paul to join the team this offseason.  CP3 is one of LeBron's best friends.  Just make sure you've got some lowpost help, and those 3 would be dangerous together.

This would break basketball… but, MAN, it would be funny to see people's reactions to this.

John Wall, Bradley Beal… and LeBron James?  Yeah, I'll take that.

I could see him pairing back up with Wade in Chicago, and they've got Jimmy Butler already.  Don't know how it would work though.  Lineups would be weird.

Little known fact: LeBron is actually a huge REM fan.  (not really, but could you imagine if he was?)

Derozan, Lowry, Ibaka, and James?  Sounds like an Eastern Conference Champ… but won't beat the Warriors.
And then, there are several others that believe that this means he's retiring and moving his way into the entertainment industry.