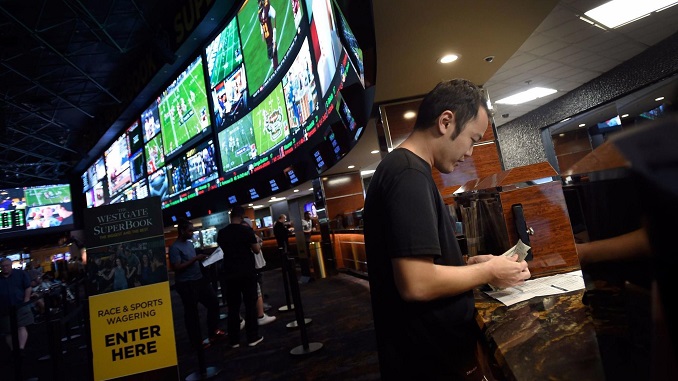 The Supreme Court heard the arguments in Christie vs NCAA on Monday.  If sports gambling is legalized in New Jersey, what does that mean for Mississippi?
On Monday, the Supreme Court heard arguments in a case which could legalize sports gambling across the country, and not just in the state of Nevada.
It's a massive story, economically, because off-shore sports wagering is estimated as a $150B industry.
Yes, that's a B.  Billion.
Andrew Brandt wrote an outstanding column on Nov 28th detailing how we got to this point in the country, where sports gambling is widely acceptable, as opposed to how it was viewed years ago.
To follow that up, he was onhand to hear the Supreme Court arguments on Monday, Dec 4th, in the Christie vs NCAA case, which could rule PASPA, the Professional and Amateur Sports Protection Act of 1992, unconstitutional.
PASPA was passed in 1992 to protect the integrity of sports by only allowing sports lotteries in the states of Oregon, Delaware, and Montana, and licensed sports gambling in the state of Nevada.
It was welcomed by former commissioners, and sports wagering was, generally, looked down upon by the higher ups involved in sports.
New Jersey is arguing that it is not constitutional to allow only one state to have sports gambling and not allow other states the right to make their own decision regarding whether or not they want to allow gambling.
The country is much more socially liberal today than it was 25 years ago, and there is money to be made here.  Because there is so much money leaving the country based on games that are happening here.
Take, for example, the fact that the NFL is moving a team to Las Vegas, and they've been playing games in London for years.  In London, you can walk up to a kiosk outside the stadium and put down a wager on the game.
The good news for sports bettors is that it appears, from the Supreme Court arguments on Monday, that the courts will side with New Jersey.  From SI's Andrew Brandt:
A ruling in Christie v. NCAA (whose names will change to Murphy v. NCAA in January when the new Governor is sworn in) may come as early as February or as late as June. If pressed to hazard an informed call, I would predict a 6-3 judgment in favor of New Jersey. Whether it will be more sweeping and allow for all states to follow suit, in keeping with the theme here, I would put the odds of that at 50/50.

I make this prediction having seen the arguments today and for the reasons above, but predicted a similar result coming into today. The Supreme Court takes roughly 1% of cases that petition for hearing. Its reversal rate of lower court opinions is around 75%. It took this case over objection from the U.S. Solicitor General (who also argued today on behalf of the sports leagues). Simply, there was a reason the Court took this case.
The reason this is such a big deal is because of the economic impact it could have on states that legalize it.  Fox Business put up a story in October stating that up to 32 states could allow gambling within 5 years.  Regarding the money that is estimated to be brought in for each state that legalizes it, they state this:
Eilers & Krejcik Gaming, LLC, which tracks state-by-state gambling legislation, says a new market would be worth more than $6 billion. If all 50 states got on board, legal sports betting could be worth $7.1 to $15.8 billion, they estimate.
I reached out to Allen Godfrey, the Executive Director of the Mississippi Gaming Commission, to get a few short quotes on what the state of Mississippi can expect if PASPA is declared unconstitutional.
Gary: How long has the Mississippi Gaming Commission been paying attention to this case?

Allen: Mississippi has been following this case since it was filed.

Gary: Was there ever a time that the state of Mississippi thought about filing this lawsuit themselves?

Allen:  I cannot speak for the Attorney General, but the Mississippi Gaming Commission did not discuss it.

Gary: Have there been any studies done into what the economic impact of legalized sports gambling could be on the state?  If so, can you give us an idea of the numbers?

Allen:  I am not aware of any economic studies done, but the assumption is the additional foot traffic would be a plus for the existing operators.

Gary: What all legal steps would have to occur, if PASPA is declared unconstitutional, for Mississippi to start allowing sports gambling?

Allen:  Due to recent legislation and the way that I interpret the language, someone would have to file an application and we would approve it

Gary: How quickly would casinos be able to setup sportsbooks, and is it possible that mobile gaming would be allowed across the state?

Allen:  You would have to ask the operators how quickly they can get up and running and, unless the statute is changed, mobile gaming outside of the licensed location would not be allowed.
I believe that sports gambling will be able to be legalized on a state-by-state basis.
The question then becomes this: how much will it change offshore habits of current gamblers?
If gambling from your home is not available, how much of a difference will it make?  Inside the city limits of Las Vegas, CG Technology has an app available where you place wagers on games from your cell phone wherever you are.
Mobile gambling could be a big portion of revenue for sportsbooks inside each state.  Not everyone will want to head to a casino's sportsbook.  But, as Godfrey told me, "the additional foot traffic would be a plus for existing operators."
More people will start heading to sportsbooks on weekends to watch the games.  I know that I will be doing that, for sure.  The amount of money that could be brought in on just the Super Bowl and March Madness would be worth putting in standalone sportsbooks.  But the aspect of being able to gamble on your own devices is going to be huge.  It's why Amazon has become one of the biggest companies in the world.  It's why Netflix is so big.  People want to do things on their own terms.
The first step – the legalization of sports gambling – is headed in the right direction.  The next step will be working towards legalizing mobile sports gambling.