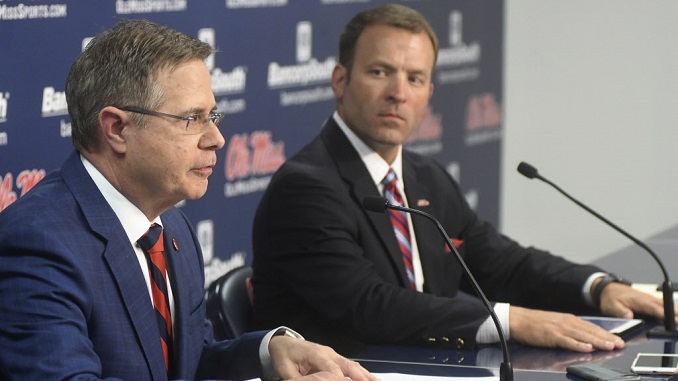 The NCAA has released sanctions against Ole Miss.  What does it all mean?  Don't forget to grab your WCE gear (shirts, etc) for Christmas!
Finally.
The NCAA has released the sanctions levied against Ole Miss.
While they are pretty bad, they could have been much worse.
I'll try and explain, in the simplest terms, what this all means.
First, here is the official NCAA release:
Dec2017COI_MississippiIIInfractionsDecisionPUBLIC_20171201

If you want a more simple version of this, visit this link: https://www.ncaa.org/about/resources/media-center/news/ole-miss-lacked-institutional-control-football-program?sf174973422=1
Before we begin, I want to get all of the links out there for stories about what happened in Covington, KY on Day 2.  This information was leaked to SBNation's Steven Godfrey, RebelGrove.com's Neal McCready, and OMSpirit.com's Ben Garrett.
For all intents and purposes, it's apparent that Ole Miss started a smear campaign against Mississippi State the day before their own sanctions were to be handed down.  Once Godfrey's story was published, Neal McCready and Ben Garrett had to get their versions out.
The leaking of what went on in that courtroom, I believe, had a lot to do with some of the additional penalties.  Ole Miss shot themselves in the foot with all of their leaks during this thing.
Each story has their own little twists and turns, but the premise of each is this:
Leo Lewis was paid $10,000 by – from his words – Mississippi State
The person that paid Lewis was Calvin Green, defensive backs coach for Copiah-Lincoln Community College, and the father of his friend and Miss St teammate Farrod Green.
The NCAA enforcement staff has already looked into that, and squashed it as a violation because of NCAA bylaw 12, which states "prospective student athletes are allowed to receive cash from non-family members or guardians if they can prove the relationship predates the athlete's status as a prospective student athlete and that the relationship did not form because of the athlete's current or potential status as a prospect."
As Godfrey stated, "Lewis also may not be in violation of NCAA rules if it determines that Calvin Green was providing Lewis with "normal and reasonable living expenses." Bylaw 12.1.1.1.6 allows someone in Green's position, "family of a teammate," to give to a player like Lewis even if the relationship developed as a result of athletics as long as that person is not an agent or representing a school recruiting Lewis."
Leo Lewis stated that former Miss St coach Dan Mullen told him in April 2016 that he would be interviewed by NCAA enforcement.  NCAA enforcement stated that a confidential source unaffiliated with any SEC schools submitted the tip in April, roughly the same time Lewis says he met with Mullen and three months before the NCAA investigation began.  The enforcement staff did not assign anyone to review an allegation about Lewis until July 2016.
Yes, this all looks shady.  But the odds of something actually happening with this are not great.  The NCAA is done with this chapter.  I'll be digging into more of it on the Mississippi State side, but for now, that's what these articles dug into.
That came out on Thursday night.
On Friday morning, the sanctions were handed down at 8:30am, and were not supposed to be released publicly until 11am.
But, of course, they were leaked at about 8:31am.
So let's dive in, one by one, and I'll explain exactly what they all mean.
Three years of probation from Dec. 1, 2017, to Nov. 30, 2020.
This doesn't mean all that much.  Probation.  The NCAA keeps a closer eye on the program.  That's about it.
A financial penalty of $5,000 plus 1 percent of its average football budget for three years, which was calculated at $179,797 (self-imposed by the university).
Whoopty-do.
A postseason ban for the 2017 (self-imposed by the university) and 2018 seasons.
Now, on top of the $180k penalty, this can get hefty.  That's around $7.8M each bowl season for which they're ineligible.
On top of that, this second year bowl ban means that rising seniors will be allowed to transfer to any school of their choosing, and they do not have to sit out a season before they are allowed to play.  They can take the field immediately for another team next season.
That does NOT mean that any student-athlete in that 2016 recruiting class, which was lied to about what was in the NOA, can transfer and play immediately.  According to NCAA rules, they would have to sit out a year before they can play.  Cecil Hurt, from the Tuscaloosa News, however, stated that any kid from the 2016 class will be able to apply for a waiver to play immediately, if they transfer, and it will most likely be granted by the NCAA.
The head coach must serve a two-conference-game suspension for the 2018 season should any NCAA school hire him between Dec. 1, 2017, and Nov. 30, 2018.
Hugh Freeze got off incredibly light here.  The stain of being fired for calling escorts with his university issued cell phone will play a part in whether or not he gets hired somewhere, but he's available to be hired by schools that need a coach.
The interesting aspect of this is that the suspension ends after this next season, so if he sat out a year, he could come back and take over a program as head coach with no suspension.
The OTHER interesting aspect is that there is no suspension or limitations if he were to come back as an assistant coach.
Keep an eye on Matt Canada leaving LSU to take over a head coaching job.  The relationship between Canada and Orgeron is tense, and he's looking for an out, even with a decrease in pay, and Freeze worked for Orgeron before at Ole Miss.  Hugh Freeze could 100% be in Baton Rouge next season.
Getting the band back together.  Could you imagine how much Ole Miss fans would hate those two?  Their program is going through all of this, Freeze left town with no real issues, and they could end up winning a bunch of football games together.
An eight-year show-cause order for the operations coordinator, during which he must not hold any athletically related duties or have contact with prospective student-athletes and their families

.

If you ever thought David Saunders would be coaching NCAA football again, you've got another thing coming.

Saunders, who was already given an 8 year show cause last year for his role in the UL Lafayette violations, got another 8 years tacked on.  So his cause will not end until Jan 10, 2032.

Saunders, who is now the head coach at Pearl River Community College, will be coaching junior college football for quite a while.

He knew this was going to happen.  He did not even bother to show up to the hearing.
A five-year show-cause order for the assistant coach who facilitated standardized test fraud and living arrangements. He must not hold any athletically related duties during this time.
Chris Vaughn was David Saunders' right hand man.
He didn't bother to show up to the hearing either.  He knew this was coming.
A two-year show-cause order for the other involved assistant coach. During this time, he must not participate in off-campus recruiting activities or hosting any meals for prospects or student-athletes.
I was a little bit confused earlier.  I thought this might be Maurice Harris, but it is Chris Kiffin.
Kiffin is being allowed to coach for Florida Atlantic in tomorrow's C-USA championship game against North Texas, but after that, they will have to do some research to see what they will be allowed to do.
Kiffin has not gotten into any trouble at FAU, so they may look at that and factor it into allowing him to stay on Lane's staff.
A five-year show-cause order for the assistant athletics director. He must not participate in any recruiting activities during this time.
Barney Farrar.
The NCAA bought the "rouge assistant" crap that was spewed from the get-go.
Farrar's biggest issue, which came out of the Ben Garrett story for OMSpirit.com (linked above), explained that Barney broke the rules for the right reason.
In truth, rules were broken.  He admitted to a lot of them.  The Leo Lewis stuff was damning, along with the draft night stuff.
Ole Miss threw him under the bus from the very beginning, but the fact of the matter is that Barney was never capable of concocting these schemes that they said he did.  He was doing what he was told to do.  And after all of that, he still talked about how much the loved the University and how great a man Coach Freeze was.
So Farrar is the scapegoat, and Freeze gets off with no show cause.
Vacation of all regular-season and postseason wins in which ineligible student-athletes competed.
I'm assuming the majority of this is from the Nutt tenure, but even the school doesn't know which games that is yet.
Scholarship reductions through 2018-19, as detailed in the public report (self-imposed by the university).
Initial reports had this as 13 additional, on top of the 10 self-imposed.
Not even close.
The NCAA gave them 3 additional scholarship reductions.  So Ole Miss will lose 6 scholarships in this upcoming class (they can only sign 19 players), and they will lose 4 scholarships in the 2019 class (they can only sign 21 players).
Recruiting restrictions, as detailed in the public report.
They self-imposed the amount of time prospective recruits can be on-campus, etc.  Nothing major.
Disassociation of boosters, as detailed in the public report (self-imposed by the university).
Ole Miss disassociated 9 boosters.
That's the same number of boosters that were disassociated by SMU back in the 80s, when their program received the death penalty.
At the end of the day, that's what this was all about.  Hugh Freeze may have stirred the pot and made the situation "personal" between the enforcement staff and his program, but the witch hunt was for the boosters that hovered around the program and helped facilitate all of this.
The NCAA even pointed this out.
The panel noted that the case was the result of a culture at the university where rules violations were acceptable in the football program and reminiscent of similar Ole Miss infractions cases in the past. pic.twitter.com/gOmg6QiSwr

— NCAA (@NCAA) December 1, 2017
Chancellor Vitter said that the booster culture around the University of Mississippi was "disturbingly questionable."  Hugh Freeze stated that, upon being hired at the University, he was surprised by the "craziness" of boosters trying to insert themselves into his program.
There's a statement in the full 82 page document (which is embedded above) which explains why the penalties were as harsh as they were.  "The institution's two most recent cases occurred in 1986 and 1994, but they were similar to the present case and are accorded significant weight. Regarding lack of institutional control, the panel noted that a number of violations occurred while the investigation was ongoing."
At the end of the day, the NCAA was going after the boosters, and they used the fact that Ole Miss never did anything to slow them down as a reason to give the school an additional year postseason ban.
Ole Miss got off pretty light, in my opinion.
Pete Thamel wrote this in his YahooSports story today:
Committee on Infractions Chair Greg Christopher pointed out perhaps the most telling part of how little they respected NCAA rules, as they kept cheating while the investigation was going on. "This case strikes at the heart of what College sports stand for," said Christopher, "and is the direct result of a culture where rules violations were an acceptable part of the Ole Miss football program." He went on to point out that Ole Miss' rules violations "continued through the investigation of this case," the ultimate middle finger to the NCAA.

…Ole Miss attempted at times to try its case in the media, and the whole effort came off like a years-long message board screed of desperation that, predictably, only appeased the likes of RebelFan64 and other such conspiracy theorists. "The leaks are, they're tough on the process," Christopher said. "This is meant to be a confidential process to protect the institution and people involved."

Earlier in the call, amid his opening script, he went out of his way to mention the persistent leaks in this case. It was a familiar echo from the North Carolina case. "As a membership-led organization, it's important for us all to participate in good faith." Translation: Ole Miss was so concerned with messaging recruits and fans they irked those holding the NCAA hammer.
After the way that Chancellor Vitter's University leaked information, tried to spin stories, lied to recruits, committed violations WHILE THE INVESTIGATION WAS ONGOING, for him to come out in the press conference and basically admit that he thinks the NCAA is corrupt, and to claim that this is excessive punishment…
Chancellor…. I might would stop talking and just count my blessings, if I were you.